The December Happy Stamping Box is available for order!
You are invited to join me in creating some CUTE and useful gift card holders from the comfort of your own home with the December Happy Stamping Box.
The December box features the Lawn Fawn Tiny Tag Sayings stamp set, an exclusive die set, Gift Twine, Party Burst Dots and lots of extras! The theme this month is Gift Card Holders!
From this box you will be making 5 gift card holders. Each project is a unique die cut shape or size perfect for giving gift cards this holiday season. Having something cute to put gift cards gives them a more special and thoughtful feel.
With the purchase of your box you will get an invitation to my private Facebook page, The Happy Stamping Box. Where you will have access to a printable PDF tutorial for the class projects. As well as the LIVE online class video with me.
INCLUDED IN YOUR DECEMBER HAPPY STAMPING BOX:
Tiny Tag Sayings stamp set by Lawn Fawn (set of 19)
December Happy Stamping Die Set (set of 9)
Gift Twine
Party Burst Dots
Foam Squares
Teal Glitter
Accessories to complete your projects: Ribbon, Gems, Jumbo Glue Dots, Pearls and Stickers
On-Line Content: Printable full color PDF tutorial and On-line LIVE class with me
BONUS PROJECT: Earn a 6th Bonus Project for FREE by ordering your December Happy Stamping Box by NOVEMBER 30th!
You will need to have some basic supplies on hand to make these projects. Below I have shared what I will be using. You can use what you already have on hand or click to shop for exactly what I will be using.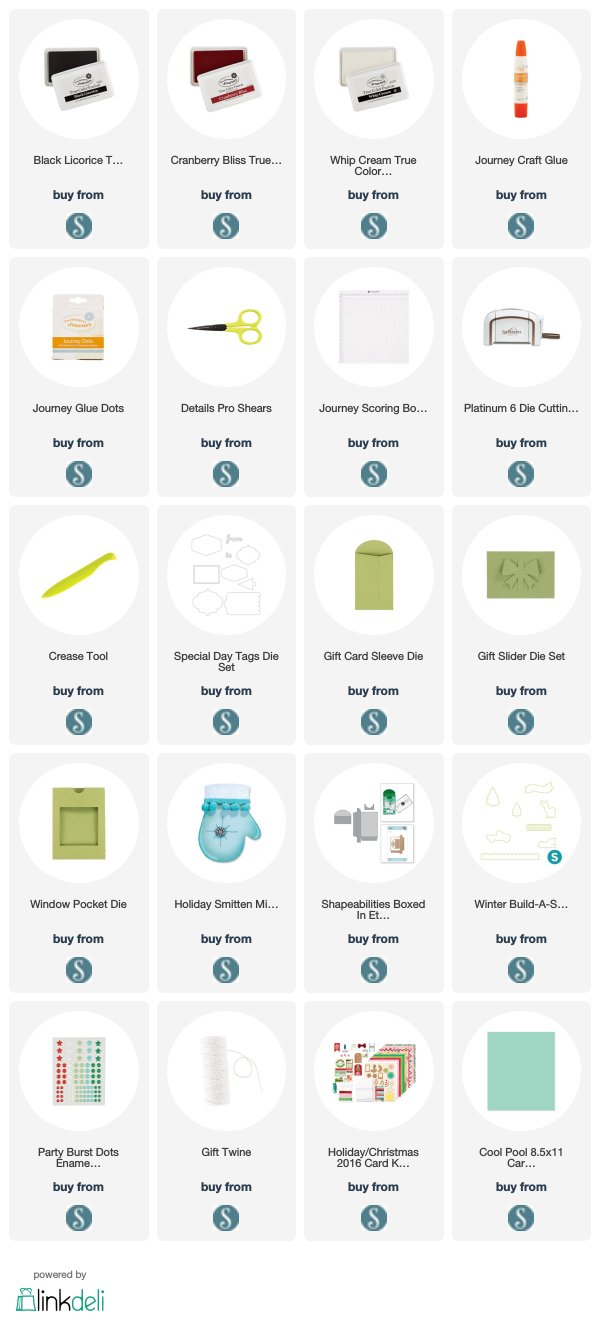 Affiliate links have been used at no cost to you, thank you for your support.
WHEN IS THE CLASS?
The December Happy Stamping Box class will be held LIVE in the private Facebook group on Saturday, December 15th at 9:30am MST. If you can not make the LIVE event the video will be available after the event in the Facebook group for 3 weeks for you to watch at your convenience.
You will be added to the Facebook page about 1 week prior to the LIVE class. If we are not currently friends on Facebook please send me a friend request when you sign up for this class (Carrie Cady Rhoades) so I can easily add you to the page.
REGISTRATION:
Registration for the December Happy Stamping Box is now open and closes on December 1st. (This is a short registrations period due to the upcoming holidays and this class being earlier in the month than normal.)
DECEMBER HAPPY STAMPING BOX ~ $45 (plus $7 shipping)
Box includes: 5 project kits, the Tiny Tags Sayings stamp set, December Happy Stamping Box die set as well as all the products listed above. Online content: Printable PDF tutorial with color pictures and LIVE class with Carrie Rhoades on the private Facebook page, The Happy Stamping Box.
DETAILS:
All product for the kits will be ordered and prepared by me after the registration deadline, December 1st. I do not have all the product on hand, it is ordered when registration is complete. Class kit ordering, cutting and preparing that 10-12days after the deadline. The expected shipping date for all boxes is December 8th.
Happy Stamping Boxes can only be mailed with in the United States at this time, send me a special request via email if you are outside the US. ([email protected])
Registration ends December 1st.
The LIVE class is on Saturday December 15th at 9:30am MST. The recorded class will be available for viewing immediately after the live class is over for you to watch at your convenience for up to 3 weeks. After 3 weeks and video and PDF will be removed in preparation for the January Happy Stamping Box class.
The PDF tutorial will post to the Happy Stamping Box FB page around December 10th for you to print out and use along with the LIVE class.
EVERYONE is welcome to join, new stampers, professional stampers, beginners! Try out my Happy Stamping Box, I know we will have fun!
I love my gift card packaging class, it has become a tradition every year and I am very excited to be sharing it with you.