This is the last one, the last episode featuring the Cocoa Stand stamp and die set by Avery Elle.
This is the card I have been waiting to make! I combined all three kinds of stands, Cocoa Stand, Tree Farm, Sledding Stand into one card. One long card. The finished card is 4" x 9-1/2" and fits in a legal size envelope.
I just adore this stamp set and had to much fun making this card. One of the reasons I love it is because I had so much fun coloring in the images. Every week I have shown you a different medium to color these images in with . This week I used Watercolor pencils. And I AM IN LOVE with watercolor pencils now. I have used them in the past but this time something clicked and I was lost in coloring. I think it is because I have been watching Sandy Allnock, the colorist extordinare, color with watercolor pencils and not only was I inspired but I learned a few things.
So what did I learn about coloring with watercolor pencils?
1.Coloring with watercolor pencils is not like coloring with colored pencils. Think of watercolor pencils as a way of laying down paint. You do not need to worry about blending, about it being neat and smooth. Use the watercolor pencils as a tool to put color in an area. The blending and magic happen when you wet this color and paint with it.
2. Paper matters. I had been using my watercolor pencils on white card stock. And the results were fine. But nothing to get excited about. So I did what seems obvious now and used watercolor paper. The difference was big enough that I started to love watercolor pencils. It was a way for me to get a watercolor look with more control than using straight up watercolor paints.
3. Light to Dark. When I paint out watercolor pencil I want to start with the darkest color I have laid down, but I found the opposite to be best. The reason I start with the light is so that the dark does not over take the light color. When you wet watercolor pencil coloring you are able to pick up that color and move it. I dont want to darken my lightest areas. So, I start with the light and work my way into the dark.
4. Go towards the line. I also found that when I paint I need to paint going towards the outline of the image. Otherwise I am removing the paint at the line. But when I paint moving towards the line I a moving color in that direction and am able to blend the lighter color with the dark.
5. Clean your brush often. Went painting over watercolor pencils the water with the pencil makes paint and your brush is picking up that paint. You can easily transfer that to another section of one image. Now an area that you want to be light could be contaminated with the paint on your brush. So, I clean my brush off even when painting one image that is the same color, so I can maintain the light areas. For example, the strings of lights I painted for this card, each light bulb has a lighter area at the bottom, I was able to maintain that by cleaning off my brush in between each light bulb.
Be sure to watch the video below to see the making of this card so you can see the things I learned about watercolor pencils in action. I will be using Arteza Expert Watercolor Pencils, set of 72. I love how nicely these pencils blend out with water and the price for 72 pencils is perfect for a novice watercolor pencils user.
Below are all the supplies I used to make this card. Affiliate links have been used, at no cost to you. But you did support my blog and channel by clicking on my links, thank you so very much!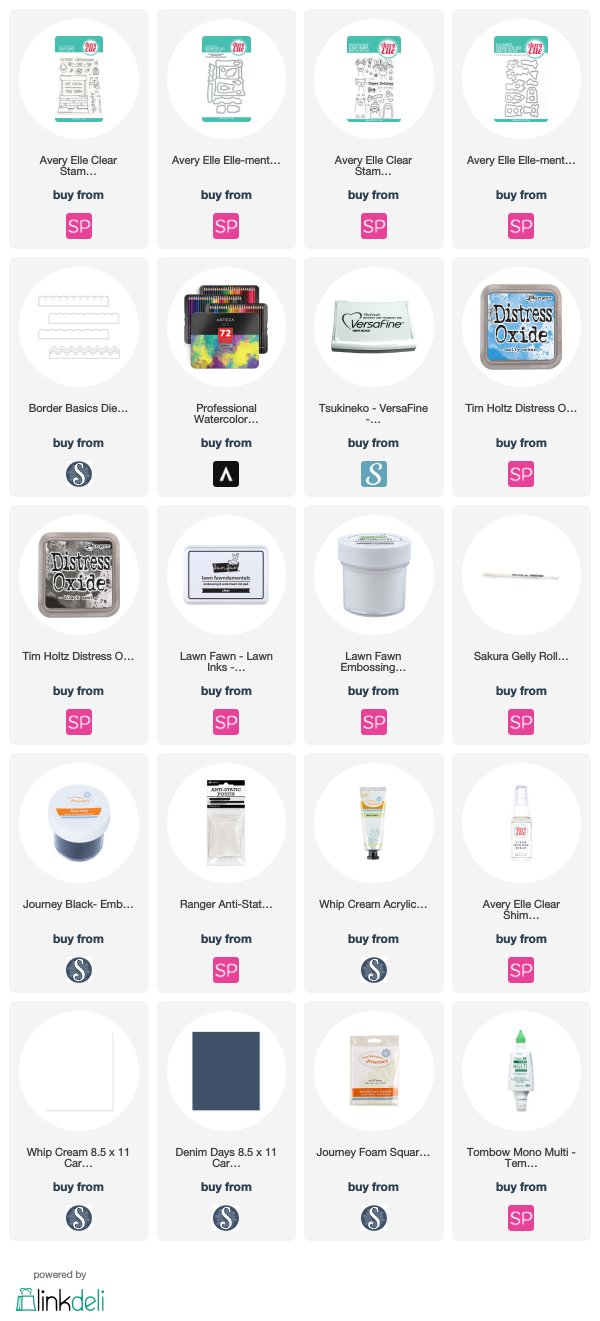 Thank you so much for stopping by. I'd love to hear from you, let me know your experience with watercolor pencils in the comments below.