Hello my crafty friends! Happy Valentines Day!
I hope to day you do something for you that makes you happy!
For today's card I am making a Valentine for my Hubby. It's part of a collaboration with my friend Jen Hartsgrove of Katahdin Krafts. We challenged each other to make a card for our hubbies.
As Bill and I have been marries for 25 years I thought it would be fun to use the Warm Wishes stamp set to make two foxes with matching valentine sweaters. The thought being we have been married for so long that soon we are going to start dressing in matching sweaters. It's corny and cute.
They are pretty cute, right!
Let's take a close up look at the sweaters and the background.
Both the sweaters have heart detailing drawn in with a Copic marker.. It's very easy, just make a "v" like shape.
The background of the card has some very subtle hearts made with a heart stencil and water over a distress oxide ink blended background.
You can watch the making of this card in the video below to see how I made the sweaters and the background.
And when you watch the video you will see how I had to redo a few things, including the stamped and colored girl fox. Here's what I did with the one I ended up not using on the outside of the card. I used it to dress up the inside of the card.
Now let's take a look at four other cards I made with the Warm Wishes stamp set.
First upI have a card made for Halloween.
In these cards you will see that I colored his face in and did not attempt to leave half white as I did with the Valentine card. This sweater is two colors with a colored pumpkin stamped and colored in the center of the sweater.
I used the exact same layout for this card, but changed up my fox for a fall look. You can also use the stamped images meant for the sweater as accents for your creations as well.
I used the same detailing on this sweater as I did on the Valentine's card, but I put the shapes in rows and closer together. This gives the sweater a cable knit look. And doesn't adding a mouth bring him to life!!! He looks so warm and cozy in his Christmas sweater.
Lastly, I have a card that I made with the Warm Wished stamp set, but I did not use the fox.
I used the trees and snowflakes to make a snow globe on my card. The snowglobe is a die set also from HoneyBee, I have listed it below if you want to check it out.
Below I have listed and linked the supplies I used to make my Valentine card.
Affiliate links have been used at no cost to you. Clicking on my links means you are supporting my channel at no cost to you, THANK YOU!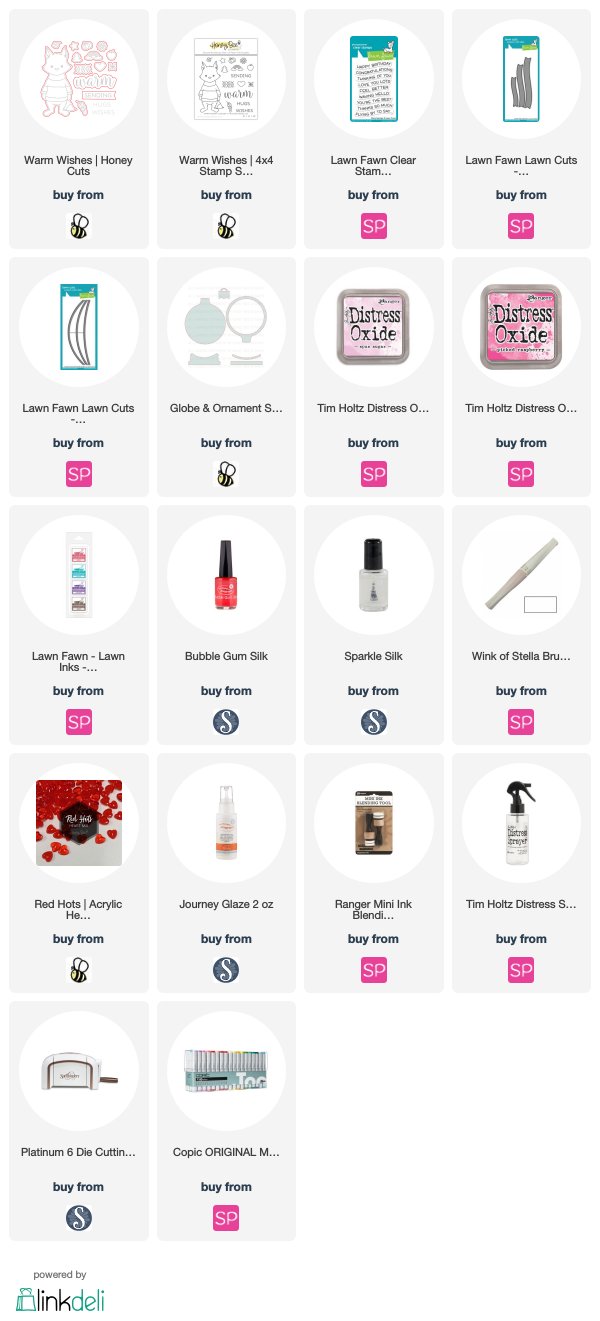 Thank you for taking time out of your day to stop by and let me share my creations with you. I will be back on Tuesday for more ideas with the Everyday Purse Bundle!