Hey there stamping friends! I know it's April and some of you do not want to start thinking about Christmas. But I thought it would be fun to make a Christmas card on the 25th of every month. And little did I know others had this idea too, in fact it's a month blog hop! So, I jumped at the chance to join this hop when they asked if I wanted to join!
Welcome to the April Crafty Christmas Club Hop!
To be honest, I wasn't sure if I would be feeling the Christmas mojo when it came time to sit down and make this card. But then I got a new die, the Slim Fancy Diagonal Stripes die by Pinkfresh Studio. It reminded me of candy cane stripes and my Christmas mojo was in full swing!
I thought the Sweet Christmas stamp set by Lawn Fawn would be the perfect thing for the candy stripe Christmas scene that was in my head.
For the background, I ink blended a panel that measures 3-5/8" x 8-5/8", which is the exact same size as the die cut Slim Fancy Diagonal Stripes panel.
I used Candied Apple and Spun Sugar for my background. I am not sure why but in the pictures the ink blending has a bit of an orange tint to it, but not in real life. I loved the ombre look this gave to my background. I adhered the ink blended panel to the die cut stripes panel to complete my background.
I then set about stamping, topic coloring and die cutting my images, all from the Sweet Christmas stamp set.
Once that was done I used my Fine Tip 2-Way Glue pen to add glitter to all the images. This gave them a candy like look that I LOVE. It has been so long since I played with glitter like this and I remember how much I love it!
You can watch the making of this card in this video.
All of the supplies I used to make today's card are listed for you below. Affiliate links have been used where possible. These links cost you nothing to shop from, it just means you are showing support to the maker who inspired you when you use them. So, a great big thank you from me for your support and allowing me to continue to bring you fun new ideas with paper, stamps and ink.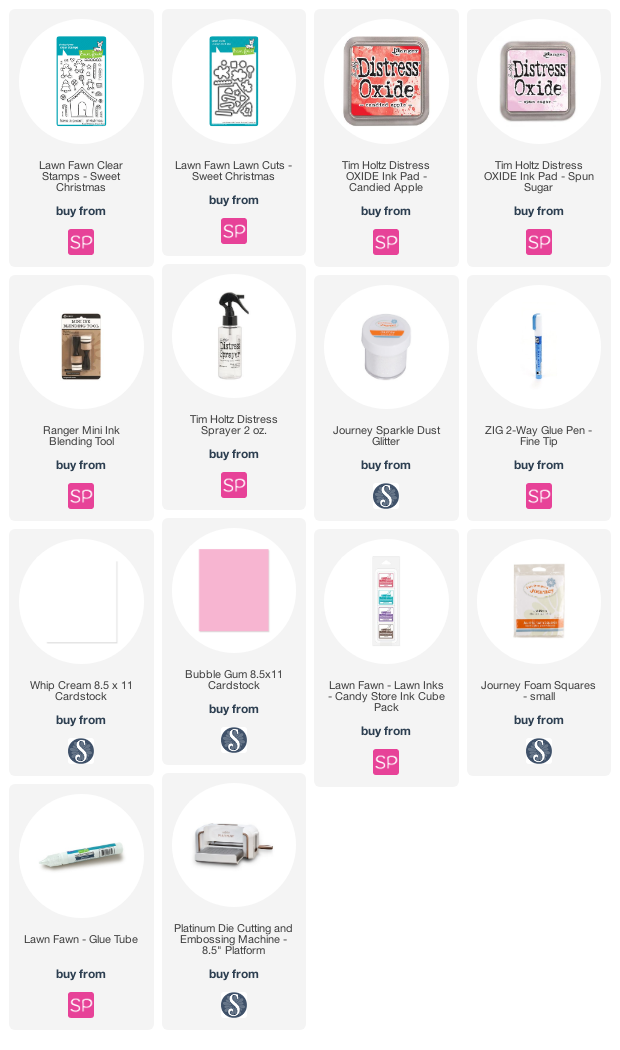 Now it's time to hop along and see some more Christmas creations.
Thank you for stopping by and sharing part of your day with me!