Hello my stamping friends! Today I am hoping along with the Scrapping for Less design team for the month of May.
I get to help reveal the Flavor of the Month Card kit and share some project ideas. The Flavor of the Month kit is either a subscription box or can be a one time purchase. The kit I am sharing today is the Double Dip Kit with with Banana Split. The Double Dip has 4 collections in it. Take a look at them here and all that comes in this kit.
WOW, right! So much fun in this box!
The theme this month is Let's Encourage One Another. The images and sentiments in this kit are perfect for this theme. Right now is a great time to send a little encouragement to a friend or loved one.
Let's take a closer look at the Easy Peasy Collection and the card I made with it.
The papers in this kit are amazing, so thick, I love them all.
I used all the images in this set to make my focal image and used Copic Markers to color it in. I used several of the printed papers on this card and envelope, there are just too many good ones to choose from.
Another great thing that comes with these kits are card sketches. These are so helpful for getting your mojo going. Here are the four sketches for this months kit. I used the sketch in the top left corner for this card. And since I am making four cards I used each of the sketches.
Now let's take a closer look at the Weather Together Collection.
RAINBOWS!!!! Another awesome thing about this stamp set, it was designed by someone who encourages us all in our paper crafting and coloring endeavors, Courtney Kreeber!
Here is the card I made with this collection using the sketch in the bottom right corner.
You can see that my card is a bit different than the sketch. I find that a sketch is a great jumping off point and as I start creating the card some changes happen and the card goes in it's own direction. Which is why sketches can be so helpful when you are not sure what to make.
Now lets look at the Love Big Collection and the card I made with it.
Look at the big foot! So cute, right! His name is Benny, the Big Foot! I really enjoyed coloring him. And the sentiment in this set, Don't Stop Believing, LOVE!
For this card I used the sketch in the upper right corner.
In the kit there is a stencil set; one with raindrops and the other with clouds. Great for backgrounds! The clouds behind Benny really helped to create the illusion that he is SO BIG!
Last but not least, lets look at the Little Lady Collection up close and my card with this set.
I could not get over the beautiful papers in this collection! And this paper is so sturdy, it feels like you have two sheets in your hand when you are holding one. This collection also comes with several die cut images, I used the black leaves on my card.
This card was inspired by the sketch in the lower left corner. I could not stop using the printed paper on this card, so much fun! Polka dots, plaid and such patterns are my favorite in printed paper. I also used the cloud stencil for this little lady scene, what a big difference a little bit of clouds make!
You can watch the making of these cards in the video below. If you are new to my YouTube channel, feel free to subscribe, I have new video a few times a week.
Find out more about the May 2020 Flavor of the Month Kit HERE.
>>>>>Next up in the hop is Stacey. Click over to see her creations and get more inspiration with this kit.
See all the other supplies I used to make today's cards below.
This is where I like to shop for my Copic Markers: Scrapbook Pal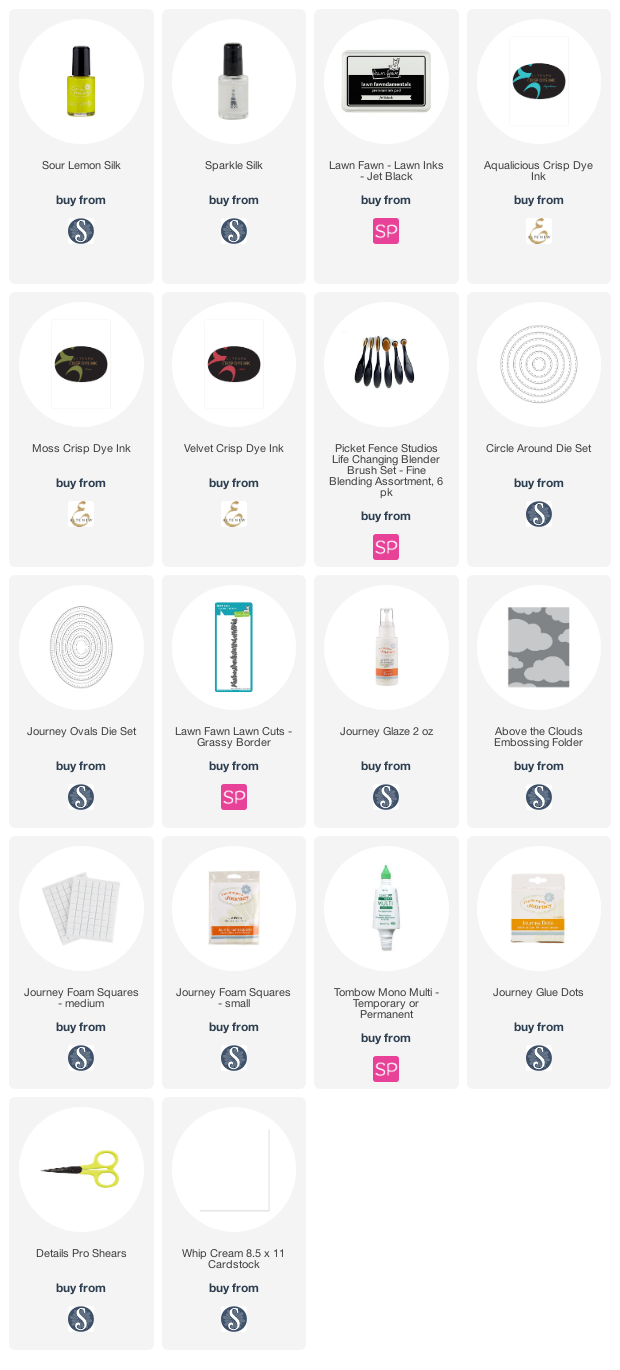 Affiliate links have been used at no cost to you. That means when you click and shop an affiliate link you are showing your support for amazing retailers and the maker that shared their product, at no cost to you. It's a great way to support the maker that inspired you. I encourage you to click and shop the links of those that inspire you, as I like to do. When you shop my links it means that I get to continue to bring you fun new ideas. I thank you so much!
Thank you so much for stopping by, I so enjoy sharing my creations with you.