Hey there stamping friends! I love being able to get multiple uses from my stamp sets, like using my Christmas stamp sets for other occasions. For today's card I challenged myself to use the Christmoose stamp set from Dare 2B Artzy to make a fall card. I love the moose in the puffy vest and thought it would be perfect for my autumn challenge.
I knew the key to getting that fall look would be in how I colored in this image. So I took my inspiration from the Autumn Leaves Paper Pack. In this pack one side of the paper is plaid and the other is leaves.
Here you can see all the Copic Markers I used to color my cute moose in fall fashion, to coordinate with the paper.
I added some gel pen high lights to finish off this moose and set to putting my slimline card together.
This slimline card measures 9″ x 8″, scored at 4″, because that best fits the business size envelopes that I have on hand. That means that I cut my plaid paper to 8-3/4″ x 3-3/4″, so it would have a nice border of the card base around it.
To add to my large background I cut leaves from the other side of this paper and added them to enhance the feel of autumn on this card. And, did you know that there are dies that cut out these leaves?!? It's true, D2BA is cool like that. The Fall Leaves die set not only cuts out the leaves on this paper but there are also THREE stamp sets that you can get to go with this die set! One die set, three stamp sets and printed paper, these are the things that get me excited. The three stamp sets all have a different style of art to make leafy cards with a different feel. There is the Many Thanks stamp set, Give Thanks stamp set, and the Tangle Leaves stamp set. I think these leaves just make the background on this card.
Now my moose needed a place to hang out, so I die cut a circle, stamped it with an image from the Wishing Happiness stamp set for some added interest. I popped up my moose and sentiment with foam squares to this circle. But I still needed something to help ground this circle to the card. In comes the burlap ribbon, hiding away in my stash. One 4 inch piece was the perfect thing to ground my circle to my card and add some fun fall texture to this card. Also in my stash I found some gems that ended up being the perfect details finish off this card.
But we can not forget about the inside of the card! It's such a big space, there is plenty of room for dressing it up and a hand written message.
I decided to waste not want not and use one of the leaves on the edge of the printed paper to put on the edge of my card. One little fun something on the inside sure makes the card feel complete. I had so much fun playing with this paper and creating a fall scene for my moose!
I thought you might like to see a Christmas card I made with this set last year.
Below I have listed and linked all the supplies I used to make my fall card.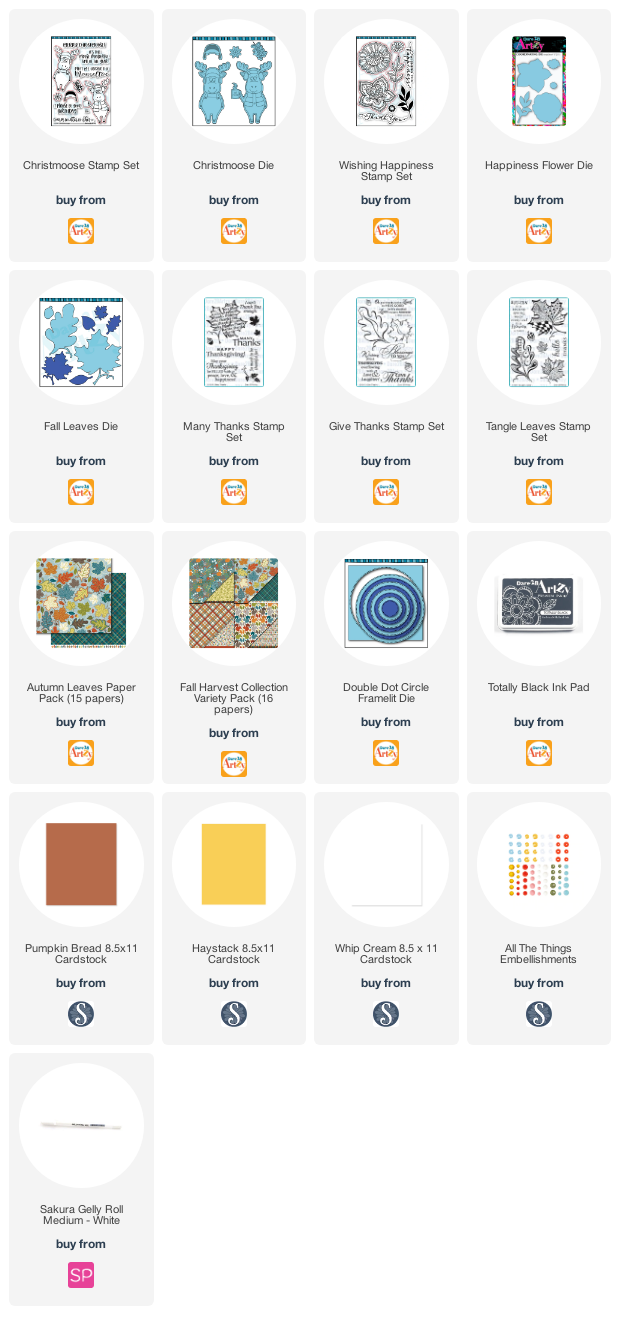 ffiliate links have been used, at no cost to you. Affiliate links are a collaboration between online shops and makers. When you shop these links the retailer gives a small percentage of the sale to the maker, at no cost to you. It is a great way of supporting your favorite businesses and the makers who inspire you. Thank you for shopping my links. Sharing my creations is my favorite thing to do and you have helped make it possible.
Thank you so much for stopping by, I love sharing my creations with you! And, I would love to chat with you! Tell me what you think of today's card? Do you have stamp sets you have used for other occasions than what they are intended for? Leave a comment below so we can connect.