Hello my stamping friends. I am excited to be here today to share a blog hop with Dare 2B Artzy and My Sweet Petunia. It is a fun collaboration because I love Dare 2B Artzy images and I can not create with out my MISTI.
As part of this hop there are some GIVEAWAYS, for you my faithful followers!
Dare 2B Artzy and My Sweet Petunia are both giving away $20 gift certificates to their shop!
And even better, a gift for every one... use the code FALL10 at both shops to get 10% anything you order!
Have you played with the new style MISTI yet? I am in love with the changes they have made, making my favorite stamping tool even better. My favorite feature is that the door is now slightly bigger than the base, making it so easy to open. I also like a that there is a place for my magnet to hang out where it is out of the way. The corners are rounded off and not sharp any longer. I love the darker grid on the door making it even easier to see and place my stamps. The etched ruler on the outer edges is very sharp. So, I can definitely say getting the new one is worth it!
For my collaboration project I used my new MISTI and Gel Press to do some reflection stamping. And as I thought it might be hard for me to try to type up and explanation as to how I did it I thought a video demonstration was in order.
If you can not see the video above you can also view it right here.
Let's take a closer look at the card with the reflection.
I used my new favorite Dare 2B Artzy stamp set for this card, Just Chillin'. I just love that polar bear and penguin image.
I used Copic Markers to color in the top image and to add a bit of color to the image on the bottom I used Colored Pencils.
I almost never make one layer cards and masking scares me, so I have to say I am very proud of this card.
How about you? Do you make one layer cards very often?
If you like this card you might also like these other cards I have made with this set.
Pink and Black Penguin Christmas Card
And now it is time to hop along and see what the other creators have made for this hop.
The next stop on the hop is Ilina's blog, you will love her style and what she created for this hop!
If you get lost on the hop I have the entire blog hop list for you below. Make sure to stop and leave a comment as you hop letting the creators know what you think of their projects. This will give you more entries into the giveaways. Both the Dare 2B Artzy Shop and the My Sweet Petunia Shop are giving away $20 gift cards to their shops. Winners will be announced on the Dare 2B Artzy blog on November 6th.
Carrie - YOU ARE HERE!
Below I have listed and linked all the supplies I used to make today's card.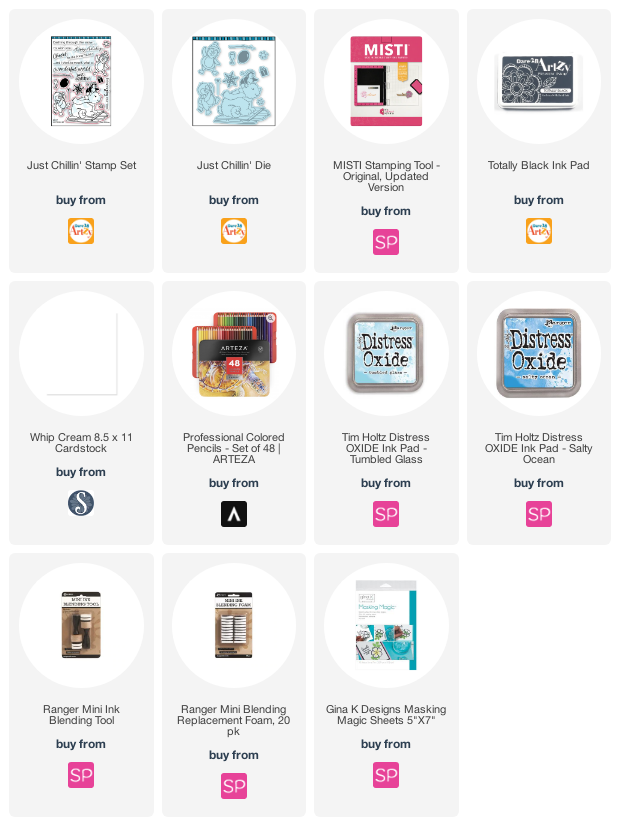 Affiliate links have been used, at no cost to you. Affiliate links are a collaboration between online shops and makers. When you shop these links the retailer gives a small percentage of the sale to the maker, at no cost to you. It is a great way of supporting your favorite businesses and the makers who inspire you. Thank you for shopping my links. Sharing my creations is my favorite thing to do and you have helped make it possible.