Today's card is part of a YouTube Hop, Grateful4OneK, celebrating Marla Harris and Cathy Arenzana. I serve on design teams with both of these fabulous makers. We are celebrating a milestone that they both recently reached, 1K subscribers on their YouTube channels! YAY!
To celebrate we have a hop of Grateful themed videos for you to watch. You can start out at my video and then click the hashtag in the video description box #Grateful4OneK and it will then show you all the videos on the hop. Be sure to watch and comment along the way for entries into the Giveaways. A winner will be selected from each video on the hop. All the details on the give away are at the bottom of this post.
Start your hoping here..
If you can not see the video above you can also view it here.
Now let's take a look at my card a little closer.
I paired three favorites to make today's card, glimmer hot foil, lawn fawn images and a shaker card. The Glimmer Hot Foil set I used is call Crimson Fall and is the Glimmer Hot Foil kit of the month for October at Spellbinders.
I love the leafy border and thought it would make a really fun shaker card frame.
I couldn't stop there and added some cute images to the inside of the card as well.
All the supplies I used to make this card are listed and linked for you below: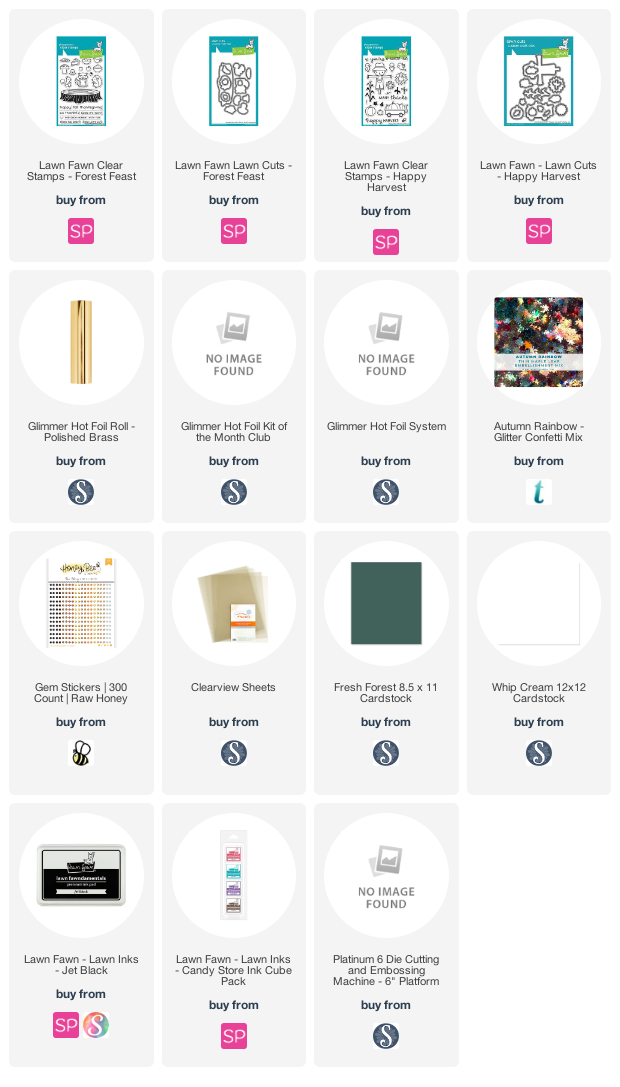 There are SEVEN GIVEAWAYS on this hop! Just leave a comment on my video letting me know one thing you're grateful for to be entered to be a winner.
One winner will be selected from each video on this hop. So the more you hop and comment the better your chances are!
Just click the hashtag #Grateful4OneK in the video description box to see all the videos in this hop.
Here are the generous give aways by the sponsors of this hop:
The Greetery - $10 shopping spree
Kat Scrappiness - $25 shopping spree
7 Kids Crafts - two $20 shopping sprees
Not 2 Shabby Shop - $25 shopping sprees
Additional prizes Marla is giving away a stamp set from Ink2Paper and a $25 gift card to The Greetery
Cathy is giving away a Whimsy gift card for $25 and Stamping Munchkins gift card for $25
Comments must be received by October 23rd @11:59 p.m. to be eligible for the giveaway.
The winner announcements will be made on MAD About Cards and Crafts and Cathy Arenzana's channels on October 25th.
Thank you so much for stopping by and hopping with us!
Affiliate links have been used, at no cost to you. Affiliate links are a collaboration between online shops and makers. When you shop these links the retailer gives a small percentage of the sale to the maker, at no cost to you. It is a great way of supporting your favorite businesses and the makers who inspire you. Thank you for shopping my links. Sharing my creations is my favorite thing to do and you have helped make it possible.