Good morning, I am thrilled to announce that as of today I am officially a design team member for Trinity Stamps. That means I will be sharing with you the latest and greatest products from Trinity on a regular basis and you will be seeing my videos up on their YouTube channel. If you have been following me for a while then you all ready know how much I love the Trinity Stamps products. Especially their line of slimline products. So for my first design team project it had to be a slimline card.
I have been in love with the Treetop Adventure stamp set since it came out and so excited to finally be playing with it. I think there is somethings magical about treehouses. They bring your imagination to life.
I knew I wanted to do a fall themed card with this set and have the tree be filled gorgeous orange leaves. So when I set to coloring the tree I tried something I have never done before, well not since I was a kid anyway. I use scribbles! I started with my YR02 Copic Marker and colored swirly, spirally circles all over the tree top of the massive stamped image. I repeated this with my YR16 and YR07 markers. It was scary and I was not sure about how it would turn out, but in the end I got the look I was hoping for. A fall tree with varying colors and the look of dimension.
I decided to make this treehouse into a Pirate ship. You can just see these two kiddos playing pirates in this tree house, and today the waters are shark infested!
These clay shaker elements of sharks are found at the Trinity Stamps shop. I thought they were such a fun addition to this card and the perfect shaker element.
You can see this card being made in the video below.
If you can not see the video above you can also watch this video here.
All the supplies I used to make this card are listed and linked for you below.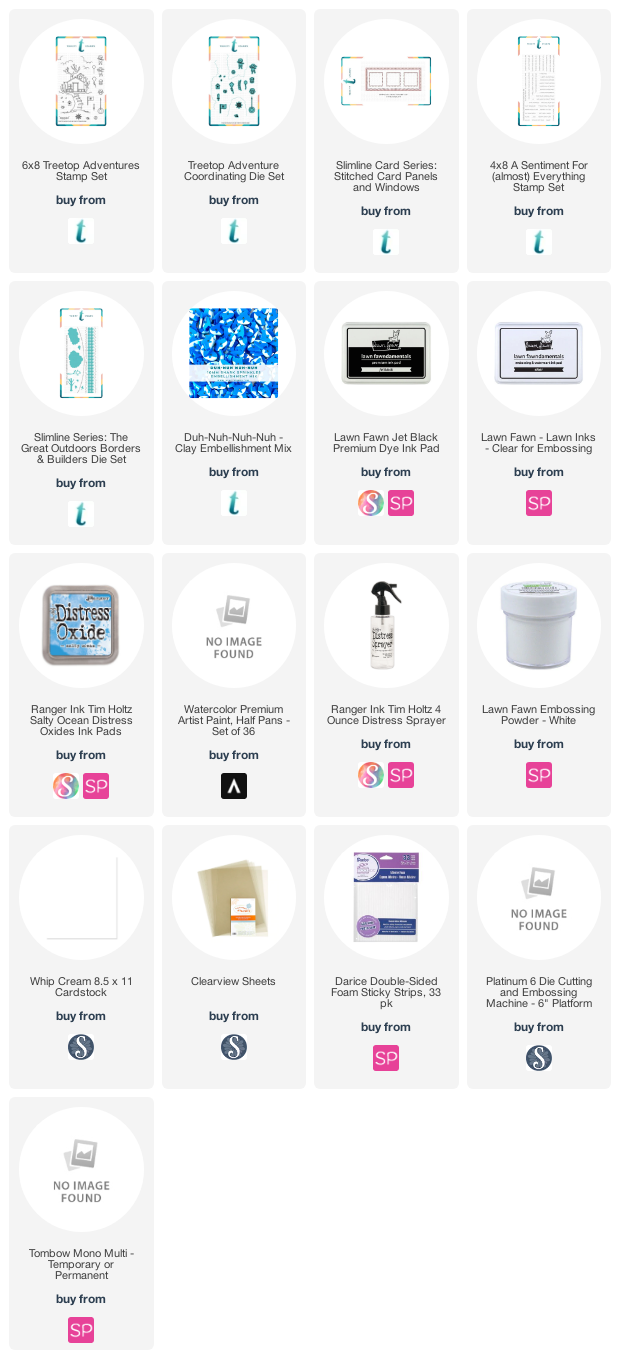 Affiliate links have been used, at no cost to you. Affiliate links are a collaboration between online shops and makers. When you shop these links the retailer gives a small percentage of the sale to the maker, at no cost to you. It is a great way of supporting your favorite businesses and the makers who inspire you. Thank you for shopping my links. Sharing my creations is my favorite thing to do and you have helped make it possible.