Welcome back to my blog, today I am sharing Episode 4 of my Tiny Gingerbread stamp set of the month series.
In this episode the theme is snow globes. In addition tot he Tiny Gingerbread stamp set I used the Snow Globe scenes stamp set and the Magic Iris Snow Globe add on. And maybe a few other fun things! Each week this month I have shared an Slimline Card and an A2 sized card, this week is the same. My slimline card has 3 min snowglobe shakers on it that are removable and can then be used as ornaments. The A2 card using the Magic Iris and Snow globe add on, AND it is a shaker! So much fun in this video, I can not wait to share it with you.
You can watch Episode 4 right here.
If you can not see the video on this screen you can also view it right here.
You also might want to click over to watch this on YouTube, because when you leave a comment there you will be entered to win one of the cards I make in the video!
You can see here how the little snow globes detach from the slimline card and are now ornaments. A little bit of white/clear velcro did the trick.
The Magic Iris snow globe reveals the little gingerbread scene. All the snow globes on these card are shakers, including the Magic Iris. Watch the video above to see how to turn your magic iris into a shaker.
Each of these little snow globes was made with the new Snow Globe Scenes stamp set set, die set and the Snow globe shaker add on die set. I attached the snow globes to the background with some velcro.
Having these removable snow globes on the card is like giving a card and a gift in one. And I think these snow globes will look so very cute on a Christmas tree.
Now take a look at this Magic Iris Snow globe card.
When you open up the iris, there is the cute little gingerbread scene.
To see how I created this Magic Iris Snow globe into a shaker card watch the video above. It's just a couple more steps and layers to the Magic Iris.
All of the supplies I used to make these two cards are listed and linked for you below.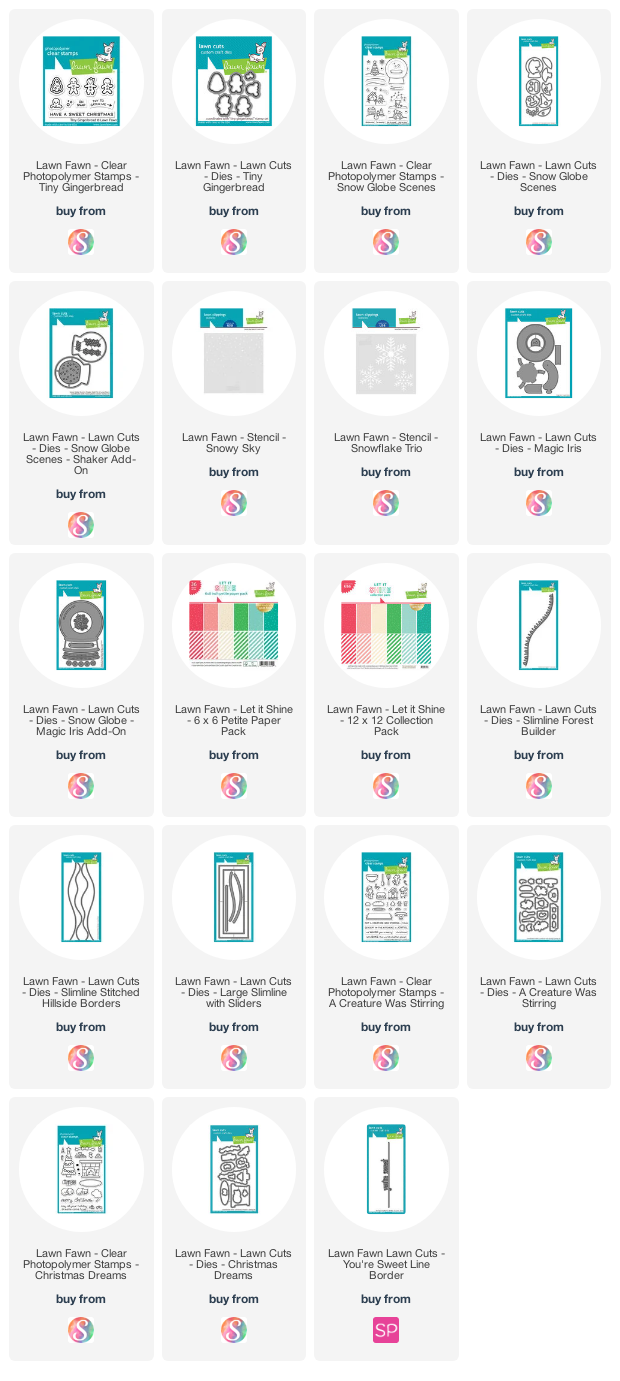 Affiliate links have been used, at no cost to you. Affiliate links are a collaboration between online shops and makers. When you shop these links the retailer gives a small percentage of the sale to the maker, at no cost to you. It is a great way of supporting your favorite businesses and the makers who inspire you. Thank you for shopping my links. Sharing my creations is my favorite thing to do and you have helped make it possible.
Thank you for stopping by! I will be back again soon with an all new stamp set of the month series for December! And be sure to visit my YouTube channel on Monday for my Recap video of this month's series. If you missed any of the Episodes in the Tiny Gingerbread series, you can find them all on
my YouTube channel