Hello my stamping friends! Today I am sharing a fun new die set that Trinity Stamps is GIVING AWAY! It is a free gift with purchase. When you shop the Trinity Stamps shop during the Black Friday Sale (11/26/20 - 11/30/20) and your order reaches $100 you will get the Rainbow Funshine die set for free!
-----> ALSO!!! Use the Code BLACKFRIDAY15 to get 15% off Stamps, Dies and Stencils during the Black Friday Sale at Trinity Stamps!

The design team has some inspiration for you in the form of a video hop. So, when you get your Rainbow Funshine die set you will have plenty of inspiration to get you started!
You can see all the inspirational videos on this hop right HERE.
Now let's take a closer look at the cards I made.
I just love this latte cup! I would definitely love to have this as a real cup.
I just the Autumn Rainbow Slimline paper pack to die cut all my rainbow pieces. There is a die that cuts out all 6 of the bows of the rainbow in one pass. Each of those bows has stitching detail, that is a line and then dot, repeating the entire length of the bow. There is also a solid rainbow die that you can use to glue on your die cut bows. I love that, it makes it so very easy to use! There is a darling little cloud in this die set as well. I die cut mine from a white with light gray piece of polka dot paper from the Winter Hues Slimline paper pad.
The background of this card was created using the Slimline Lots of Dots stencil set, the stencil with the largest Polka Dots, and Glitz Glitter Gel. I just love all the glitter and shimmer of the white on white of this background.
The Die cut word from is from one of my favorite die sets, the Slimline Envelope Builder Die set. I love that I can use it to die cut a slimline envelope or use the other dies in the set for my cards as well.
Now let's take a look at my second card.
Having a bunch of left over rainbow pieces from making my first card, I decided to use them to make a background for a second card.
I adhered the rainbow pieces down in rainbow order, even if they don't all start with red, they are in rainbow order. Then I added some polka dots with the same stencil and Glitz Glitter Gel over the top of the rainbows. I thought this was so much fun!
For the die cut sun on this card I used the smiley face die and cut it from the center of the sun. Then I added a circle of back card stock to the back. How fun that there is a face included as an option for the sun in this set! Another small die in this set that makes it for me is the tiny heart die, I used it on my cloud, above where I stamped "miss you". Both of the stamped sentiments on these cards are from the Sentiment for Almost Everything stamp set.
These were some very fun cards to create and this Rainbow Funshine die set is one I will use time and time again.
Remember you can get this die set for FREE when you shop the Trinity Stamp Shop during their Black Friday Sale and spend $100. And use code BLACKFRIDAY15 at check out to get 15% off Stamps, Dies and Stencils!!!
You can find all the supplies I used to make these cards listed and linked for you below.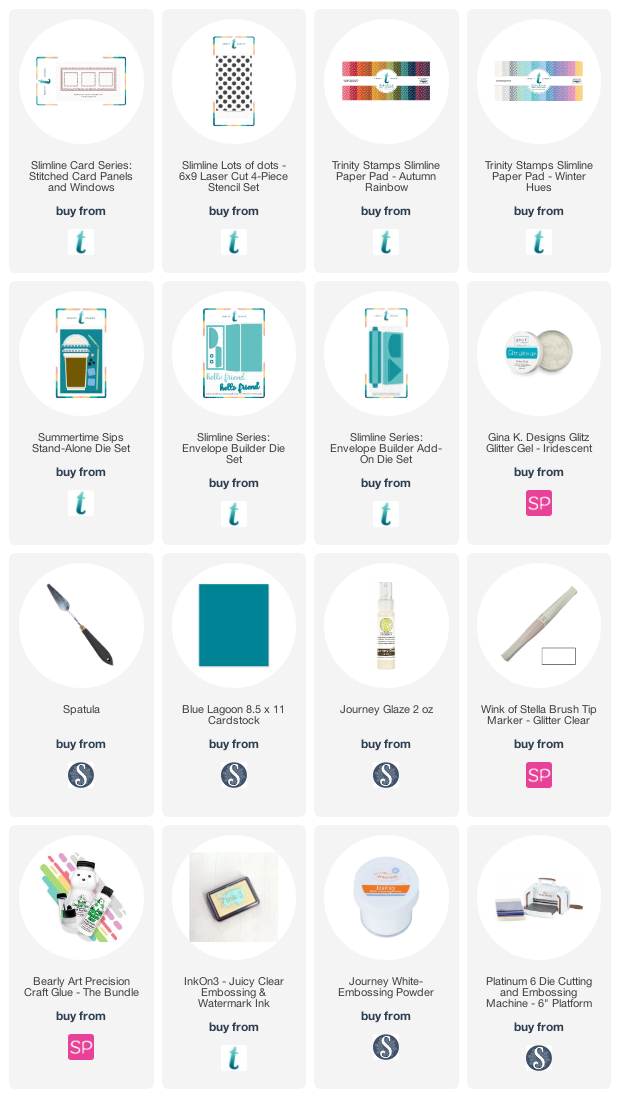 Affiliate links have been used, at no cost to you. Affiliate links are a collaboration between online shops and makers. When you shop these links the retailer gives a small percentage of the sale to the maker, at no cost to you. It is a great way of supporting your favorite businesses and the makers who inspire you. Thank you for shopping my links. Sharing my creations is my favorite thing to do and you have helped make it possible.