Hello Stamping friends! Today I am here sharing a Dollar Tree DIY project as part of the Dare 2B Artzy Christmas 3D Instagram Hop! Sharing some Holiday project inspiration as this season is upon us. There are prizes and giveaways and cute projects ideas!
For only 2 days you can get 15% off your order at the Dare 2B Artzy shop using code XMAS2020!
Now let's take a look at the 3D Holiday project I made for this Instagram Hop.
It all started with a Dollar Tree wooden snowglobe home decor piece. But let's back up just a little bit. You should know I love to watch Dollar Tree DIY video's on YouTube. The makers create the coolest home decor pieces using items from the Dollar Tree. I love it and want to do it so bad. But my talents and passion are in paper crafting. So, I thought I would mash up these two things. I would do a Dollar Tree DIY home decor piece using my talents of paper crafting. So, when I found this wooden snow globe with a paper overlay of a snowman, I knew this was the piece I wanted to do over for my Hot Cocoa bar.
You can watch the transformation here.
I honestly feel so I excited that I did a Dollar Tree DIY video! If you can not see the video on this screen, you can also view it right here.
Now this project is part of an Instagram Hop, so you are going to want to head over to my Instagram page and hop along for a chance to win one of two $10 gift certificates to the Dare 2B Artzy shop. You have two days to hop along and enter to win. Start the hop here.
I love how this little snow globe turned out and am happy to have a hand made piece to add to my cocoa bar. The Crazy 4 Cocoa stamp set has got to be one of my favorites this holiday season. The marshmallow man kills me!
This snowglobe was very easy to make with a bit of sand paper, acrylic paint and paper. A very easy project to do at home with supplies you have on hand, or a few additional products from the Dollar Tree. There are always plenty of wooden things at the Dollar Tree that you can DIY with your favorite papers and stamps.
Don't forget, if you want to take advantage of the 15% off sale you have to shop December 4-6 and use code XMA2020 at check from the Dare 2B Artzy Store.
Below I have listed and linked the things used to make this project, besides the wooden snowglobe.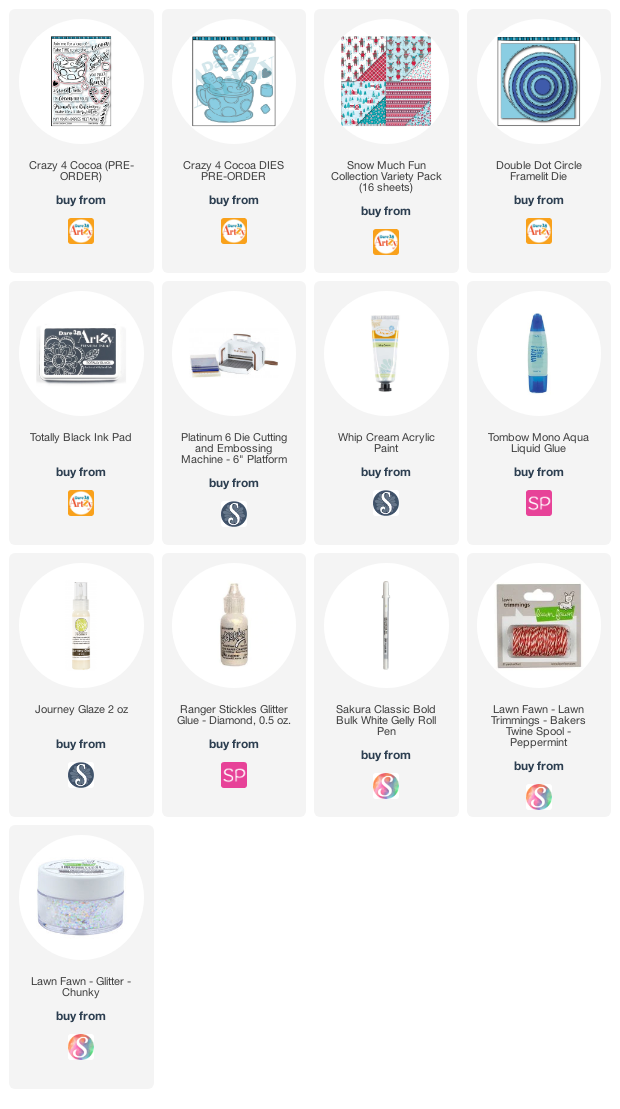 Affiliate links have been used, at no cost to you. Affiliate links are a collaboration between online shops and makers. When you shop these links the retailer gives a small percentage of the sale to the maker, at no cost to you. It is a great way of supporting your favorite businesses and the makers who inspire you. Thank you for shopping my links. Sharing my creations is my favorite thing to do and you have helped make it possible.