Welcome back to another Concord & 9th feature. Today I am share two Weekender Handbags I made, inspired by photos of designer handbags that my friend sent me.
I have made a video for you, so you can see exactly how these handbags go together.
If you can not see the video on this screen, you can also view it right here.
And if you missed my first video on the Weekender Handbag die set you can watch that video right here.
Today's blog post is part of a blog hop with the other designers at Concord & 9th.
I am loving creating with the talented ladies this month, a couple who are my friends! So be sure to read to the end and hop along to see what each of them have made with the Weekender Handbag die set.
Now here are some close up pictures of each of the hand bags I made.
First up is the pink and brown and gold purse. I am IN LOVE with this color combination. Which was inspired by a photo of a designer purse a friend sent me.
The tag I used on this purse is a die from the Everyday Purse die set, if you like this Weekender Handbag die set, you will also love the Everyday Purse. I have several videos on that die set as well. I have listed them for you here, if you want to check them out.
Everyday Purse Stamp and Die Set Bundle Episode 1
I stamped this purse the the Weekender Handbag stamp set and gold ink for this fun designer look. And I added an accessory with the sunglasses die cut from the Bright Eyes die set.
The brown purse is very similar, with gold stamping, but this time on the main body of the purse using the clover like image. The XO is stamped onto the Wheat card stock with Wheat ink.
This Weekender Handbag has a fairly large capacity. The inside of the purse is about 4" long, 2" wide and 3" tall. I love that you can fit a decent amount of things in this purse, making it perfect for giving a small gift. Great for Valentines, a birthday, Mother's Day or any occasion that you want.
Now it is time to jump over and see what the other designers have made with this amazing die set. Next on the hop is Sara Sherlock from Much Love Sara. Sara always makes such beautiful things, I know you will be glad you hopped over to her blog.
If you missed a stop on the hop you can find all of the blogs listed for you below.
Carrie Rhoades - - - that's me!
Below I have listed and linked all the things used to make today's purses.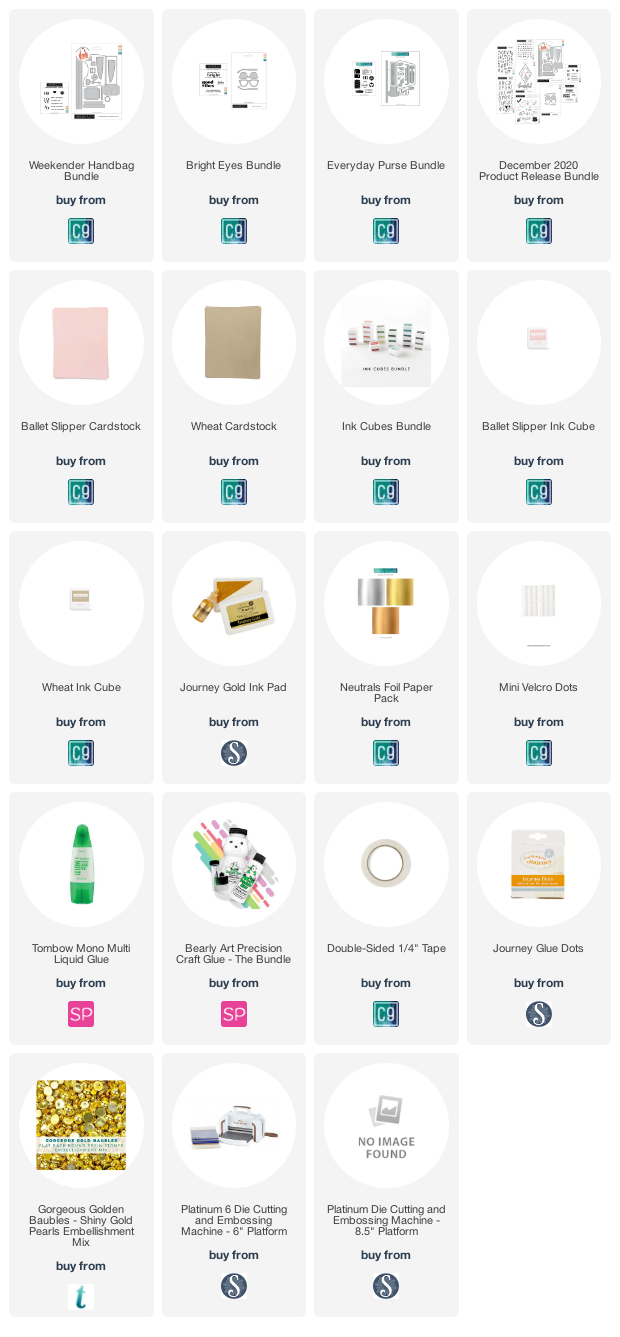 Affiliate links have been used, at no cost to you. Affiliate links are a collaboration between online shops and makers. When you shop these links the retailer gives a small percentage of the sale to the maker, at no cost to you. It is a great way of supporting your favorite businesses and the makers who inspire you. Thank you for shopping my links. Sharing my creations is my favorite thing to do and you have helped make it possible.
I hope you will stop back by soon, I will be back on Friday with another post for Concord & 9th, featuring the new Botanical Turnabout stamp set!