Thank you so much for coming back to my blog. It is Saturday and that means I am here with another video for you featuring Trinity Stamps products.
Today it is the new Falling For You gnome stamp set. This gnome is so cute with his arms stretched out as he falls into a pile of hearts. I love it so much.
In this video I will be sharing 3 cards I made with this set and all three are different sizes. I have an A2 one layer card, a 5" x 5" shaker card and a Mini Slimline card which is 6" x 3".
If you can not see the video on this screen you can also view it right here.
First up I will show you the one layer card, sized A2 (4-1/4" x 11", scored at 5-1/2").
Using all five of the images in this stamp set it is easy to make a one layer card.
I just stamped my images with Copic friendly black in and colored it in. Then I colored the sky around him and added some shadowing beneath the pile of hearts to ground the image.
The scalloped border at the bottom is from the Slimline Series dies, The Great Outdoors set.
A quick and easy card made super cute by that little gnome.
Now let's take a look at a card that takes things up a notch. The 5" x 5" shaker card.
You can see I used different colors of pink on this card. I thought the background of the hearts could be a cloud in this image, so I thought a shaker full of clouds would make for a fun card. With hearts falling all around him.
This shaker card is also a window card, you can see through the shaker window into the card.
For all the circle die cutting on this card I use the new Embossed Edge Circle dies. These dies leave an embossed edge around the outside of the circle and around the circle left in the paper you die cut the circle from. Pretty Cool! If you look closely at the pink circle on this card, near the left side of the bow, you an see those embossed lines.
I added a bow from the Bunch of Bows die set to finish off this card.
Last I have a mini slimline card for you (6" x 6").
Be sure to watch the video to see how I altered an envelope to fit this card.
The background of this card is a piece of All Heart Slimline Paper pack. I die cut it with this scalloped panel from the Mini Slimline die set.
And I added a custom sentiment, made with my new favorite alphabet die set, the Graham Cracker Alphabet.
I just love how the three cards turned out, have such cute images make it easy to create adorable cards.
Below you will find all the supplies I used to make today's cards.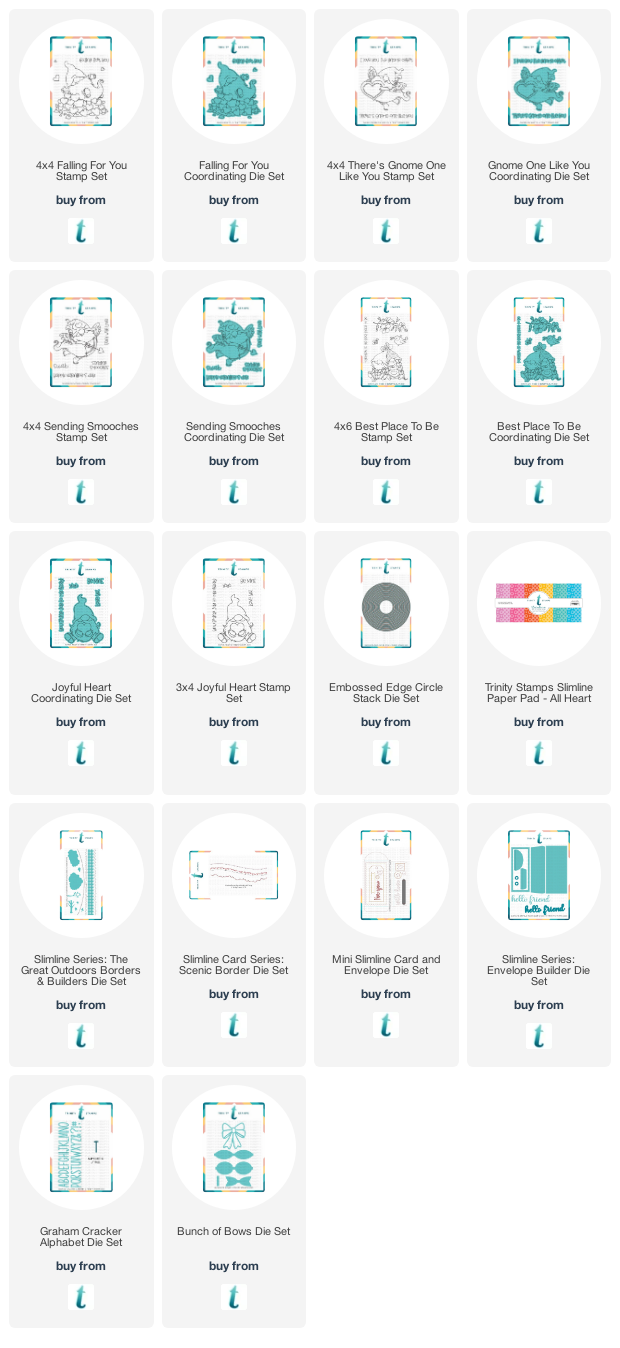 Affiliate links have been used, at no cost to you. Affiliate links are a collaboration between online shops and makers. When you shop these links the retailer gives a small percentage of the sale to the maker, at no cost to you. It is a great way of supporting your favorite businesses and the makers who inspire you. Thank you for shopping my links. Sharing my creations is my favorite thing to do and you have helped make it possible.