Hello! Today's post is a little different. It is not a card. I am collaborating with my friend Jen Hartsgrove of Katahdin Krafts. We are both making over a wooden sign from the Dollar Tree to hang in our craft rooms. I really needed something I could hang on the door to my craft room year round. When I say NEED, it is because I have a hook there that I hand seasonal decor. But sometimes a snowman hangs there past his melting point and sometimes the door is naked with just a hook. So, you see the need, right!?! So the inspiration behind this was to fill that need and have something that inspires me as I enter my studio.
We both have a video of our creations, so when you are done watching mine click the link below to watch Jen's video.
If you can not see my video on the screen, you can also view it right here.
Now click over and watch Jen's video and see the sign she made for her craft room: https://youtu.be/KugXFEIGhAE
Here you can see the sign hanging on my door, greeting me and reminding me to have fun while creating.
I think it is a great welcoming piece to for when I have guests in the studio.
Now let's take a look at the original sign, so you can see what I started with.
This is what the sign looked like right from Dollar Tree.
This sign is just one 12" long and about 11" at it's widest point.
I started by sanding the glitter off the original sign.
Then I traced each section of the sign onto some patterned paper. The patten I choose is from the paper pack, Good Life from Spellbinders. It had a white washed wood look. I cut out the pieces and glued them to the sign using Tombow Aqua Liquid Glue. You could also use Modge Podge, which they do sell at Dollar Tree.
To give the paper a cleaner look I sanded the edges. This helps form the paper to the shape of the heart and it looks like the paper was always there.
For more of a distressed look I used Vintage Photo Distress ink around the edges of the heart. I just took the pad direct to the paper and swiped it where I wanted ink.
Next, I added my letters, cut using my Cameo Silhouette, to say Happy Stamping. The font I used is called LW Perfect Print. I added them by spreading another layer of the Tombow Aqua Glue over the front and paper covered sign. This glue dries completely clear with a matte finish. So, you would never know it was there. I can not even see brush strokes when it dries!
I also brushed a third layer of the glue over the top of the letters to help secure them into place.
The flower at the top of the sign was a gift from my friend Becky Roberts. She made it for me to wear to a special event at Fun Stampers Journey a few years ago. I saved it and thought it would be perfect for this sign. The die that she used to cut out the flowers is retired. But you can find digital cut files to make 3D flowers like this. I saw several in the Silhouette Design Store.
To the bottom of the heart I added some cute images of craft supplies from the Craft Happy Stamp set by Spellbinders.
I also removed the red ribbon connecting the pieces of the heart together and used a ribbon, Cool Pool Satin Ribbon, that would match the colors I wanted on my sign. I attached it to the back using double stick tape, linked below, from Dollar Tree. Then I glue down some chipboard over the top of that to secure it in place.
That finishes up my newest craft room decor piece. I am very happy with it. I only used supplies I had on hand to decorate this sign, so I spent just $1 to create this piece.
If you do not have a Dollar Tree near you, you can shop Dollar Tree online. Note that some products are only available to purchase in larger quantities. Great to share with friends.
Below are all the supplies I used to make today project. (The sign is not listed as it was a seasonal wooden sign, but the St. Partick's Day and Easter decor is out at Dollar Tree and you could find other wooden signs to alter).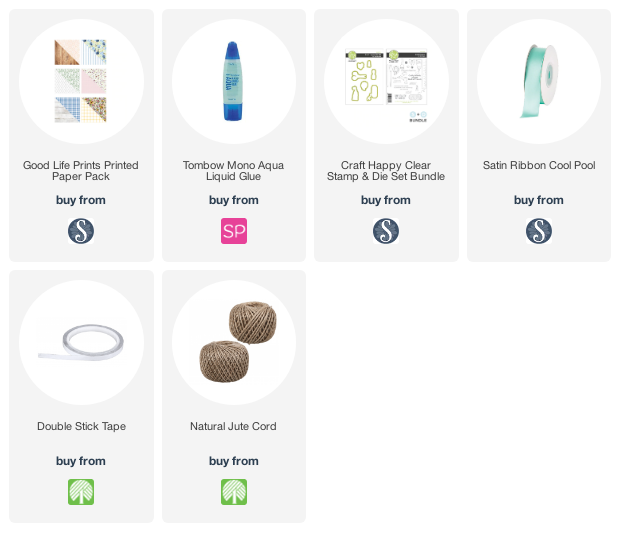 Affiliate links have been used, at no cost to you. Affiliate links are a collaboration between online shops and makers. When you shop these links the retailer gives a small percentage of the sale to the maker, at no cost to you. It is a great way of supporting your favorite businesses and the makers who inspire you. Thank you for shopping my links. Sharing my creations is my favorite thing to do and you have helped make it possible.