Happy Sunday! And Happy Super Bowl Sunday for those of you who are into football.
Today I am sharing two cards I made using a new product line from Spellbinders. It is the Celestial Zodiac line. There are stencils, dies, glimmer hot foil plates and stamps in this new line. I was so excited to try out the new Layered Full Moon stencil set. I knew I wanted to make some galaxy backgrounds to go with my moon. I also got two of the Zodiac Glimmer Hot Foil plate sets, Leo and Sagittarius.
Let's take a look at the two cards I made and then I will break down how I created them.
For each card I used one color of distress oxide ink along with Black Soot Distress Oxide to mark the galaxy background.
For the Leo card I used Fossilized Amber.
I start with a piece of Bristol Smooth card stock and ink blend splotches of Fossilized Amber ink on to the 4" x 5-1/4" panel. Then I fill in all the white spaces with Black Soot. I spritz this with water to create the first layer of splatter. Once that I dry I add more splatter with metallic watercolor, white acrylic paint and Black Licorice Silk. The final touch it to use Black Soot Distress ink around all the edges of the panel.
For the moon I used the Layered Full Moon Stencil set and the Pocket Full of Sunshine ink pad collection. It is a set of 4 yellow ink pads that go from a very light yellow to a dark yellow. Perfect for a 4 step stencil set.
I finished up this card by adding hot foiled pieces from the Leo Glimmer Hot Foil Plate set. I put the constellation right on the moon with black foil. For both of the word panels I use Aura foil.
For the Sagittarius card I used Cracked Pistachio Distress Oxide ink for my Galaxy ink, using the stamp steps I used for the first card.
For the moon, I did not have the right colors to make a green moon that would coordinate so I went for more of a teal moon. I used the Sweet Dreams ink pad set from Altenew for this moon. I glimmer hot foiled the constellation for Sagittarius over the top of the moon with black foil.
Again, I used Aura foil for the wording on this card, it is my favorite foil! It is gold with an iridescent finish.
Watch for a video of the making of these cards on my YouTube channel soon!
Below you will find all the things I used to make todays cards listed and linked.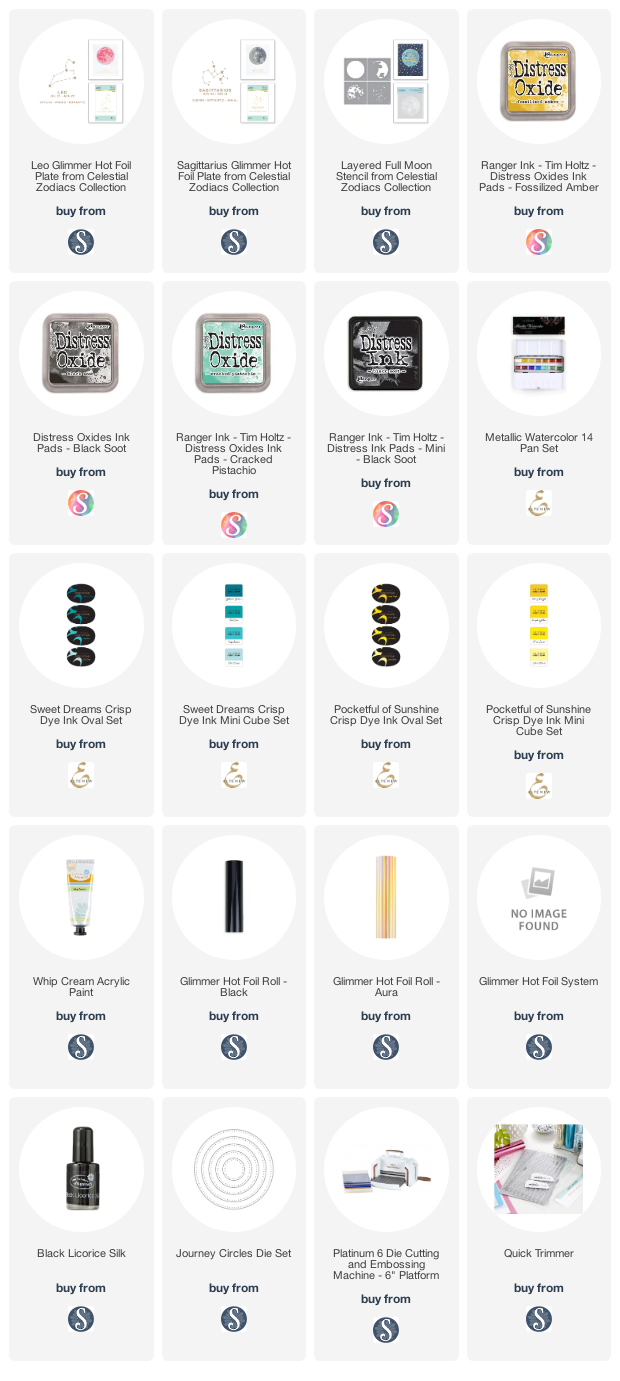 Affiliate links have been used, at no cost to you. Affiliate links are a collaboration between online shops and makers. When you shop these links the retailer gives a small percentage of the sale to the maker, at no cost to you. It is a great way of supporting your favorite businesses and the makers who inspire you. Thank you for shopping my links. Sharing my creations is my favorite thing to do and you have helped make it possible.