Hello there and welcome to the Coffee Lovers Hop! I am hopping along with Not 2 Shabby today, sharing this brand new digital stamp set release, made especially for this hop. It is the Some Bunny Bring me Coffee digital stamp set. This set was designed by Jamie Peters at Not 2 Shabby. Take a close look at the egg, it has a coffee cup and coffee beans on it!
I am apart of the Instagram Hop, so if you'd like to be entered to win the $25 shopping spree at the Not 2 Shabby Shop make sure you click over to my Instagram page and start the hop there or search #n2scoffeehop . Here's a quick and easy link to get there: https://www.instagram.com/carrierhoades
I also wanted to share today's creation with you in a video so that you could see how I made my swirled coffee background, using Shaving Cream. It's an old technique, but a good one. Watch me get all messy right here.
If you can not see the video up on this screen, you can also view it right here.
Making a shaving cream background is so much fun! I love the swirly look it creates that looks good enough to eat. Have you tried a shaving cream background before?
Here's an up close look at today's card.
I LOVE digital stamps for a couple reasons; one you get instant gratification. You see a stamp you love, you purchase it and print it out! No waiting on the mail! Second, I can make that stamp any size I like. Third, I can easily make a mirror image of that stamp.
If you have not tried Digital Stamp Sets yet, I highly recommend just giving it a try! You can find this digital stamp set, Some Bunny bring me some Coffee, right here.
The printer I use for my Digital image is the HP Envy 7645. I print out on light weight card stock that I buy in a ream at Walmart. It is great for Copic coloring.
I also like to use my Cameo Silhouette to print and cut out my Digital images. In my design studio in Cameo I am able to adjust the size of the image and group them together like I did with the egg for today's card. All of the things I did for my card you can do just by printing out your images. I also designed the pink shaker frame for this card in using my Cameo Silhouette. You can see a clip of it in my video.
The shaker elements I used are from Trinity Stamps. They have a TON of embellishments. Clay elements, half pearls in all colors, sequins, confetti and gems and more! These clay elements are made to look like real sprinkles, this mix is called Neapolitan.
I love a shaker card and this one in the slimline size with the shaving cream background, makes me so happy! Thank you for letting me share it with you.
If you'd like to see more inspiration with this digi stamp set head on over to my Instagram page to join the hop. And if you comment as you hop you will be entered to win the $25 shopping spree to the Not 2 Shabby shop. We are using the hashtag #n2scoffeehop for this hop, you can easily find us that way too.
All the supplies I used to make today's card are listed and linked for you below.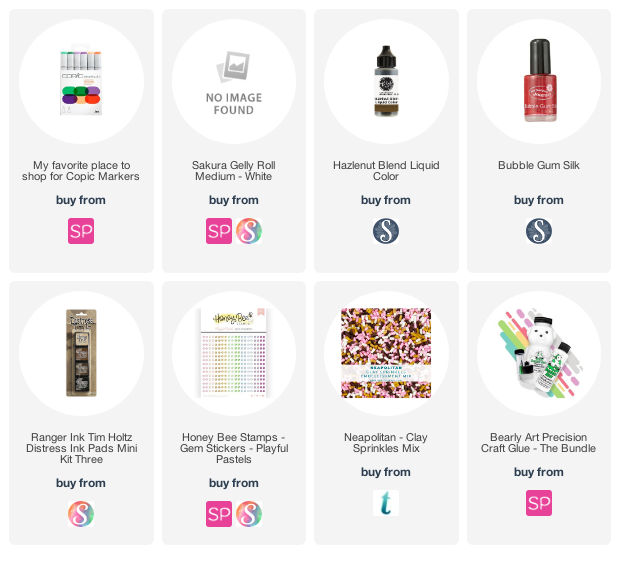 Affiliate links have been used, at no cost to you. Affiliate links are a collaboration between online shops and makers. When you shop these links the retailer gives a small percentage of the sale to the maker, at no cost to you. It is a great way of supporting your favorite businesses and the makers who inspire you. Thank you for shopping my links. Sharing my creations is my favorite thing to do and you have helped make it possible.