Today I am collaborating with Pear Blossom Press and Lauren Taylor of LaurenTaylorMade to bring you this fun light up card. Pear Blossom Press makes the EZ-Lights, which I featured earlier this month in this video. And they just came out with Halo Lights! A ring with four LED lights on it. The electrical work is all done for you, all you have to do is add it to the back of your card! It is that easy. So, Lauren and I decided to come together and give you TWO ideas with these new lights. After you watch my video I have a link to hers so you can get another great Halo Light idea.
My first idea when I saw the new Halo Lights (4 LED lights mounted in a circle) was to use them to light up the Snow Globe from Lawn Fawn. And it fit perfectly! Let's watch this Light Up Snow Globe card come together in this video:
If you can not see the video up on this screen, you can also view it right here.
Now check out the fun light up jar card that Lauren made using these Halo Lights: https://youtu.be/PesR4yMGfJY
Now let's take a look at my card.
First off I have to say that I LOVE using the Snow Globe die set for other things beside Christmas. I have already used it two other times for different occasions. Like THIS mermaid snow globe card and this Froggy Snow Globe card. So making this garden gnome themed snowglobe was bound to happen. My daughter loves mushrooms and frogs and plants, so this card was inspired by her.
Now let's chat about the Halo Lights. You can see them in their packaging in the picture above. The come two to a pack. There are 4 LED lights around the light weight metal circle. You just pop the Halo out of the casing and it is ready to use.
Here is how I attached mine. I took my die cut snow globe and traced the opening onto a 3-1/2" x 2-1/2" piece of card stock. Then I stamped my sentiment inside that circle. I added double stick tape to the back of my Halo Light and stuck that around my sentiment, with the battery and button towards the bottom of this panel. I made sure to erase my pencil line before moving on to the next step.
To turn this into a shaker, I used two layers of double stick foam strips around the halo, on the out side of the LED lights, but still on the metal frame. This gave me the reservoir I needed for my shaker elements.
I adhered a window sheet to the back of my snow globe opening and then stuck the snowglobe down to the halo light so that the sentiment shown in the opening. Now I removed the paper strip that is behind the battery of the Halo light. When that paper is in place the lights will not turn on. With the paper removed, you just push the red button next to the battery to turn the lights on.
I felt for the button on my snow globe and added a white enamel dot over it to indicate a button on the outside of the snow globe. If you have a stamp that says PUSH, that would be perfect to use right here.
I added a sentiment to the base of my snow globe from Heffy Doodle that says, "you light up my world", from a stamp set that is now retired. And the enamel dot button is right next to that. I love how it lights up the inside of the globe, illuminating the sentiment and shaker elements.
The shaker elements I used, these bright colored leaves, are from the Craft Supplies by CC shop on Etsy. They carry great embellishments, some organizational products and some stamps and dies at great prices.
Below I have listed and linked all the other products I used to make this card.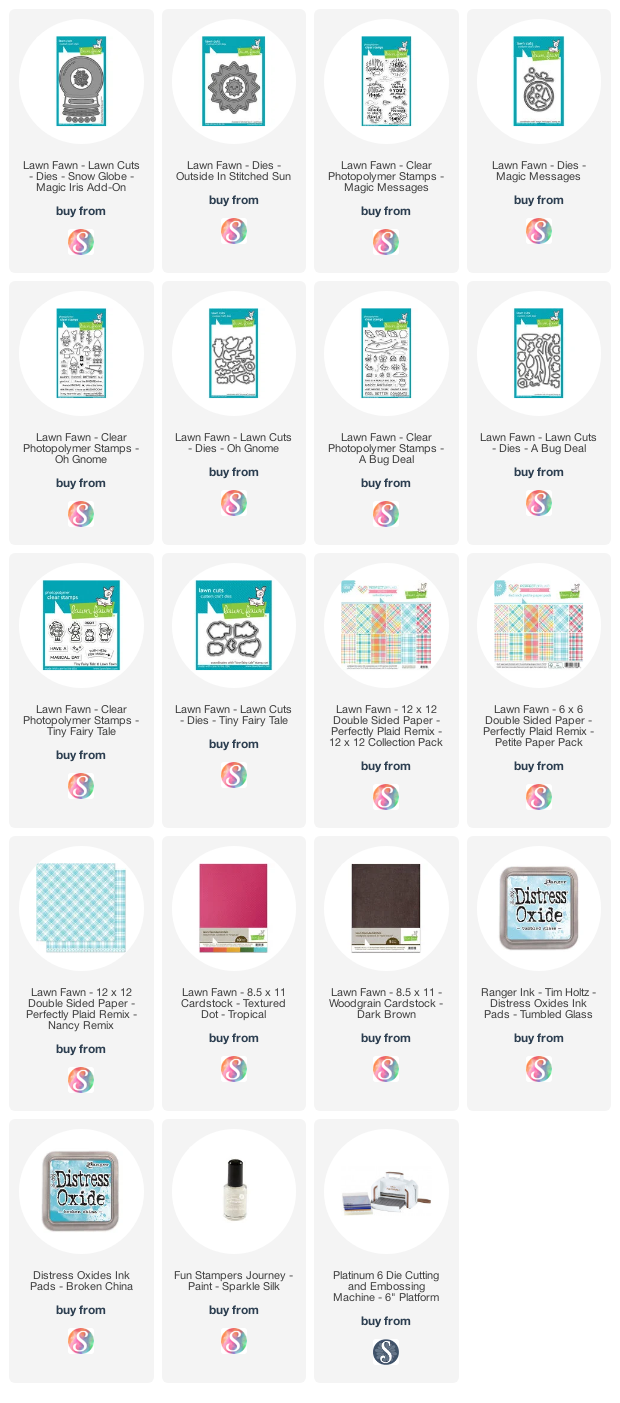 Affiliate links have been used, at no cost to you. Affiliate links are a collaboration between online shops and makers. When you shop these links the retailer gives a small percentage of the sale to the maker, at no cost to you. It is a great way of supporting your favorite businesses and the makers who inspire you. Thank you for shopping my links. Sharing my creations is my favorite thing to do and you have helped make it possible.