Hey there stamping friends! Today I'm sharing two of the new slimline stamp sets by Trinity Stamps. They are the Slimline Bunnies and the Slimline Chicks stamp sets.
Each of these sets has a stamp in it that covers an 8-1/4" x 3-1/4" card panel! Trinity Stamps has several of these size stamp sets in their collection and these two are the latest designed for spring and easter. Today I'm going to be playing with these stamp sets making a background that does not have to be colored in. I am pulling out, for the first time ever, Distress Oxide Sprays!
You can see these cards come together in the video below.
If you can not see the video up on this screen, you can also view it right here, on my YouTube channel.
These cards both started with a piece of white card stock that I sprayed with three Distress Oxide Sprays; Worn Lipstick, Carved Pumpkin and Mustard Seed. I also splattered on some White paint to complete the look I was going for. When these dried I stamped on my Slimline Bunnies and Slimline Chicks
When you take a close up look at these stamps you will see so much fun detail! There is a bunny with sunglasses, a crown, one sleeping, and so many other cute expressions. The same with the chick, my faves are the chick with a bee on his beak and another with a dinky in it's beak. SO cute!!! You really could have so much fun coloring in these images for a completely different look. And if you love coloring these stamps will make you so happy! Then again, you do not have to color these images in. I have also used these stamps with PanPastels, if you missed that video you can catch it right here.
Let's take a closer look at these cards.
I just love these three colors together for a bright and cheery easter feel.
Here is the card using the Slimline Chicks stamp set. I love that these sets also come with sentiments and single images of the critters for a complete stamp set that I can use to create projects with.
I also splattered the circle the chick is on with the Distress Oxide Sprays. This look really reminds me of died Easter eggs.
The bunny card is the same. But I did use the opposite side of the patterned paper, which is from the Slimline Pack, Autumn Rainbow.
With the fun sentiments in this set I made cards that I think will be perfect to send to my girl friends and deliver some cheer to their mail boxes this spring!
I love added touch of scallops on this card, with the die cut scalloped panel. It's from the Scalloped Card Panels and banners die set. It's one of those slimline die sets that is a must have for me and one I used repeatedly. Scallops just make me happy.
Thank you for letting me share my creations with you. I really enjoyed creating a bright and cheery splattered background for the amazing stamped backgrounds. If you love these slimline stamps, Trinity Stamps has several other sets in this size, I will have them in the supply list for you to check out as well.
Below I have listed and linked all the supplies I used to make these cards. If you have any questions please let me know.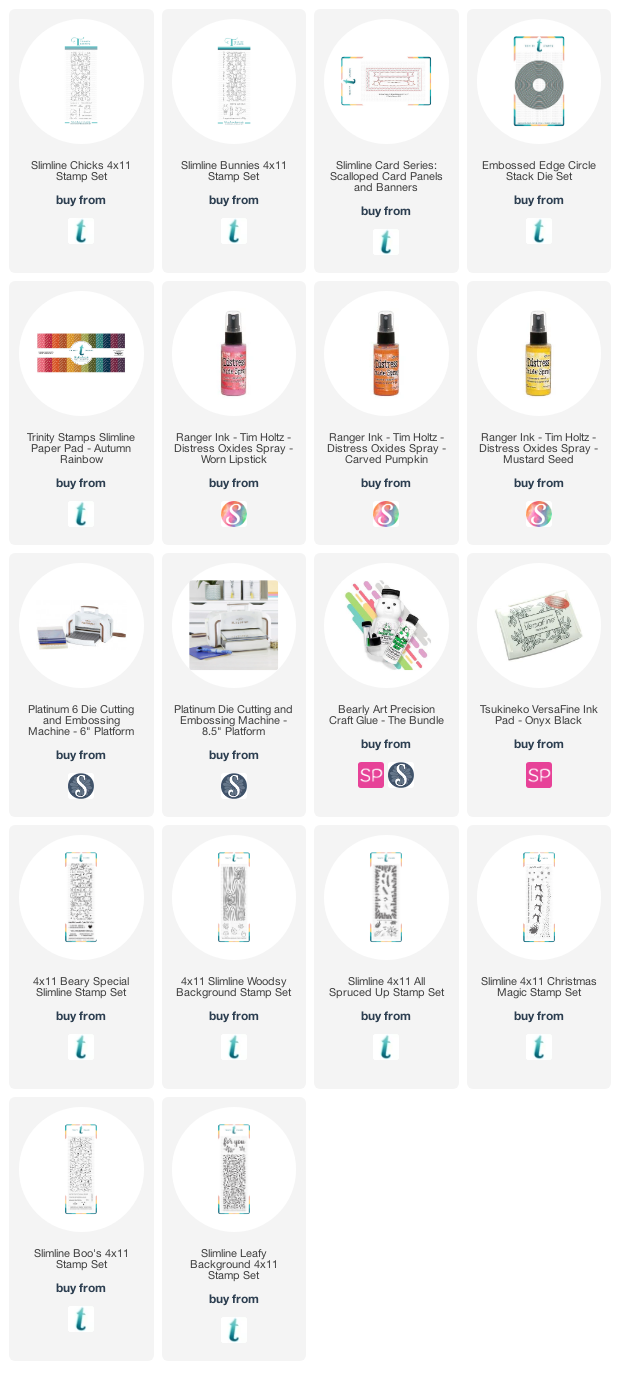 Affiliate links have been used, at no cost to you. Affiliate links are a collaboration between online shops and makers. When you shop these links the retailer gives a small percentage of the sale to the maker, at no cost to you. It is a great way of supporting your favorite businesses and the makers who inspire you. Thank you for shopping my links. Sharing my creations is my favorite thing to do and you have helped make it possible.