Bunny Burrow is BACK baby! If you have followed me for a while you know that I love the Bunny Burrow stamp set from Trinity Stamps. It was my stamp set of the month set in September 2020 and it was because of these cards that Trinity Stamps asked me to join their design team! Visualize me doing a little happy dance as I type this. I like to reminisce and think of the blessings that have happened and fill my thoughts with gratitude. And using the Bunny Burrow stamp set again does that for me.
For this Bunny Burrow card I am making a Slimline Wide Box card. It is a Spring version of the Christmas card I made for my hubby. In December I did a mini stamp set of the month series featuring the Winter Burrow stamp set. If you want to check out all of my Trinity Stamps goodness here is a link to my video playlist.
Check out the video of this card and you will also see the Christmas card that was the inspiration piece.
If you can not see the video up on this screen, you can also view it on the Trinity Stamps YouTube channel.
Now let's take a closer look at this Slimline Box Card.
The box itself if quite easy to put together. Using the Slimline Series Wide Box die set you cut two of the base pieces and they hook together with two tabs. There are also dies in this set to cut the decorative panels for all of the flaps and all of these panels have a stitched border. It makes for a clean look with a decorative touch. This die set also includes a die that cuts the bridges you need to add all your stamped elements too inside the box. I love that the ends are scored for you, so I know where to put the adhesive and stick the bridges to the inside of my box.
When I made a Wide Box card I love to use patterned paper to accent my flaps. I used two different paper packs from Trinity Stamps, the blue paper is from the All Heart Slimline Paper pad.
Here you can see all the fun images I used to create this 3D scene. I also brought in the Winter Burrow stamp set for the pine tree and the Mouse House stamp set for the mushrooms and a few other elements.
And here you can see the Winter Burrow card that inspired todays card.
You can watch the video for this card right here if you like.
Below I have listed and linked all the supplies used to make today's card.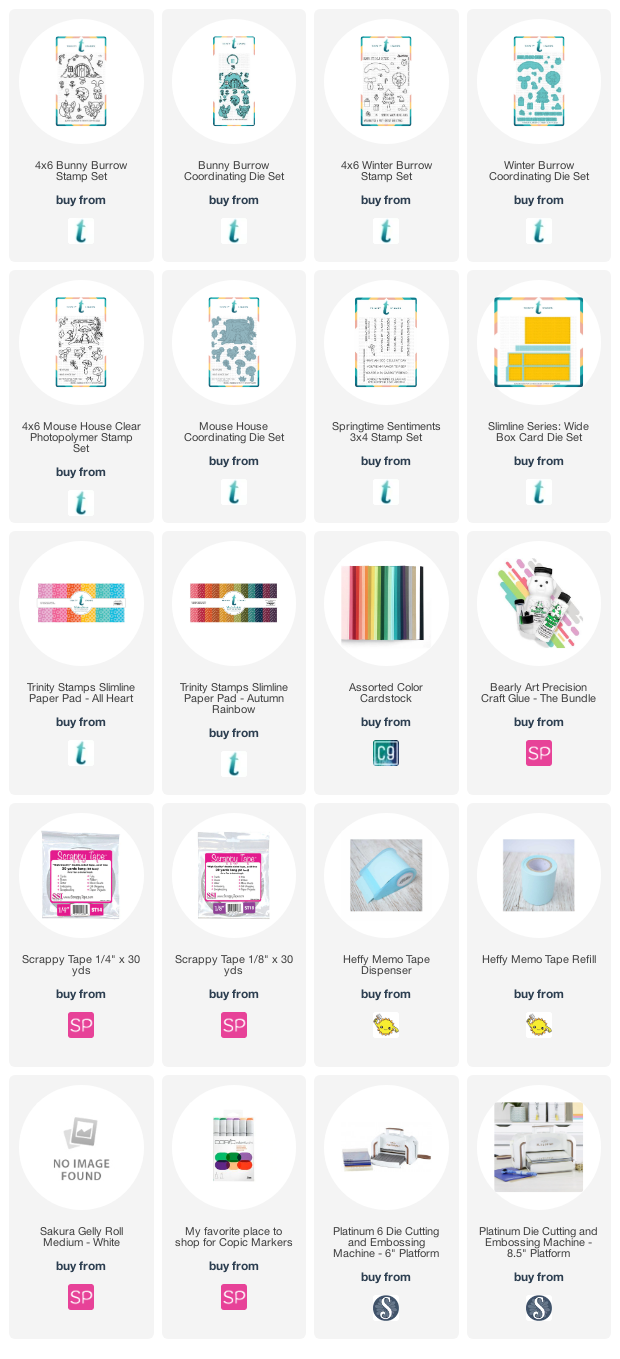 Affiliate links have been used, at no cost to you. Affiliate links are a collaboration between online shops and makers. When you shop these links the retailer gives a small percentage of the sale to the maker, at no cost to you. It is a great way of supporting your favorite businesses and the makers who inspire you. Thank you for shopping my links. Sharing my creations is my favorite thing to do and you have helped make it possible.