Hello Stamping Friends! Welcome to Episode One of my April Stamp Set of the Month series, featuring Tiny Friends from Lawn Fawn. Each Tuesday in the month of April I will be bringing you new ideas with this darling stamp set. New episodes air at 8pm MST on my YouTube channel.
Another to be giddy about is that there is another GIVEAWAY this month! Lawn Fawn is generously sponsoring this months series and has gifted a $25 shopping spree for me to raffle off to one of YOU! All you need to do to be entered into this drawing is to comment on all 4 of the videos in this month series!!! The winner will be announced on Monday, May 3rd on my community page on YouTube.
In Episode ONE I am creating a Reveal Wheel card and the Tiny Friend in this card is ME! This card was inspired by you, viewers of my videos. I love that we as crafters can connect through social media and share our love of card making! So check out this video and know that I so appreciate you reading this right now and watching my videos. Your comments and thumbs up are so touching to me!
If you can not see the video up on this screen, you can also view it on my YouTube channel.
For this card I brought in the new Virtual Friends stamp set as well. I picture sending this card to one of my viewers and it is that viewer watching one of my videos. So on the first screen of the Reveal Wheel scene you see me talking in one of my videos.
Then you turn the wheel and the next screen is the dreaded..... LOADING.....
A reminder of the current times, of everyone on the internet at the same time!
And the last screen is the making a super cute card of course!
On the walls are things you might find hanging in my stamp studio. A picture of Toby, my Cockapoo. A giant monogram, which I do actually have, but it is wooden and not pink. Maybe I should just paint mine!
The sentiments on this card are perfect way for me to say THANK YOU to each of you who watch my videos... Sending (virtual) hugs and the awesome card! I LOVED making this card and can not wait to play MORE with my Tiny Friends stamp set. So stay tuned for next week's episode for more inspiration with this stamp set.
Below I have listed and linked everything I used to make this card.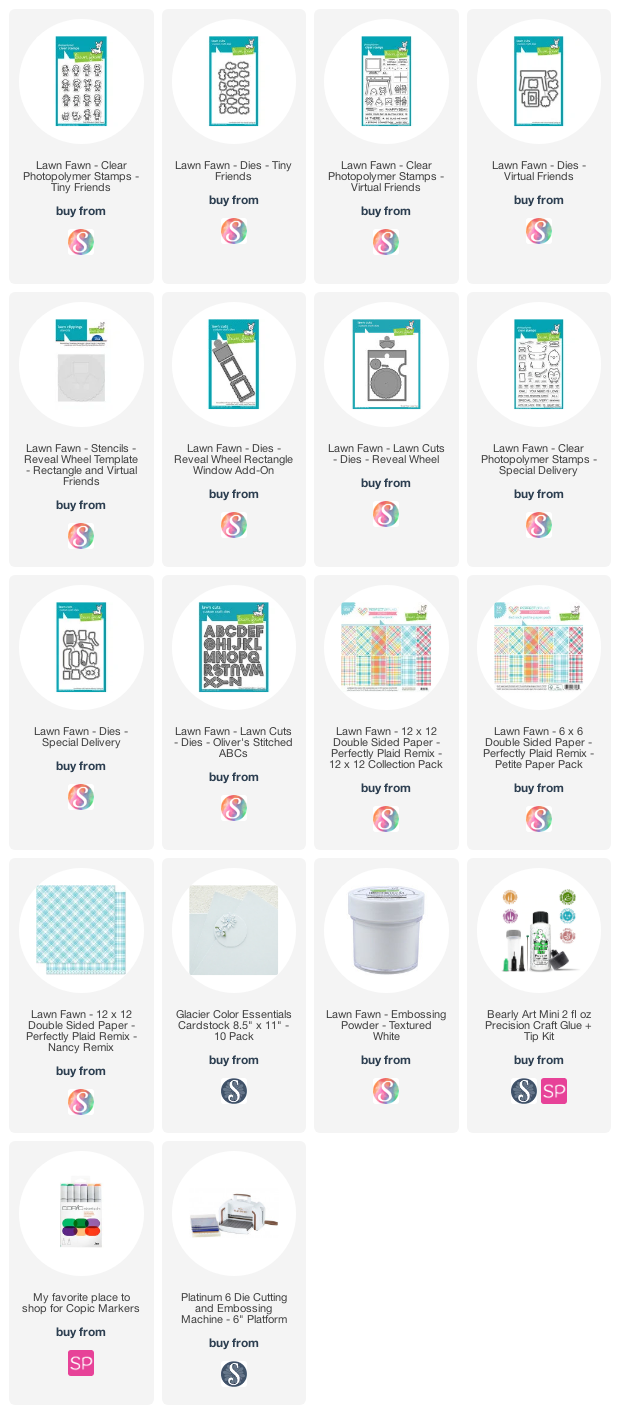 Affiliate links have been used, at no cost to you. Affiliate links are a collaboration between online shops and makers. When you shop these links the retailer gives a small percentage of the sale to the maker, at no cost to you. It is a great way of supporting your favorite businesses and the makers who inspire you. Thank you for shopping my links. Sharing my creations is my favorite thing to do and you have helped make it possible.