Welcome back stamping friends. This week the Trinity Stamps design team has been spotlighting one of the artists who creates art work that get turned into stamps for the Trinity Stamp shop. This week that artist is Dani Bondurant of Love, Dani Studios. She designs stamps that are what I like to call "all inclusive". The sentiment and the image are one piece of art. So, you can stamp these images and that be the entire focal piece of a card. The other thing I love about her designs is that the sentiments she creates are uplifting or encouraging and bring a smile.
The image I chose to feature is the Sweet Friendship stamp. I used this image to create mini cards. These mini cards will top some treat bags, so I can fill them with a friends favorite treat and drop it off as a happy surprise.
You can see them come together in this video:
If you can not see this video up on the screen, you can also view it right here.
I had some treat bags left over that I pulled out to use for this project. And they are the inspiration fo the color pallet I used.
I just love to create with images of food, especially sweet treats; candy, donuts, cupcakes, cookies, ice cream, cake.... bring it on. It's a sugar free way to enjoy something sweet! So I was drawn to this image and was very excited to color it up and use it.
I think the bold bright colors are great for spring and summer. And this image is so much fun to color because the possibilities are endless for color combinations. I did very simple Copic coloring here.
To make the mini cards I used the Slimline Scalloped Card Panels and Banners Die set. This die set creates scalloped panels for slimline cards. I took the largest of the scalloped panels and die cut it from card stocks that coordinated with the colors in these bags. When flat this scalloped rectangle is about 8-1/2" x 3-1/2", when folded I now have a mini card that is 4-1/4" x 3-1/2". This is the perfects sized mini card for my Sweet Friendship image.
To dress up the mini cards just a bit, I splattered all three of them with white acrylic paint thinned out a bit with water. I love the look it gave the mini cards and tied them in nicely with the bags.
To attach the mini cards to the bags I pulled out some wooden clips from my stash and topped them with a die cut bow, using the Bunch of Bows die set.
I'd love to know which of these bags you like the best. Feel free to leave a comment or question below.
Here I have linked all the supplies I used to make these mini cards, as well as several of the other Love, Dani stamps from Trinity Stamps.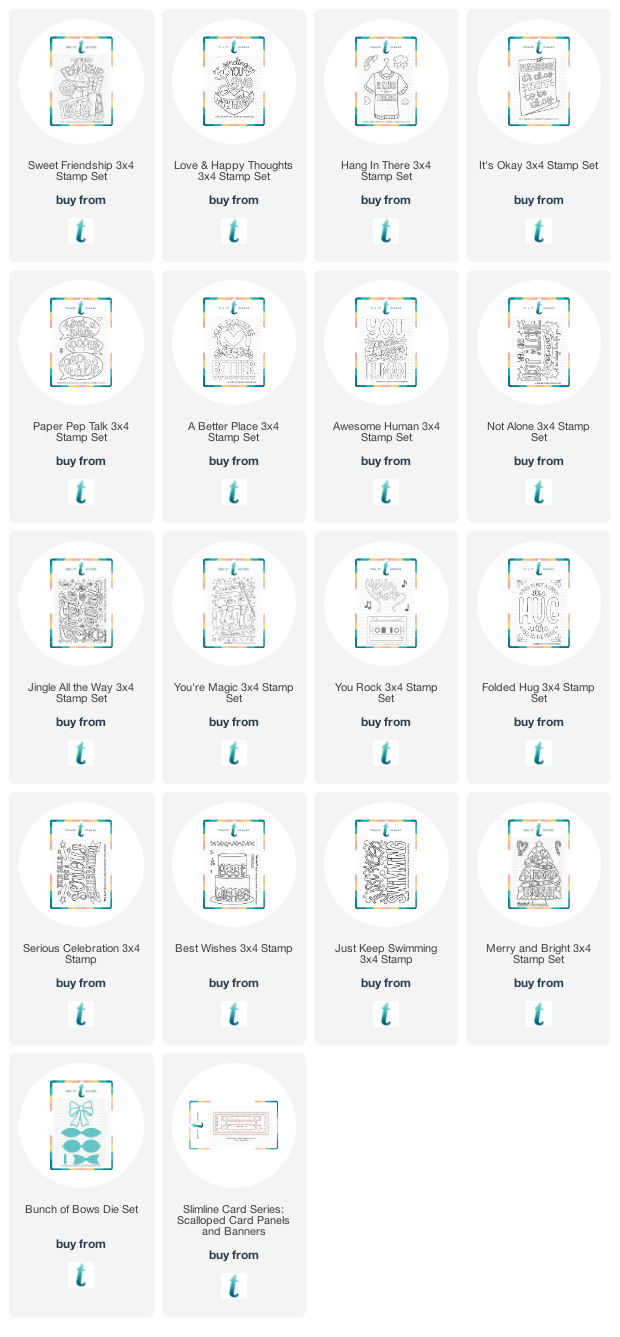 Affiliate links have been used, at no cost to you. Affiliate links are a collaboration between online shops and makers. When you shop these links the retailer gives a small percentage of the sale to the maker, at no cost to you. It is a great way of supporting your favorite businesses and the makers who inspire you. Thank you for shopping my links. Sharing my creations is my favorite thing to do and you have helped make it possible.