Hello my stamping friends. Today I am using the Mini Slimline Envelope Die from Trinity Stamps to make a card. This die set has so many other great dies in it to dress up your envelope or to use o other projects, which is why it is one of my favorite envelop die sets. My other fave is the Slimline Envelope Builder die, also from Trinity Stamps, it also has several other dies in the set! And today's project could be made with either of these two die sets.
Now let's watch how I turned and envelope into a card.
If you can not see this video up on the screen, you can also see it right here.
Here you can see the envelope closed up. I used a belly band to hold it shut. Which gives a little hint of what is inside.
And when you pull that belly band off and open up the flaps there is all kinds of cute inside!
You can see on the right hand side there is a gift card. That is held in place by a die in the Mini Slimline Die set. The green die cut sentiments are also from this same die set! And the scalloped rectangle, yes, it is also from this mini slimline envelope die set. I told you it was a great die set!
I made dressed up this card using the Mouse House stamp set, cause it is darling and I love all things woodland!
I just love this little house made out of a stump!!! And the mice are just adorable. The fact that their are mushrooms in this set is like icing on the cake! It made it a must have set for me.
I think this kind of card is fun for a special occasion like Mother's Day because it is a little different than a standard card, making it a bit more special. So I used my Graham Cracker Alphabet to add in the word MOM.
Is it okay to give yourself a Mother's Day card? Cause I this card just makes me so happy!
Thank you for stopping by. I have listed and linked everything I used below for you.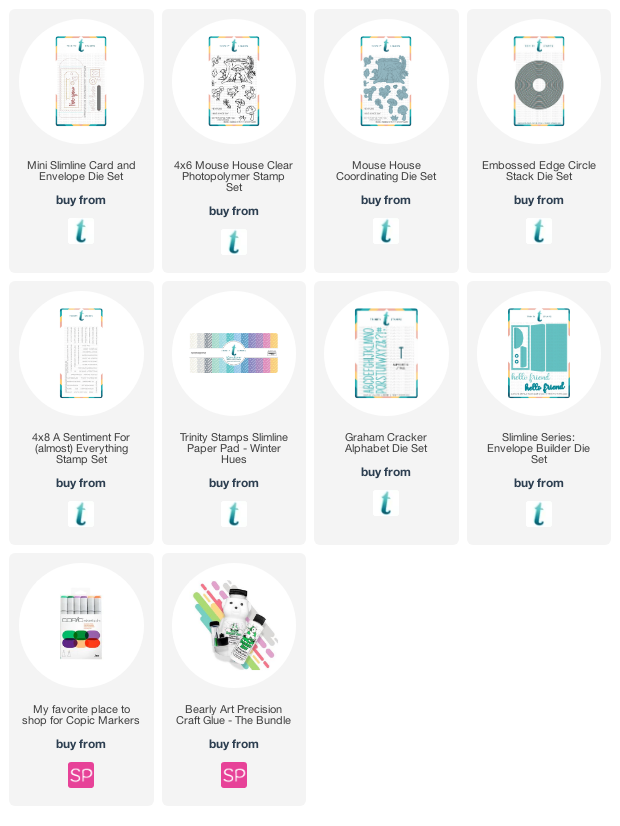 Affiliate links have been used, at no cost to you. Affiliate links are a collaboration between online shops and makers. When you shop these links the retailer gives a small percentage of the sale to the maker, at no cost to you. It is a great way of supporting your favorite businesses and the makers who inspire you. Thank you for shopping my links. Sharing my creations is my favorite thing to do and you have helped make it possible.