Today I am using a new slimline die from Scrappy Tails, the Slimline Brick Background die. And I am sharing 5 ways to use it. And I will be making 4 cards using the backgrounds I created.
See it all come together in this video.
If you can not see the video up on this screen, you can watch it here, on my YouTube channel.
Here are the 5 Ways I used the Slimline Brick Background Die
Inlay - inlay die cut bricks into the die cut from a different color of card stock. I used a Gel Press Print for my bricks. Patterned paper would also be good for this.
Overlay - Overlay the die cut background on top of a print. Again, I used a Gel Press Print.
Emboss it - Use a silicone mat and embossing plate from Spellbinders to press the die into your paper so it does not cut but dry embosses the bricks into the paper.
Stencil it - use the die cut background piece as a stencil. I stenciled modeling paste over a Gel Press Print and used for ink blending too!
Ink it up - I ink blended a panel of white card stock and die cut the Brick background from that. I adhered the die cut over a piece of card stock to create a background.
Take a look at each of the cards I made using background from these techniques.
For all the cards I used the Oopsy Daisy Stamp set.
I decided to color these daisies like Gerber Daisies. I love the bright fun colors so much!
The background for this card uses the Inlay technique. The gray bricks you see were die cut from a Gel Press Print, which is a technique of brayering paint onto a gelly plate and picking the paint up with paper after creating texture in the paint. You can see Gel Press print making in action in these videos: https://youtube.com/playlist?list=PLD-_6hyHsiqD_gItqSHDlQvv8rRRn5hRH on my YouTube channel.
This card uses the Ink it up and use it as a stencil technique. I did ink blending while using the brick background as a stencil. I used Black Soot, Hickory Smoke and Old Paint Distress Oxide inks.
I use the same layout for each card and made them all Birthday cards to build up my stash. Using the same layout is a time saver when making multiple cards.
I also used the die cut as a stencil for this card. I stenciled modeling paste onto a Gel Press print. I love the look and all the texture in this background. The flowers really pop.
For my final card I use the embossed background, this one has such a crisp and clean feel to it. I used colored card stock for embossing this die, a very light gray. And again, I love the look of this background and that I can get a completely different look with my die by embossing it.
I have left over background, 4 to be exact that I can use another day for more card making fun. You'll have to watch the video to see how I made all eight of the backgrounds using just these five techniques.
Thank you so much for letting me share my creations with you, making my own backgrounds is one of my most favorite things. Below I have listed and linked all the supplies I used to make these cards.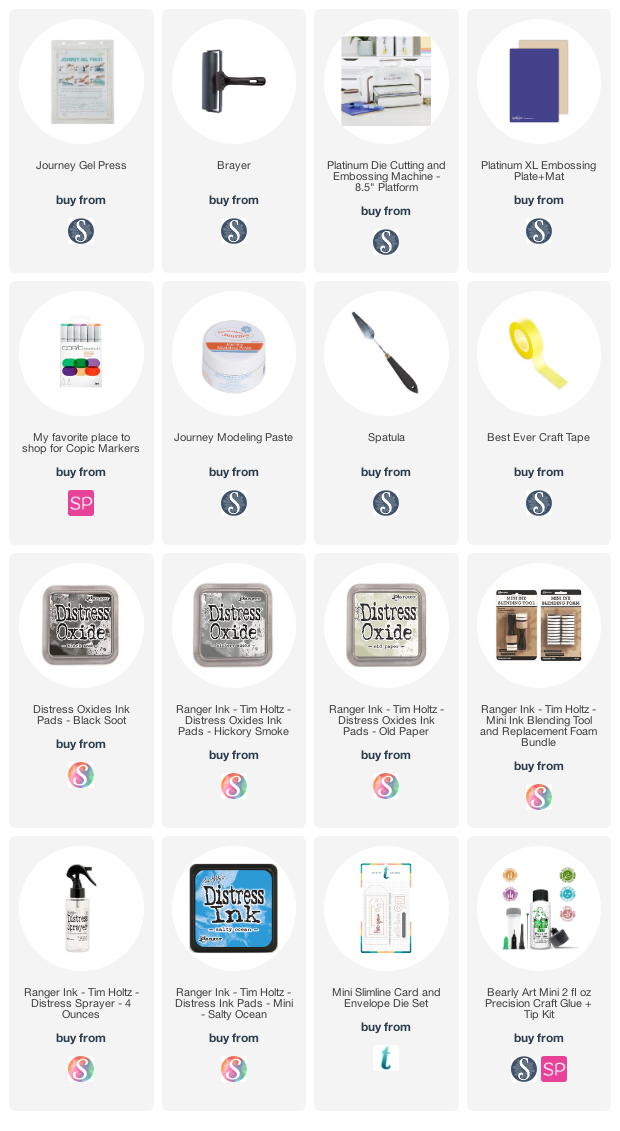 Affiliate links have been used, at no cost to you. Affiliate links are a collaboration between online shops and makers. When you shop these links the retailer gives a small percentage of the sale to the maker, at no cost to you. It is a great way of supporting your favorite businesses and the makers who inspire you. Thank you for shopping my links. Sharing my creations is my favorite thing to do and you have helped make it possible.