Hello there stamping friends. Today I am making rainbows with Distress Oxide Sprays! I am using just 3 sprays to make all 4 of today's cards. I am also excited to be playing with two new stamp sets from Spellbinders that are part of the Delightful Darlings collection. These four stamp sets were designed by Mayline Jung. They are whimsical and just fun! You can coordinate all four of the stamp sets together too. I am using the Darling Bouquet and Darling Hugs sets on today's cards.
To best get an idea of these cards and how I made the backgrounds watch the video below.
If you can not see the video up on the screen you can also view it on my YouTube channel.
For the first card I did a lot of layering to get the final background, but it all started with just spraying on ink.
For all of today's cards I used only 3 Distress Oxide colors; Worn Lipstick, Mustard Seed and Salty Ocean. For this card I sprayed the Worn Lipstick at the top fo the panel, Mustard Seed in the middle and Salty Ocean at the bottom. Where the colors over lapped it blended and gave me the orange and green that you see in the background. It is very easy and I could have stopped there. But I decided to spritz this background with water to get some splatter on top. The I splattered on a bit of each color by removing the nozzle from the sprayer and tapping of any excess ink on the the end of sprayer. The final layer of this background are stamped flowers in coordinating ink. And to finish it off I splattered on some Sparkle Silk. I popped up my images and added a vellum banner under the sentiment.
For card two I sprayed on all three inks again. Once they were dry I then used my Heart Wall stencil and added some Glitz Glitter Gel over the top. This background fit a 5" x 7" card. I added my stamped images and a few stamped hearts to complete this card, keeping it simple to let that glittered background shine.
Card three also uses the Heart Wall stencil. This time I sprayed my paper that was underneath the stencil.
You can see that a lot of ink bled out from under the stencil. That is because I picked up the excess ink that collected on top of the stencil with another piece of card stock that will be the background for the fourth card. To help define these "bleeding hearts". I repositioned the stencil back over the background once dry and used a black liner pen to outline the hearts. Then I splattered it as well with each of the Distress Oxide sprays, using the end of the sprayer to do so and it played into that grungy look. This card is a Mini Slimline card and measures 6" x 3".
Don't you think these girl stamp are just darling? I am really enjoyed coloring them up to all be different.
The last card uses that extra background I created when making card 3, picking up the excess ink off the top of the stencil. This card is a slimline card and so I had extra room at the top to add my sentiment and heart talk bubble I found in my scraps. This background might be my favorite, especially because it was an unplanned background.
I'd love to know which of these four cards or backgrounds is your fave! I always have so much fun when I make my own backgrounds and topping them with these darling stamps was delightful! hehehe.
If you are interested in the supplies I used they are all listed and linked for you below.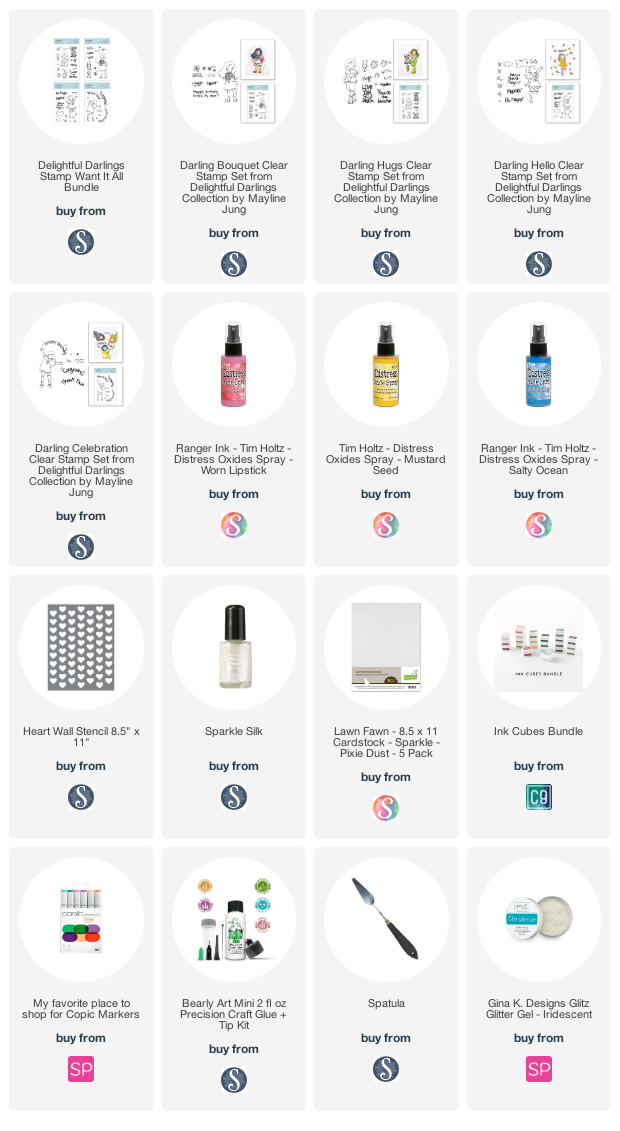 Affiliate links have been used, at no cost to you. Affiliate links are a collaboration between online shops and makers. When you shop these links the retailer gives a small percentage of the sale to the maker, at no cost to you. It is a great way of supporting your favorite businesses and the makers who inspire you. Thank you for shopping my links. Sharing my creations is my favorite thing to do and you have helped make it possible.