Hello there my stamping friends! You may have seen my recent post and video where I made several Gel Press backgrounds for some cards with the Painted Peony stamp set. Well, when I made a bunch of prints like that it adds to my beautiful stash of ever growing Gel Press prints. So, I have a goal to use more of them. One of the ways I love to use my prints to to do paper piecing with them. And the new Slimline Center Burst die set by Trinity stamps is the perfect die for paper piecing.
In the video below I not only show you the paper piecing and the making of this card but a quick demonstration on how to make a Gel Press print like the ones I used for the card.
If you can not see the video up on the screen, you can also view it right here.
And here is the card I made doing paper piecing.
The background on this card was made using the Slimline Center Burst Die, cutting different Gel Press backgrounds and adhering them to an 8-1/2" x 3-1/2" panel. I love the variety of textures! It makes for a stunning background. This die makes for stunning backgrounds will all kinds of papers, printed papers, textured card stock, foiled papers, ink blended panels, alcohol backgrounds, and I am sure there are others.
I also paper pieced the rainbow, sun and the "loved" part of the sentiment.
The So Very Loved stamp set is just darling. I love how Love Dani designs her images for Trinity Stamps with sentiments and images together. And they are always inspirational! This time Trinity Stamps took it to another level! They created an amazing die set to coordinate that allows to you add layers of die cutting to bring visual interest to a stamped image, or even use on it's own!
Below I have listed and linked all the things I used to make today's card.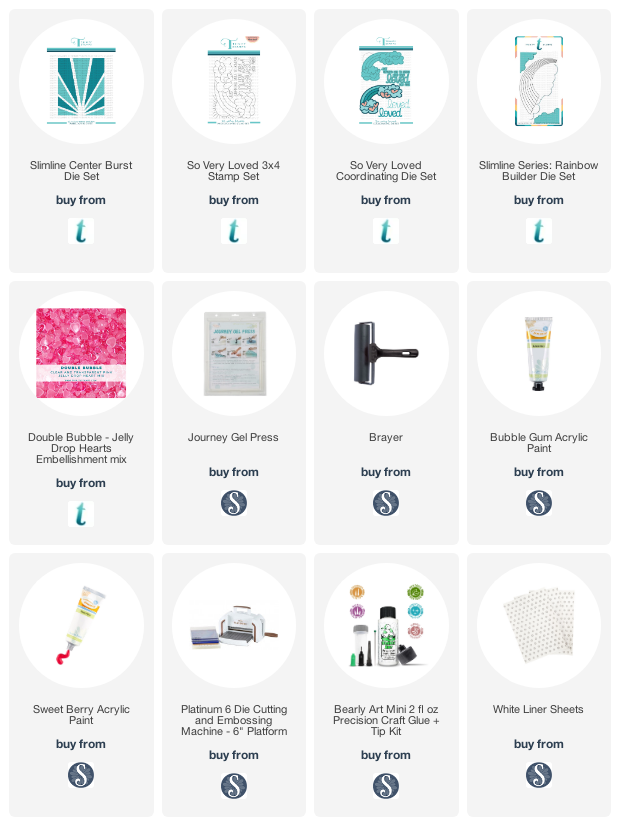 Affiliate links have been used, at no cost to you. Affiliate links are a collaboration between online shops and makers. When you shop these links the retailer gives a small percentage of the sale to the maker, at no cost to you. It is a great way of supporting your favorite businesses and the makers who inspire you. Thank you for shopping my links. Sharing my creations is my favorite thing to do and you have helped make it possible.