Happy Saturday stamping friends! Today I am sharing a fun and easy technique using stencils and ink to create a faux tie dye look.
The trick to this technique is the stencil set I am using. It is the Superstar stencil set from Trinity Stamps. This stencil set has a circular pattern of stars. The circular pattern really replicates the feel of tie dye very well. There is a bit of technique to this, but it is easy to replicate. I will be using Distress Oxide Ink and Distress Oxide Sprays for this technique and found that the sprays work the best. In the video below I will show you how you can easily create faux tie dye backgrounds with the Superstar stencil set and Distress Oxide Sprays.
If you can not see the video up on this screen, you can also view it on my YouTube channel.
You will also find this video over on the Trinity Stamps YouTube channel.
Here are the cards I made with my Faux Tie Dye backgrounds.
When you use Distress Oxide ink to spray your stencil you end up with a lot of ink on the top of the stencil that could be wasted, or picked up with another piece of paper. That is what I did for these backgrounds. This background uses Salty Ocean Distress Oxide Spray. I did have to play around with how many sprays gave me the look I wanted. I found that having more white space looked more tie dye than if I had more blue space. It is the dots of white in there that make this look so much like tie dye and the circular pattern of this stencil set.
Let's take a look at a couple more cards with this technique.
I thought these backgrounds made for fun baby cards. I like to let the background be the star of the show and keep the focal image small. The pattern really draws your eye into the center.
I hope you will give this technique a try, you can use many different mediums with this technique, so try the pads and sprays that you have on hand and see what cool looks you can make. Play with different stencils too. You might just end up making some thing crazy cool and have fun getting inky while you're at it.
All the supplies I used to make these cards are listed and linked for you below.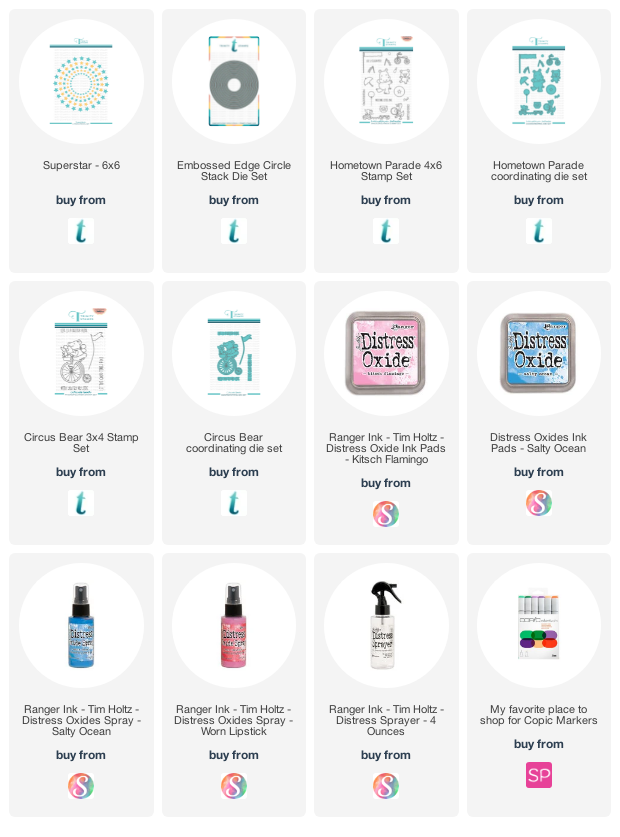 Affiliate links have been used, at no cost to you. Affiliate links are a collaboration between online shops and makers. When you shop these links the retailer gives a small percentage of the sale to the maker, at no cost to you. It is a great way of supporting your favorite businesses and the makers who inspire you. Thank you for shopping my links. Sharing my creations is my favorite thing to do and you have helped make it possible.