Today I am celebrating the Sizzling Days of Summer with Scrapbook.com.
I have several of Scrapbook. com exclusive products to share with you in the two cards I made in the video below. The 7 Sizzling Days of Summer has some amazing deals and a FREEBIE each day of the event!
I made some bright summery cards for you today with some products that I fell in love with.
If you can not see the video up on the screen, you can also view it here.
Now let's take a close up look at the cards I made.
First up is the sunshiny bright hello card.
I love the bold and crisp feel of this card.
I started out by ink blending a panel with Pink, Turquoise and Yellow ink and the new domed ink blending tools. The domed sponges are amazing and seem to glide across the paper effortlessly and made for a very nice blended rainbow.
Next I added a die cut cover piece using the Slim Sunshine die and the bright yellow card stock from the Brights Smooth Cardstock pad (which, side note, is a SLIMLINE paper pad, so there is less cutting for this slimline card addicted girl!) It looks stunning over the ink blended rainbow.
For the sentiment I used a few die sets and one sentiment stamp set, all on different sheets of cardstock from the Brights collection.
Let's start at the top, I die cut the word Hello using the Classic Type Alphabet dies, this die set comes with upper and lower case letters and I used both, cause I could!
The word "love" is from a scripty die set called; Inspire. I love pairing typed font with scripty type.
Lastly I added a sentiment from a Wordfetti stamp set; Best Day Ever, embossing it with white powder onto this fuchsia cardstock.
The boldness of this card reminds me of an advertisement for sunscreen,I think it is great to get inspiration from all kinds of places.
Next up, I have a slimline card with more rainbow ink blending, but this time, with the Wave Stencil.
You should watch the video and see how I got the watery look on the swirls of this card. This stencil just screams summer, I love it.
Did you happen to notice the rounded corners on the slimline panels of this card? This is one of my favorite die sets from Scrapbook.com, the Slim Nested Rounded Rectangles! There are 8 pieces in this set and I just want to layer them all up!
Again, I paired the Classic Type alphabet die set with the Best Day Ever stamp set for my sentiment. It reads, You Are (U R) something to smile about. The Best Day Ever stamp set is a great one for scrapbooking, but I found it was also fun for card making.
I have made a few other cards for the Sizzling Days of Summer that I will be sharing over on my Instagram, you can follow me here if you don't already.
Making these cards was like a little kick off to summer and the hot weather that has rolled in here in Idaho. I think tonight is a good night for a dip in the pool!
Below I have listed and linked all the supplies I used to make today's cards.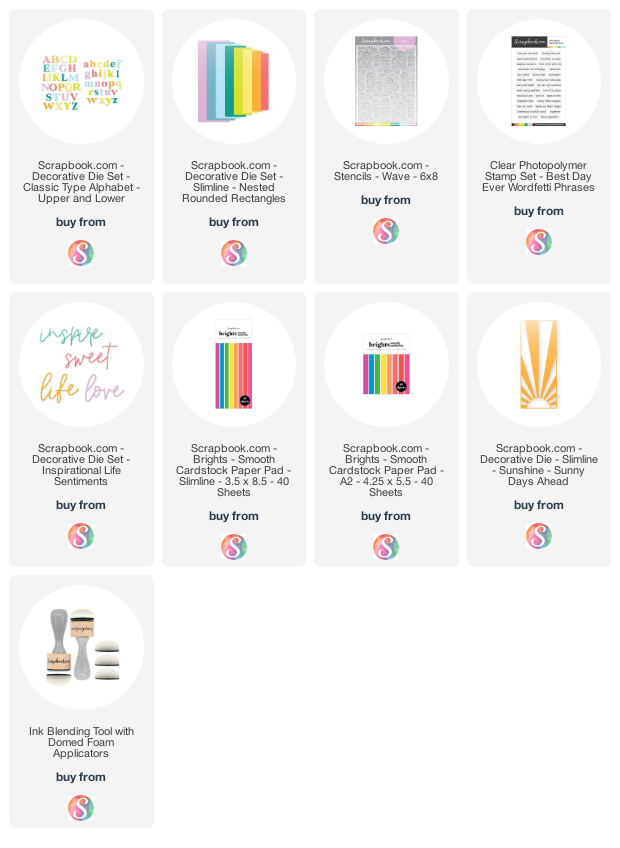 Affiliate links have been used, at no cost to you. Affiliate links are a collaboration between online shops and makers. When you shop these links the retailer gives a small percentage of the sale to the maker, at no cost to you. It is a great way of supporting your favorite businesses and the makers who inspire you. Thank you for shopping my links. Sharing my creations is my favorite thing to do and you have helped make it possible.