Hello my stamping friends! Today I am pulling some of my new Heffy Doodle things to make some quick and easy birthday cards. But I like my quick and easy cards to have a bit of a WOW to them. So, I am going to share with you the things I did to keep these cards quick and easy and yet give them an element that makes them special at the same time.
Watch these cards come together in this video:
If you can not see the video up on this screen, you can also view it on my YouTube channel.
You can also see this video up on the Heffy Doodle YouTube channel as well.
Now let's look at each of these cards, similar but with slight changes.
This card came together quickly and is easy to reproduce. To make this quick and easy card special I started with an element with a lot of visual interest, the stenciled background. The slight rainbow of the whimsical font is fun to look at. Then by cutting this background out with a rounded rectangle it adds to the interest of that piece.
Layering up the Pebble Sentiments with a scalloped layer is another element that takes these solid sentiments up a notch.
But to really dress up a quick and easy card the element of BLING always gives you the most bang for your buck! I used three different shades of glitter paper to mat my stenciled background on. And to finish it off I added a few gems stones. I love the bright cheery feel of this card!
The second card started out a a throwaway. I am sure this has happened to you too. You start a card and one element does not come out how you hoped, but you know if you redo it you will like it better. This stenciled background was just that thing. I did not like how the orange stenciled section turned out, it seems a bit muddy, like there was residual ink left on my blending brush. So I started over and did the previous card I showed you. When that was all done I picked up this discarded background and thought it actually did not look that bad. I don't like to waste things like this and I had already glued it to the glitter paper so I decided a second card using this base was the thing to do. I wanted it to be the same card, with a few changes.
The first changes is that I stamped the Pebble Sentiments in darker colors of ink than I used for the stenciling. In the first card the words Happy Birthday are very light, using a darker ink really made them pop.
Second, I mounted these to die cut scallop layers cut from glitter paper. I loved how it all turned out. And the yellow Happy Birthday is easy to read so I did not add the Wavy Banner sentiment like I did on the first card.
So happy to have two more fun and cheery cards in my stash.
Now on to thank you cards! You can never have too many thank you's on hand either. What other cards do you like to have on hand and ready to go? Let me know in the comments below.
Thank you so much for stopping by!
All the things I used are listed and linked for you below.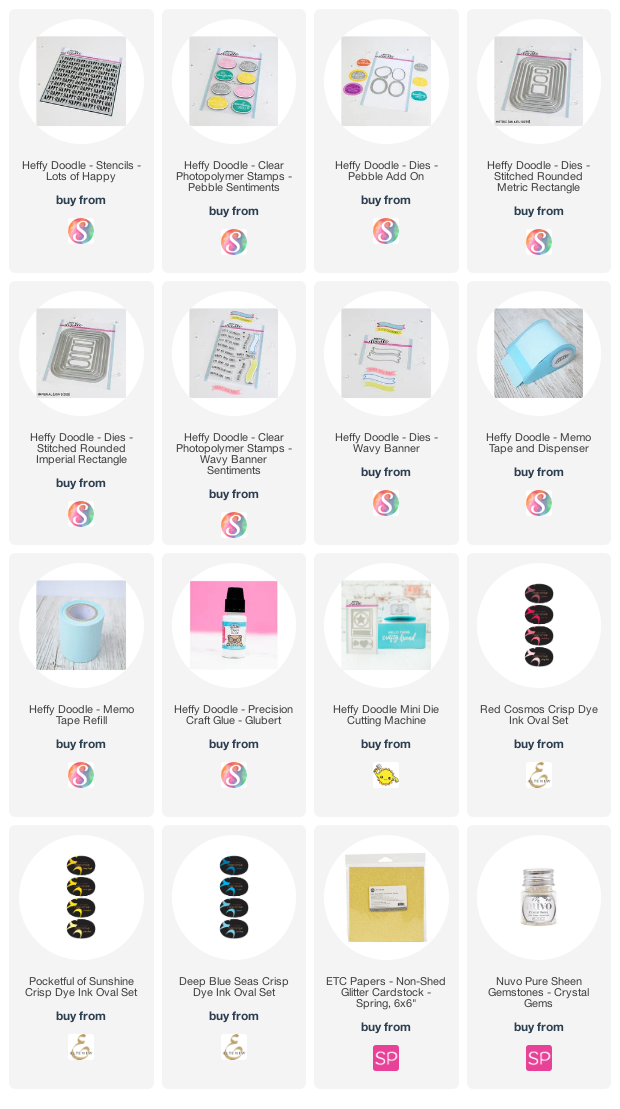 Affiliate links have been used, at no cost to you. Affiliate links are a collaboration between online shops and makers. When you shop these links the retailer gives a small percentage of the sale to the maker, at no cost to you. It is a great way of supporting your favorite businesses and the makers who inspire you. Thank you for shopping my links. Sharing my creations is my favorite thing to do and you have helped make it possible.