Hello my stamping friends! I am back with an all new Stamp Set of the Month series!!! After taking a month off for summer, I am happy to be back doing my favorite videos for you all! This month I am featuring the S'more the Merrier stamp set by Lawn Fawn. I love all things camping. I may have mentioned that before. We are a camping family and when I say camping I mean RVing. But we love to go to the mountains and enjoy the trees, creeks, rivers, lakes, wildlife and also sleep in a bed and have a bathroom. It's the best of both worlds really.
Also, this stamp set is themed around S'mores, which is another family favorite as my hubby has been building a fire pit in our backyard. It is a bit of a second seating area with a lot of stone work. He's worked sooo hard on it. I'll share pics of that soon, it is not quite done just yet. So, we love to sit out back and make s'mores whenever the mood strikes us. And when the temps are under 100! It's been a hot summer here in Idaho.
With all the being said, you can see where the inspiration to make campfire themed cards comes from. So, let's jump right into the video and take a look at these two cards being made.
If you can not see this video up on the screen, you can also view it right here.
Now let's take a look at each of these cards.
For the cards this week I was trying to stay away from making a scene, you all know how much I love to make a scene! hehehehe. Most of the cards I make using Lawn Fawn end up being a scene building card. I thought I'd try to focus on the Giant Happy Birthday to you die cut and just add a few things from the S'more the Merrier stamp set for a bit of accent to bring in the fire and s'more element.
I also wanted the Giant Happy Birthday to You die cut to have a glow from the fire and so I die cut it from an ink blended panel.
Now, let's chat about the plaid background. The Plaid Stencil set from Lawn Fawn is so much fun! For this background I used four inks from Altenew; Hazelnut, Autumn Blaze, Crimson and Jet Black. I felt the Jet Black gave it a bit of a Halloween feel, so to soften that look I added white stitched lines over the black with a White Gelly Roll pen. I love the look so much with the plaid, I am sure I'll do that again.
Now let's take a look at the second card.
For this card I wanted to take another shot at the plaid background. So I used a different ink, in place of the Jet Black, and that is Milk Chocolate. Perfect for a S'mores themed card! And this time I used white paper, where the first background was done on Kraft paper.
For my Giant Happy Birthday To You, I colored the top of the letters to look like dripping chocolate. The bottom of the sentiment I colored to look like coated marshmallow. My hubby can roast the perfect marshmallow. They are so puffy and so golden brown and the inside is just melty. Those perfectly toasted mallows are what inspired my coloring.
Then there is the Smiley S'more, what a fun die! I really want to make more of the fun little S'more guy. He would make a super cute tag!
I added a few stamped images form the S'more the Merrier stamp set around him as well as a custom sentiment, "& Many S'more". The "Many" is from the Happy Harvest stamp set.
And now for the part where you get to play along!
----------> Have you played with the S'more the Merrier stamp set? Do you have a card made with it that you would like to share and have featured on an upcoming video? If so, leave me a comment below and I will get back to you with a link that you can use to send me your card. I will be sharing them on my GIVEAWAY video on 8/2/21!
I have more ideas with the S'more the Merrier set and can not wait to share them with you. Tune in next Tuesday at 8pm MST for Episode 2, over on my YouTube channel!
All the supplies I used are listed and liked for you below.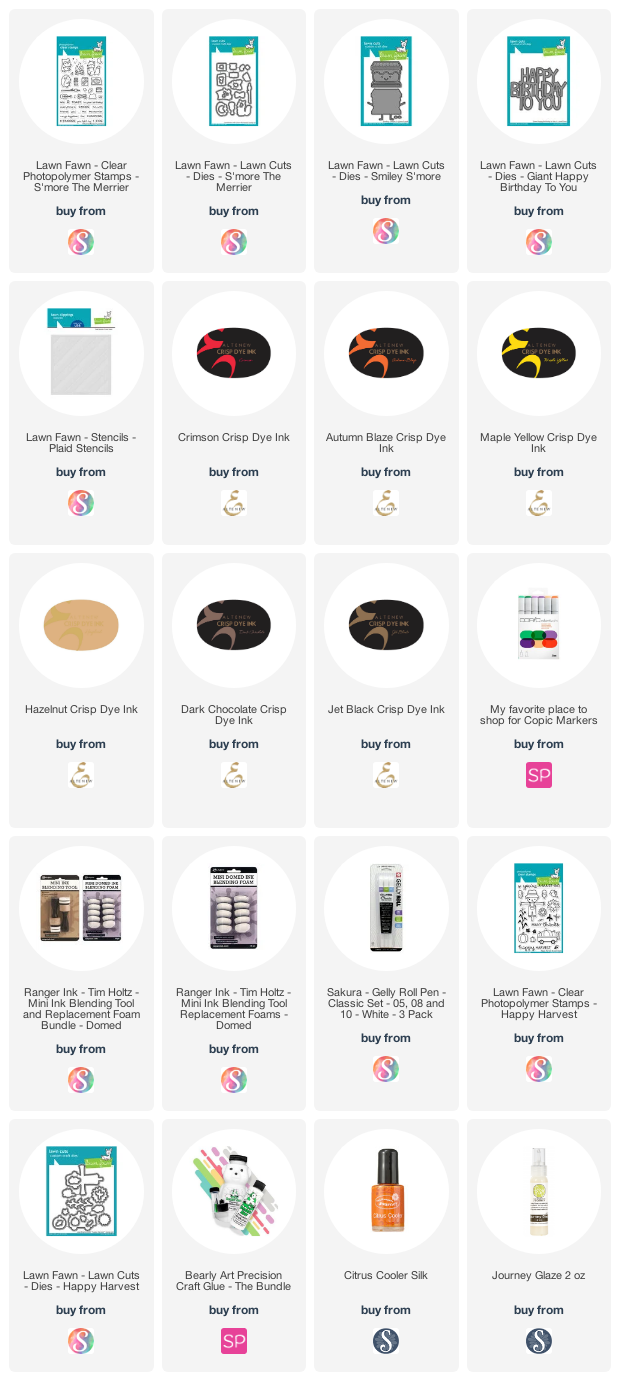 Affiliate links have been used, at no cost to you. Affiliate links are a collaboration between online shops and makers. When you shop these links the retailer gives a small percentage of the sale to the maker, at no cost to you. It is a great way of supporting your favorite businesses and the makers who inspire you. Thank you for shopping my links. Sharing my creations is my favorite thing to do and you have helped make it possible.