Hello there stamping friends today I am going to share with you a few hacks to making multiple cards at once. This is also part of a YouTube hop with Not 2 Shabby. We are celebrating their new box of the month - Insect Cuties.
When I get a new kit or box of the month, it inspires me to play. I want to make a bunch of things and try out all the stuff in that box. So I thought I would make a bunch of cards so I could play with all the images in the two stamp sets in this box. Doing this I thought you might like a to know a few of the things I do to streamline this and make it a little easier.
As this is a video hop, let's start with the video, where you are going to hear all of my hacks for making multiple cards.
If you can not see the video up on this screen, you can also view it on my YouTube channel.
This hop does offer a GIVEAWAY! A $25 shopping spree to the Not 2 Shabby shop. To enter hop along with us over on YouTube using the hashtag #N2SInsectCuties to find all of the videos. Comment as you hop along. And be sure to enter the Rafflecopter here:https://www.rafflecopter.com/rafl/display/eeeaf7f37/?
The hop ends on July 8th, watch the N2S Instagram, blog and YouTube page for winner announcement.
Now let's take a look at all five of the slimline cards I made.
When making multiple cards I like to find an element that I can repeat on all of the cards. For me it was the use of this plaid die by Pink & Main.
I also like to repeat the same design elements with a few subtle changes, as you will see in the following cards. Don't you just love the darling critters in these new stamp sets. These little snails hugging is so darling.
For all of the cards I used the Faux Embossed Slimline Rainbow paper pad. It has a pattern on it that appears to be embossed! It's super cool and you can see it much better on my last card. I die cut the patterned paper on the first four cards, I like how the embossed detail on the paper gives it some variation.
You can see on each card I used vellum to add my sentiment, which is from the Big & Bold Sentiments from Trinity Stamps.
I also used the Clay elements and gem stones from the July box to embellish each of my cards. Even though I have several different color schemes going on I was able to find flowers from the embellishment mix to match, as well as the gems. Both have a rainbow of colors to match whatever color scheme you choose.
For my final card I used the patterned paper behind my black plaid die cut. I added three bees from one of the stamp sets in the box, Buzy Bees as well as a sentiment from that set. This card is definitely my favorite. But the other are so darling and really helped me build up my birthday card stash. And with a few simple hacks these cards were quick to make.
You can check out the box of the month from Not 2 Shabby right here.
The rest of the supplies I used are linked for you below.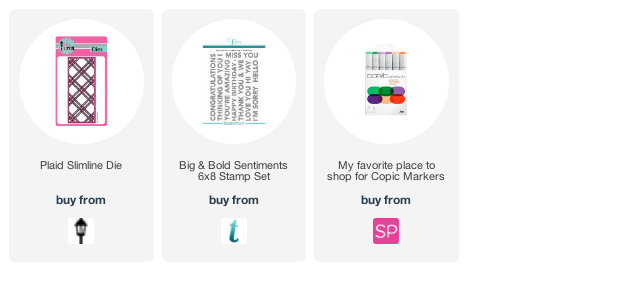 Affiliate links have been used, at no cost to you. Affiliate links are a collaboration between online shops and makers. When you shop these links the retailer gives a small percentage of the sale to the maker, at no cost to you. It is a great way of supporting your favorite businesses and the makers who inspire you. Thank you for shopping my links. Sharing my creations is my favorite thing to do and you have helped make it possible.