Hello there stamping friends and welcome to the Spellbinders Holiday Inspiration Hop!
Today several designers have come together to bring you beautiful ideas using products from the latest Spellbinders release. You will see projects from Halloween to Christmas! If you are already hopping a long with us then you will have arrived here from Nicole Spohr's blog. Welcome!!! I am Carrie Rhoades and I have been paper crafting for over 20 years. I am currently in love with making slimline cards! I live in Eagle, Idaho with my hubby and our two teenage daughters. I am blessed to work from home doing what I love, paper crafting. I also love to go camping and am learning how to crochet.
Now let's chat about my projects for this hop.
I am using three products from the Be Merry Collection; Shopping Spree Die set, Chill Bear Die set, and the Gifts of Christmas Glimmer Hot Foil set.
With these fun new things I have created two slimline cards as well as a full panel shaker tag. Let's take a look.
As you can see each of these projects has the Shopping Spree girl on it, holding a large stack of presents. This die set is another of Spellbinders Kinetic sets. It is designed so that the legs swing back and forth. It is such an easy interactive element to add to a card and adds that little touch of wow and I LOVE it. Two of my projects have this kinetic feature, but on the polar bear cards I did not have the legs swing. Let's take a close up look at each of these projects.
My first card finds this power shopper overloaded with packages and as she is slipping and sliding on the ice her packages are falling.
The background of this card is embossed with the Big Dot Slimline folder.
I added a foiled sentiment using the Gifts of Christmas Glimmer Hot Foil set and Viridian Green foil. I love the classy look of a foiled sentiment!
This die set is so much fun, I so enjoyed mixing matching the coat with different colors of tights and boots and gloves and presents. I loved it so much I had to make two more of these power shopping girls. Here's how I used the next one.
For this card I made the girl a little shorter to fit on the slimline card that is horizontal. Because of that I decided not to make her legs swing. I love that I can easily adjust the height of this girl as the legs are a separate die from the coat.
I think this girl was shopping for presents for her woodland friends and has finally arrived and is BEARing gifts!
I added another hot foiled sentiment to this card, using the same Viridian Green foil. I am loving the font of this hot foil set, Gifts of Christmas.
This polar bear is so dar cute! I just love his scarf. I added a bit of shading to the bear using a C0 Copic marker. This just helps him to stand out off the white background. The white background is embossed with the Diagonal Strips embossing folder. I was so excited to have some Slimline sized embossing folders and dots and stripes are the perfect two to use on all kinds of cards.
For my last power shopper I created a tag, not just any tag, but a full panel shaker tag.
Full panel shaker means that a piece of plastic sheeting was wrapped around the front panel of a project. The sides attached to the back on three sides. Then you add in your shaker elements before attaching the four side of the window. The plastic I used was the plastic that the embossing folders came it. Wrapping like this is the perfect material for full panel shakers.
Once the front panel was wrapped in plastic, I added it to a red card stock base. The power shopper was attached to the front of this with foam squares. And the legs DO swing back and forth.
There did not seem to be much room on this front of this tag for the sentiment I wanted to use. But there was plenty of room on the back!
What a sweet sentiment!!!
Do you like to make your own Christmas tags? I'd love to know, leave me a comment below and tell me. I'd also love to know if you'd like some ideas on making christmas tags.
Now it is time to hop along, your next stop on the hop is: Susan Tierney-Cockburn. Included in this hop is a GIVEAWAY!
Giveaway:
To celebrate this event, Spellbinders is giving away a $50 gift certificate to 3 lucky blog readers – who will be randomly selected from the comments on the Spellbinders blog. Giveaway closes on Sunday, August 29th 11:59 pm EDT. The winners will be announced in the Spellbinders blog hop post the following Wednesday. Winner is responsible for shipping cost, duties and taxes.
In case you got lost along the hop, the entire list of hoppers is below for you.
Spellbinders Blog
Jennifer Mcguire
Yana Smakula
Becca Feeken
Jill Hilliard
Jackie Pasko
Becky Roberts
Nichol Spohr
Carrie Rhoades ------------ YOU ARE HERE!
Annie Williams
Sandi MacIver
Jennifer Kotas
Virginia Lu
Joy Baldwin
Jenny Colacicco
Linda Parker
Rosemary Dennis
Betty Wright
Michelle Short
Norine Borys
Thank you so much for stopping by and hopping along with us! All the supplies I used are listed and linked for you below.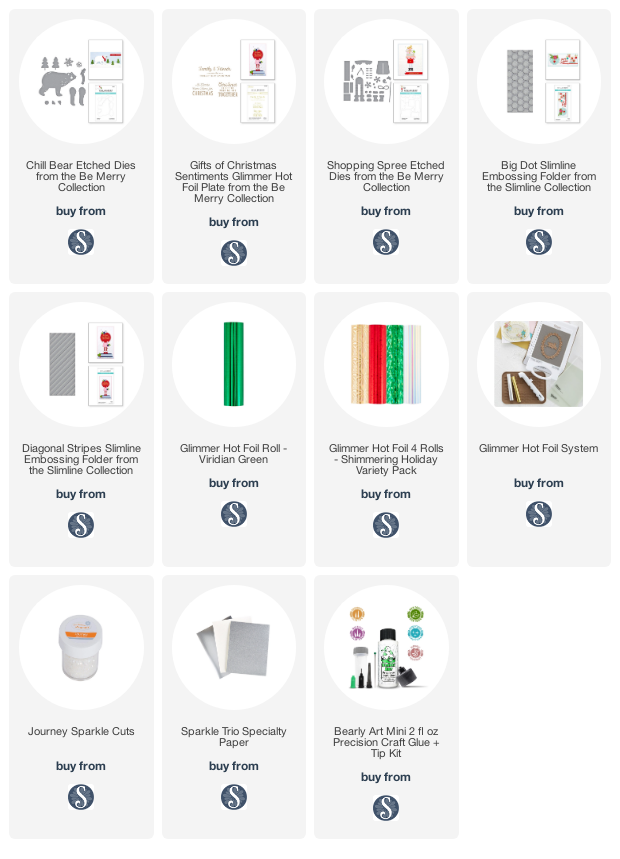 Affiliate links have been used, at no cost to you. Affiliate links are a collaboration between online shops and makers. When you shop these links the retailer gives a small percentage of the sale to the maker, at no cost to you. It is a great way of supporting your favorite businesses and the makers who inspire you. Thank you for shopping my links. Sharing my creations is my favorite thing to do and you have helped make it possible.