Hello there, it is time for Episode 3 of my August Stamp Set of the Month series. Every Tuesday this month I am sharing creations made using the Forest Par-Tea stamp set from Trinity Stamps.
This week I am making a slimline scene for a Teddy Bear picnic and it is a shaker card too!
You can watch this weeks episode below.
If you can not see the video up on this screen, you can also watch it right here on my YouTube channel.
To make this card a cool shaker I used the Foliage frame die as my window. I love this leafy border and thought it would make a great frame for a picnic in the woods with a teddy bear and 3 mice.
To create the woodland background I used the Layered Birch stencil set. A little sponging and splattering of Rustic Wilderness ink helped set the scene.
Speaking of the scene. This teddy bear invited the mice to the party and did not know they were going to take over! These mice are from the Mouse House stamp set. I love how this card came together and the strawberry shaker elements were the perfect thing to add to this shaker!
Below I have listed and linked all the things I used to make this card.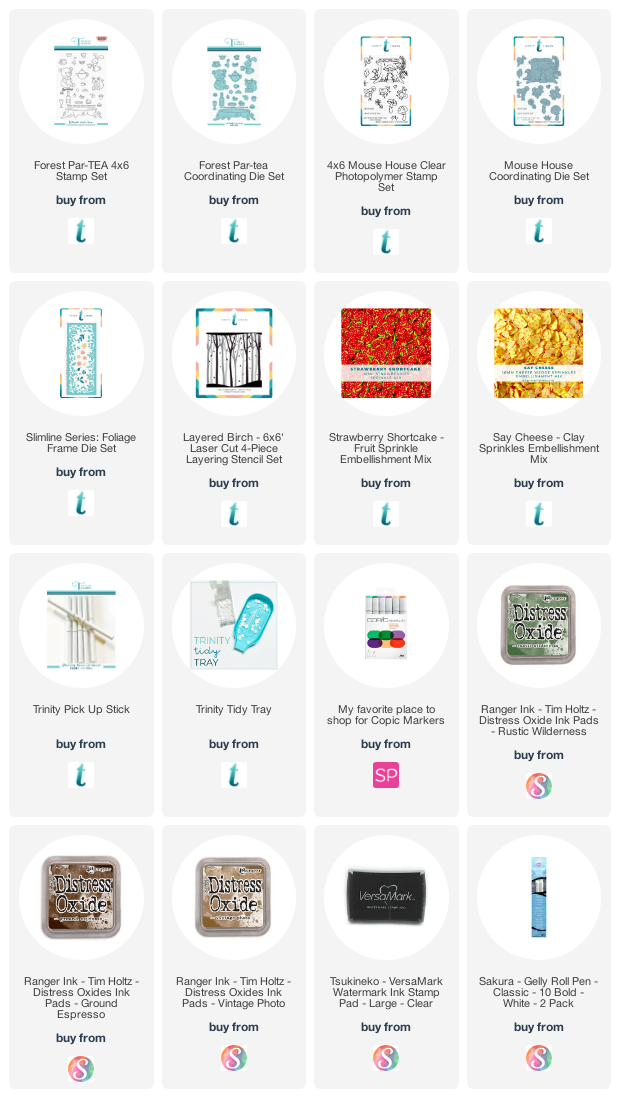 Affiliate links have been used, at no cost to you. Affiliate links are a collaboration between online shops and makers. When you shop these links the retailer gives a small percentage of the sale to the maker, at no cost to you. It is a great way of supporting your favorite businesses and the makers who inspire you. Thank you for shopping my links. Sharing my creations is my favorite thing to do and you have helped make it possible.