Hello! This month I am doing something a little different than my usual Stamp Set of the Month. Each week I will be featuring a different card kit and making cards with that kit. This week I am featuring the All Aboard Kit from Spellbinders. This is a GIANT kit. You can see my unboxing of this kit right here. It has card stock a 6" x 6" patterned paper pack, glitter paper, ephemera packs, tags, chipboard stickers, glitter stickers, foam stickers, alphabet stickers, rhinestones, sequins, twine, foam squares, sticky tape, card bases, envelopes, a stamp set, and a die set! It really is a TON of goodies.
There are 25, A2 card bases in this kit and I really wanted to make 25 cards, but ended up shooting for 20, as there are 20 patterns of paper in the paper pad. But in the end I made 21 cards as I made one card with NO patterned paper on it. I also wanted to make quick and easy cards with this kit, as that was the only way I would get twenty some cards done.
Watch below and see each of the 21 cards come together.
If you can not see the video up on the screen you can also view it right here.
If you want a close up look at each of the cards I have them for you below.
To get me started in creating with this kit I decided I wanted to use every pattern in the 6" x 6" paper pad. Once I had the paper then I stared looking through the other elements of the kit to see what could go with it. This was a great jumping off point and kept me creating all the way through all 20 designs of paper. And since there is two of each sheet I still have plenty to play with.
I love that there is such a mix of styles in this kit. There are some amazing floral ephemera pieces in this kit, like I used here on the gold card. But there are also some cute images like the stack of christmas books and stockings. There are even tags in this kit that you could use for your cards or for actual gift tags that could coordinate with a card you make.
Another tip for creating with kits when you want to make a lot of cards is to repeat a technique or element that you love and just give it a tweak. In this photo there are three cards that I did this on. Take a look at the card in the bottom right corner. For this card I adhered several of the floral ephemera pieces to the card base and then cut off what extended over the edge. This gave me a gorgeous background that only needed a bit of splatter and a sentiment. I repeated this on the card in the lower left corner, but this time added in a piece of patterned paper. I love how the flowers extend past the patterned paper to the edge of the card. It makes for a beautiful background. And the card in the top right corner uses this same technique, but I cut the excess off at the edge of the patterned paper for an even different look. Also, the paper used under the ephemera changes the look as well.
You can see that are not only beautiful florals in this kit but some bright and fun elements as well. I have to point out the "jolly" card in the upper right corner. This card is a full panel shaker card using the red sequins that come in the kit. I just use some clear plastic packaging to wrap around my card front to create this shaker. I show how to do it int he video. Another element that I love is on the bottom right card. I use my Journey Glaze to draw a line around the outer edge of the patterned paper and then sprinkled on the new Tinsel glitter from Ranger by Tim Holtz. It was like stepping back in time to kindergarten art, and I loved it!!!
Another element I repeated is doing a smaller piece of patterned paper in the center of the card. I varied the sizes, to keep it interesting. If I just do the same exact thing repeatedly I get bored. But figuring out the subtle changes I can make really keeps my mojo going.
I could have kept creating with this kit. There are things I barely even touched and I have so much left over even after making 21 cards. The one thing I did not even touch in the kit is the amazing Train die set! So stay tuned for another creation or two with this kit and the Train die set.
Stay tuned for more fun with card kits, I will be back again next Tuesday playing with another card kit!!!
Below I have listed and linked all the things I used to make these cards. Let me know if you have any questions or just chat with me and let me know which card is your favorite.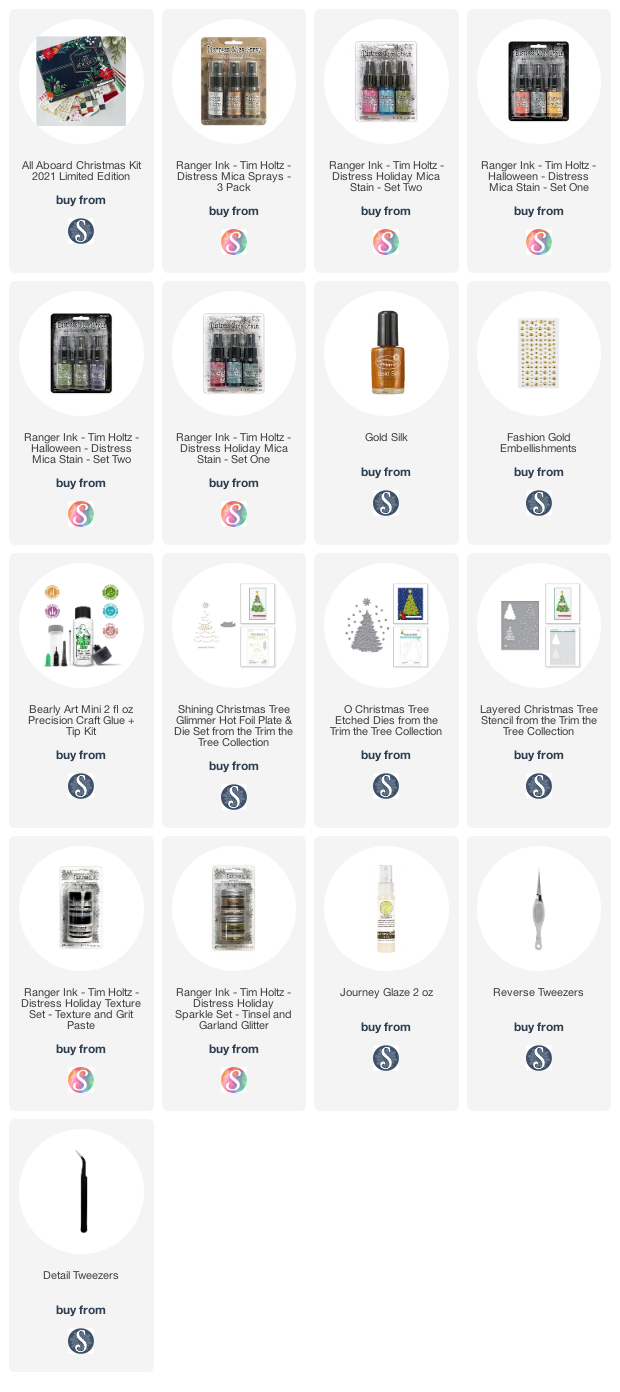 Affiliate links have been used, at no cost to you. Affiliate links are a collaboration between online shops and makers. When you shop these links the retailer gives a small percentage of the sale to the maker, at no cost to you. It is a great way of supporting your favorite businesses and the makers who inspire you. Thank you for shopping my links. Sharing my creations is my favorite thing to do and you have helped make it possible.