Welcome back my stamping friends. Today I am sharing the Large Die of the Month from Spellbinders for October 2021! I'm LOVING this die set. I looked at it and immediately knew I had to make an ornament with this die set!
This is the Santa's Fireplace die set. There are 27 dies in this set and the price of the Large Die of the Month is only $27.99. That is an amazing deal! This set has dies that will create the fire place, complete with log and burning fire and a grate to keep it all contained. There is also a base for the fire place that you can drop in one of six of the sentiment options. There is also a kinetic Santa, which means you can adhere the legs so that they swing back and forth! You can dress up your fire place with garland, flowers, a bow, candle sticks, stockings and even a wreath. SO many great dies in this set, no detail was left out.
You can see all the dies, what they cut, how to put it all together and see how I made this ornament in the video below.
If for some reason you can not see the video up on this screen, you can also watch it over on my YouTube channel.
Now let's take a close up look at this ornament.
Once you see this die set in action and know where all the pieces go, it is very easy to put together. I love that there are dies to cut out pieces to adhere behind the details cuts into the fireplace. I used silver card stock and I love the metallic shine it adds.
To create an ornament from this fireplace you need a base to adhere it all too. I simply traced around my fireplace and base onto a piece of heavy weight white cardstock. I then cut this out and was able to pop up my fireplace onto that to create this ornament. The good thing about the base being white is that you can add to it. I chose to stencil on some bricks. You could also ink blend the glow of a fire if you wanted to have a fire inside the fireplace. I did not want to burn up Santa's feet, so I just added the logs and grate.
Look how great the garland and stocking look. It's the little details that really make this piece special and Spellbinders never forgets to add in the little details with this Large Die of the Month. Also, I added the words, "Dear Santa" to the base of my fire place, but there are 5 other sentiments you could drop in and die cut out of the base; give thanks, noel, warm wishes, merry christmas, and a gift for you.
I chose to use the greenery to make a garland to go across the mantel of my fireplace, but you can take these same greenery pieces and create a wreath. This fire place easily fits on an A2 sized card or larger. The wreath would look great as an element above the fire place when you add it to a card. There are also candle sticks you can add to the mantle. They were just too thin to add to the top of an ornament.
There are so many different looks you can get with this fireplace, just by changing the colors you use. I love the idea of a fall look and using the GIVE THANKS words on the base of the fire place. And it would be easy to make a spooky fireplace as well and add some drips to the candle sticks. So, don't let the name, Santa's fireplace stop you from using this die set for all occasions.
Below I have listed and linked all the club kits that Spellbinders has to offer. They are all subscriptions that come to you automatically each month. You can bundle and get more than one kit a month. You can also change or cancel your subscription at anytime. Let me know if you have any questions about the kits of the month or about this Large Die of the Month.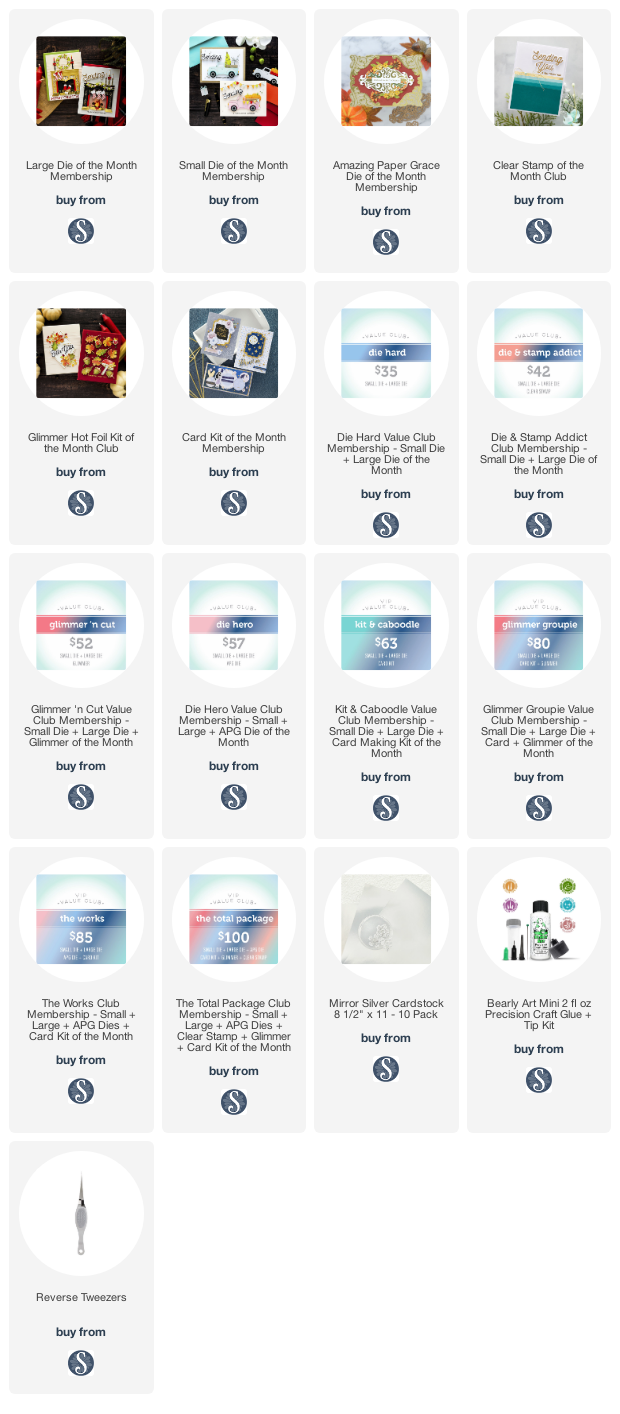 Affiliate links have been used, at no cost to you. Affiliate links are a collaboration between online shops and makers. When you shop these links the retailer gives a small percentage of the sale to the maker, at no cost to you. It is a great way of supporting your favorite businesses and the makers who inspire you. Thank you for shopping my links. Sharing my creations is my favorite thing to do and you have helped make it possible.