Hey there stamping friends! I am thrilled that one of my favorite stamp companies now has their products available in the US!!! Time for Tea Designs is so excited that their products are now available in the US over at Simon Says Stamp! To celebrate this, they have recruited some North American-based designers (including me!) to help spread the news with a blog hop. Be sure to hop along to see some adorable creations with a few of the NEW Time For Tea products that are now available over at Simon Says Stamp! I hope that you will be inspired and have fun along the way. AND, keep reading to find out more about this hop's giveaway!
For Today's Blog Hop, I am playing with 2 stamp sets from Time For Tea; Snappy Before Coffee Stamp and Die set and Paper Plane Pals stamp and die set. I will be pairing both of these sets with a slimline die set, Slimline Hillside Scenes.
Let's take a look at both cards I made.
Time for Tea has some seriously cute images and I am thrilled that they are now more accessible than ever to get in the States.
Now let's take a look at these products in action and see these cards come together.
If you can not see the video up on this screen, you can also view it over on my YouTube channel.
I love making slimline cards, and this Slimline Hillside die set made it very easy to create these scenes. With this slimline size I was able to create a scene that fit in two paper airplanes from the Paper Plane Pals stamp set.
To create these scenes I used Distress Oxide Inks and a couple other distress products. Be sure to watch the video to see the different panels come to life.
What I love about this Paper Plane die set is that the die for the airplane cuts a slit in the plane for the critter to fit in to. No pulling out the craft knife for that. YAY! Look how cute that panda is in the plane. I used a black gel pen to add little dots to his eyes.
I added a little bystander to the scene, this little donut eating dog is from the All Occasions Critters. He's loving the airshow, hehehe.
Now let's look at the second card made with the Snappy Before Coffee stamp set.
These critters really are so cute! I also love the smiling coffee pot!!! I had a lot of fun on this card painting in the subtle clouds in the background, a very easy distress technique with water. I show you how to do it in the video.
Have you ever seen a cuter hippo in a bow tie before???
The coffee card is a fun image for building outdoor scenes too.
These two snappy friends, meeting up for coffee, reminds me of meeting up with my friend Georgie. She always smiles and giggles with me and wants to know all the things about me since we last talked. But don't worry, I also have to hear all her news too!
I just loved making these little scene with these adorable images. Now it is time to hop along and see what the other designers have made for this hop.
Time for Tea Designs is giving away $30 worth of T4TD products that are now available at Simon Says Stamp! Be sure to leave a comment on EACH blog as you hop along with us to enter this giveaway. A random drawing will determine our winner and will be announced on the T4TD Blog on October 30th, 2021.
Next stop on the hop is, Mahala Kiss, you are going to love her creation!!
If you miss a stop along the hop here is the entire line up.
Carrie Rhoades ----------YOU ARE HERE!
Thank you for hopping along with us!
Below you will find the supplies I used to make these cards.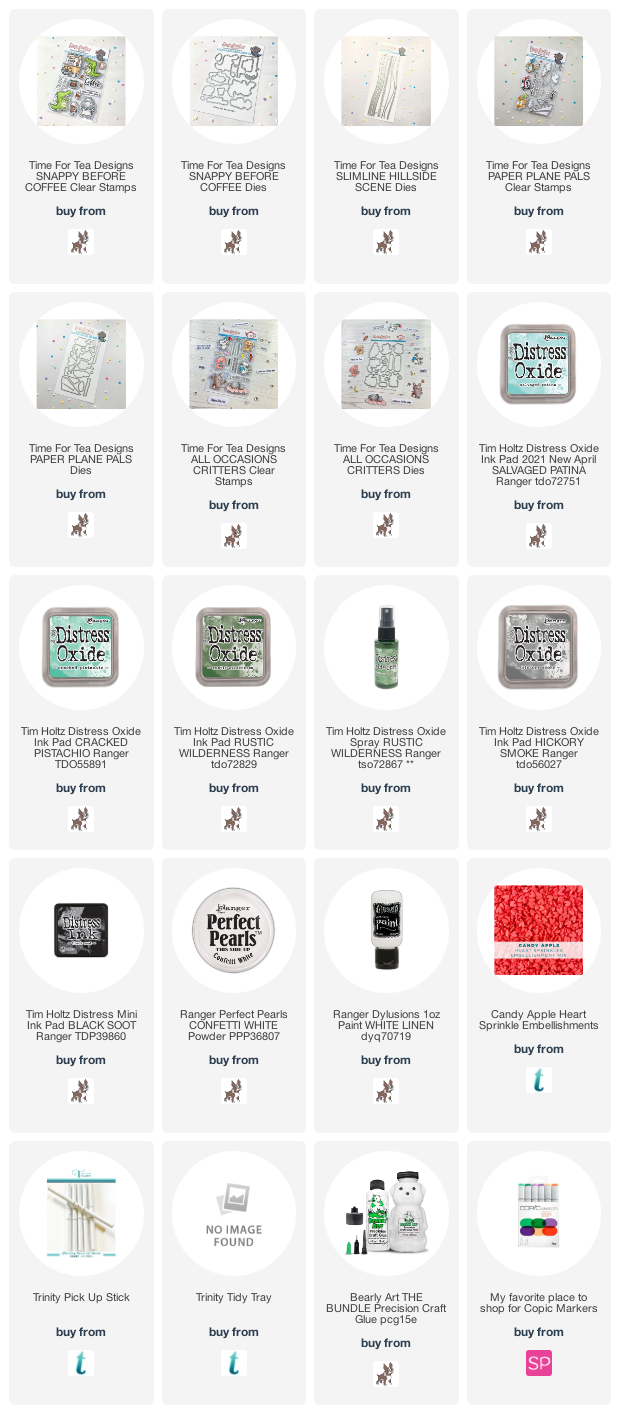 Affiliate links have been used, at no cost to you. Affiliate links are a collaboration between online shops and makers. When you shop these links the retailer gives a small percentage of the sale to the maker, at no cost to you. It is a great way of supporting your favorite businesses and the makers who inspire you. Thank you for shopping my links. Sharing my creations is my favorite thing to do and you have helped make it possible.