Hello there my stamping friends I am excited to be back with you today sharing another NEW release designed by Tim Holtz for Sizzix. The lovely people at Scrapbook.com sent me the Village Collection Dies and new 3-D Texture Fades embossing folders to create with and share with you. I was THRILLED when I got a look at this new collection of products. I love house dies and villages! And with this 87 pieces the possibilities are endless with this die set. Add in the texture fades embossing folders and it village making heaven!
When I got these dies I knew right away I wanted to make a few houses to add to my fall themed mini tiered tray. And I would make them to match the fabric pumpkins I already have. Take a look at how it all turned out.
Check out this amazing die set and embossing folders in this video and see these houses come together.
If you can not see the video on this screen, you can also watch it over on my YouTube channel.
Now let's get a close up look at each house.
This die set has dies to make 2 base houses, this is base house one. I was able to pick the door and windows I wanted on this house, as there are so many options in this die set. I also added the brick layer using the Brickwork 3D Texture Fades mini embossing folder. I also personalized this house by added singles to the roof. The colors I chose were inspired by the fabric pumpkins I have as part of my fall decor, also pieces I made.
This house is the base house #2. There are 3 main dies to make this base house. Again, I chose the door and windows. I also used the Lumber 3D Texture Fades embossing folder on this house. I was able to get the white highlights showing threw because I used the Neutrals Smooth Cardstock pack from Scrapbook.com. The paper in this pack is 85lb with a white core. Making it perfect for sanding down your embossed pattern. I also ran my Walnut Stain Distress ink pad over the embossing for some shadowing. I love the added pop of color to this house with the teal door, that matches that pumpkin.
This is also base house number one. But I added on the entry way option. There is also an addition option that you can add to the side of this house. And the entry way, as well as the addition can also be added to base house 2! That alone gives you so many options. There are also dies to make a steeple and an upper level to create a manor.
For this house I added a bit of cable stone around the bottom using the 3D Texture Fades mini embossing folder of the same name. I also used the Lumber folder for the roof of the house.
I am so in love with the shutters you can add to these houses, they are so darn cute!
The possibilities with the Village Collection dies are just endless! These dies are I have so many more ideas and will be sharing them with you soon, with more videos and posts to inspired you with this die set!
You can get this new collection of dies and mini 3D embossing folders at Scrapbook.com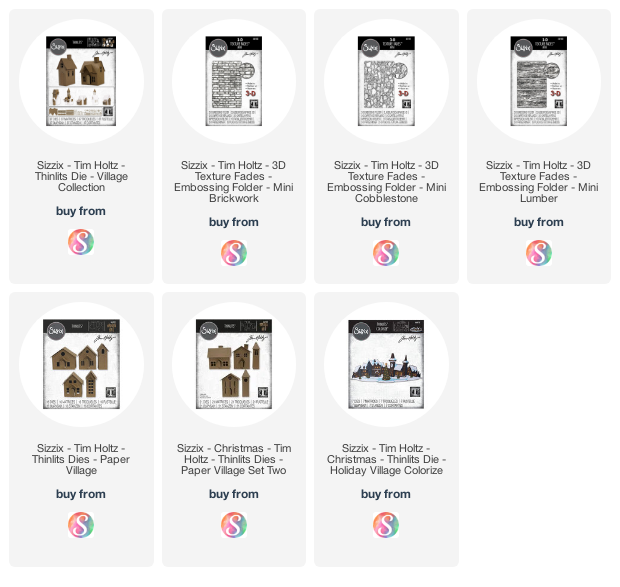 Affiliate links have been used, at no cost to you. Affiliate links are a collaboration between online shops and makers. When you shop these links the retailer gives a small percentage of the sale to the maker, at no cost to you. It is a great way of supporting your favorite businesses and the makers who inspire you. Thank you for shopping my links. Sharing my creations is my favorite thing to do and you have helped make it possible.
Thank you so much for stopping by!