I did a little experimenting in this video, trying out Hot Foiling on new surfaces! In this video I try out; cellophane, a new white card stock, heat proof acetate, patterned paper, colored card stock, and already foiled card stock. Along the way you get some tips and tricks for Hot Foiling.
And in all that experimenting I ended up with 3 Christmas cards using the Glimmer Kit of the Month from Spellbinders for November 2021.
First let's look at the 3 cards and then at the video.
They are so shiny! All three of the cards I made are 5x7 sized. I love this size for Christmas, it seems more special and elegant.
Here you can watch these cards come together and find out if I can hot foil on that!
If you can not see the video up on this screen, you can watch it right here.
For the first card I jumped right in to see if I could Hot Foil on cellophane. This is the type of clear plastic material that is wrapped around a lot of the stamping supplies that you and I purchase. I have seen this done a couple times and even so I was skeptical. So, I had to try it out for myself!
BUT, my skepticism was not necessary, it WORKS! Yes, I can and YOU can hot foil on cellophane! And, it's gorgeous, specially with the Gold foil, which came with the Glimmer Kit of the month. This month's kit has three wavy borders that hot foil and two dies that cut them out. I used the dies to cut colored card stock strips to go behind the hot foiled panel. And that hot foiled cellophane, became the cover for my full panel shaker card. You have to check out the video to see it in action.
I also tried out a new Super Smooth White card stock by WOW in this video. Not all white card stocks are great for foiling. So when the lovely people at WOW asked me if I would like to try their Super Smooth Card stock for hot foiling I jumped at the chance. One of the things that gives great results when hot foiling on white card stock is a very smooth surface and this card stock has that for sure. And as you can see by the hot foiled Merry Christmas sentiment, it hot foiled beautifully! I will be using this card stock more for foiling for sure!
On my second card I tried out some heat proof acetate.
Heat proof acetate works for embossing on, it withstands the heat of an embossing gun. But would it hold up on the hot foil machine just laying there for about one minute? YES, yes it did. And I LOVE the results, which you can see on this card. I hot foiled " Merry Christmas" in green foil on the acetate.
Also on this card I did some hot foiling on colored card stock. I have done this before, but have recently been asked about it, so I wanted to feature it on this video. YES, you can hot foil on colored card stock. The car stock I used is 85lb. It was the card stock that Spellbinder use to carry before they switched up their cardstock and the brand is Fun Stampers Journey. I used red foil on this red paper for a gorgeous tone on tone hot foiled look. Not all card stocks are the same, so play with what you have on hand and in the future I will try out other brands of colored card stock too.
Next up, I tried Hot Foiling on patterned paper.
The center, red panel, on this card is patterned paper. It is from the Christmas Traditions Paper pad (I used other prints from this pad for the first two cards). It is on the light weight side as far a patterned paper goes, which made me wonder how it would hold up to the rigors of hot foiling. As you can see, it held up just fine! I picked a pattern of paper that was tone on tone and less busy and it ended up being a beautiful layer for this card.
Another thing I shared in this video is hot foiling a piece of cardstock that has already been hot foiled. First I hot foiled the green pattern on this paper, then I hot foiled the gold border under that. You can do this and it will not effect the previously hot foiled element.
So, all in all, my experimenting was a great success! And it was tons of fun, I set out to make one card and just kept going. I love it when the mojo flows and you have to try this and that! And then hours go by and your family is eating cereal again for dinner. Just kidding, mostly.
Thank you so much for stopping by! Please let me know if you have any hot foiling questions. All the supplies I used to make today's cards are listed and linked for you below.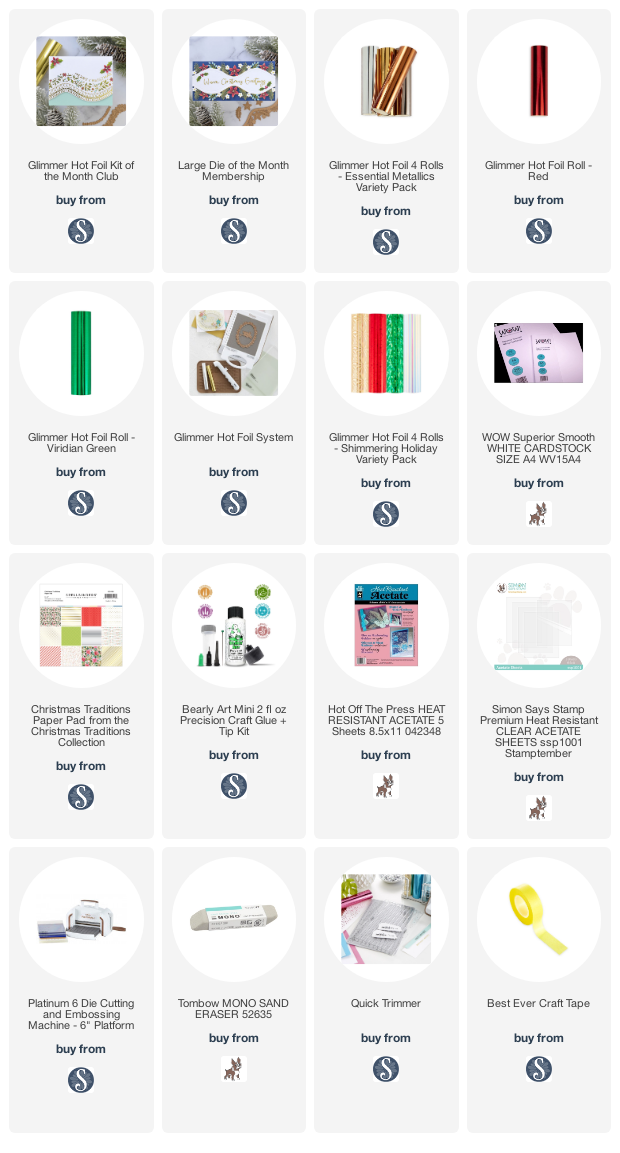 Affiliate links have been used, at no cost to you. Affiliate links are a collaboration between online shops and makers. When you shop these links the retailer gives a small percentage of the sale to the maker, at no cost to you. It is a great way of supporting your favorite businesses and the makers who inspire you. Thank you for shopping my links. Sharing my creations is my favorite thing to do and you have helped make it possible.