Hello my crafty friends. I hope you are enjoying your holiday season. I have been decorating, shopping, wrapping. AND of course Making! I just finished a project that I have been wanting to do for a while. A banner for my fireplace. One of my favorite things to make each year is a Woven Star ornament, which I have now started calling a Woven Snowflake. I make a version of it each year and this year I decided to take my love of this ornament and pair it with another love, banners. I made eight woven snowflakes, strung them together and created a banner. I am quite in love with it too!
If you have never seen my Woven Star video, that started it all, you can watch that one HERE.
In today's video I will also show you how to make the Woven Snowflake (formerly known as Star) and also how to make this banner.
If you can not see the video up on this screen, you can also view it on my YouTube channel.
Let's take a closer look at this banner.
I use the Jingle All the Way paper pack by Echo Park for this banner. I chose 4 patterns of paper and made two of each Snowflake out of the four designs.
It only takes 1 piece of 6x6 paper to make one of these snowflakes.
They are not that hard to make. But they are so beautiful. These snowflakes make a great ornament and topper for a gift or gift bag. Making one and adding something special to the center is a stunning ornament. You can see the ornaments I made last year in THIS VIDEO.
I have even used one of these snowflakes on a wreath I made as a gift one year.
I have added a hanger to the top of these snowflakes making them easier to string on the twine and create this banner.
You can see how you can easily customize these snowflakes to fit any decor by the paper you use and what you decide to add to the center of the snowflake.
The doily shape I am using for today's snowflakes is a cut file I got from the Silhouette Design Store. It is designed by Lori Whitlock and is called Round Doily. I love using a digital cut file for this banner, it allowed me to make the doily as big as I wanted to accommodate the letter in the center. This doily is about 2-1/4" in diameter. Another great option for the center of these snowflakes is the Crochet Doily die set by Echo Park. The doilies in this die set are closer in size to the original doily that I used on my first snowflakes at approximately 1-3/4" around. I mention this because that is the most asked question that I get from my orginal video that first aired in 2015, "where I can I find the doilies that you used". The ones I used in 2015 has since retired. But the sky is the limit as to what you can add to the center of this snowflake.
The letters I used for my banner are from the Classic Type Alphabet die set by Scrapbook.com. And the circle die cut between my letter and doily is from Trinity Stamps, I have to mention it because when you die cut these circles they leave a beveled edge, love that!
Thank you so much for taking time to visit me today and let me share my banner with you. If you have any questions please feel free to ask by leaving it in the comments below.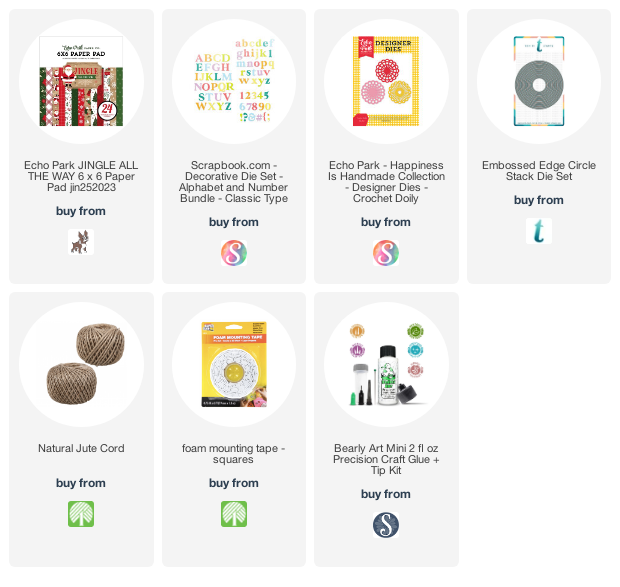 Affiliate links have been used, at no cost to you. Affiliate links are a collaboration between online shops and makers. When you shop these links the retailer gives a small percentage of the sale to the maker, at no cost to you. It is a great way of supporting your favorite businesses and the makers who inspire you. Thank you for shopping my links. Sharing my creations is my favorite thing to do and you have helped make it possible.