Hello my stamping friends. I am thrilled that is time for another Lawn Fawn Fans hop! Lawn Fawn Fans is a group of YouTubers that are friends of mine who all love Lawn Fawn. Welcome to our Winter Hop!
Each season we do a hop to share our love of all things Lawn Fawn. Each hop we have a sponsor of our video and this time we have TWO!
THANK YOU to our Sponsors!
and
Both of these companies are small businesses that carry Lawn Fawn (among other things) in their shop.
Not 2 Shabby is owned and operated by Jamie Peters, she also designs her own stamp sets. She is a gem and is so good at getting orders out lickity split! Jamie is generously giving a $25 US gift certificate to her shop for this hop.
Hobby Hoppers is owned and operated by Trish who named her website Hobby Hoppers after the fact that she found herself hopping from hobby to hobby. Something I am sure we can all relate to! Hobby Hoppers is based in Australia and ships to AU, USA and New Zealand. Trish has generously given a $50 AU gift certificate to her shop for this hop.
Be sure to check out each of their shops.
To enter our GIVEAWAYS be sure to hop along with us over on YouTube and leave comments as you watch the videos.
You can start the hop right here on my video. I have made a Cerealsly cute card with a Lip Balm in it!!!
You can click over to my YouTube channel to comment and enter our giveaway.
Now let's take a closer look at this card.
I used the new Cerealsly Awesome stamp set from Lawn Fawn's latest release. I just love a tiny stamp set. AND, I happen to love cereal cards with a little cereal lip balm with it. Would you be surprised to know that this is not the first cereal with chapstick card I have made??? It's true and yes, a little weird. BUT, so much fun!!!
I used some fun products from My Favorite things to add this cereal inspired lip balm to my card. There are pouches, dies, and stamps. I have them linked for you below incase adding crazy flavored lip balm to your projects also makes you giddy!
And when you open up this card you can still see the lip balm and the puns continue.
The base of the card measures 11" x 9-3/4", scored at 5-1/2". The red card front panel is 4" x 4".
And the rip strip on the back allows you to rip open a spot on the card to retrieve the lip balm.
The card front itself has Lots of Hearts stenciled on it with Pearl Paste. What a fun stencil set. And the pearl paste should come with a do not eat warning, it is soooo yummy looking!!!
If you have yet to hop along with the video hop I have links to each video for you below.
Be sure to like, comment and subscribe to these talented designers as you hop along.
Below I have the supplies I used to make my card listed and linked for you.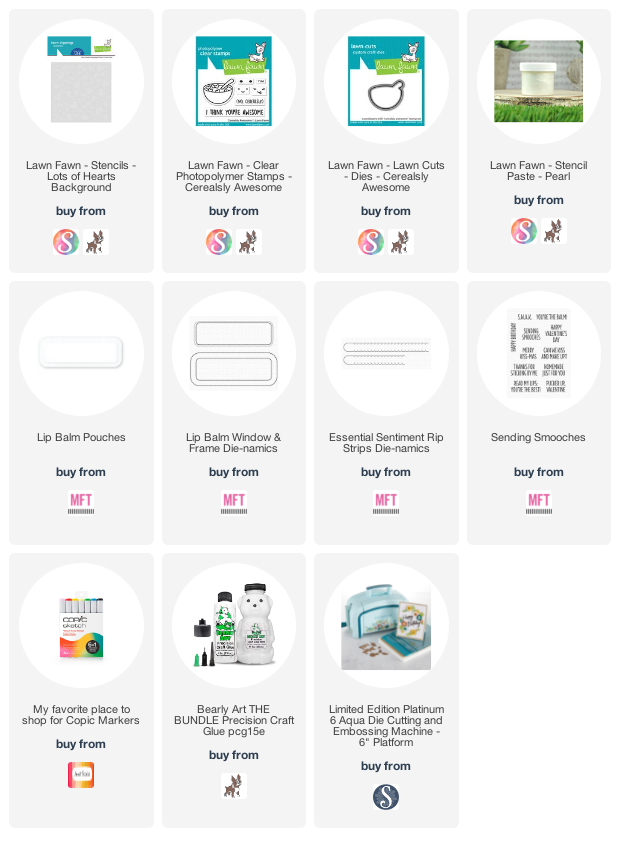 Affiliate links have been used, at no cost to you. Affiliate links are a collaboration between online shops and makers. When you shop these links the retailer gives a small percentage of the sale to the maker, at no cost to you. It is a great way of supporting your favorite businesses and the makers who inspire you. Thank you for shopping my links. Sharing my creations is my favorite thing to do and you have helped make it possible.