You've heard that GOAT stands for GREATEST OF ALL TIME, right. Well,I think this die set, the Wide Box Die Set by Trinity Stamps is one of those die sets! I use it a lot and love to create a 3D scene in this box that folds flat and can be sent in a business sized envelope. For today's card I am bringing out one of the newest stamp sets from Trinity Stamps, I Goat You, Babe. These goats are so darn cute!
You can see this card come together in the video below.
If you can not see the video up on this screen, you can also watch it on my YouTube Channel.
A hand stamped card is always special, but there is something about a 3D scene that makes it seem a bit more special. That is what I love about creating cards using the Wide Box die set.
The goats and clothes on the link are all from the I Goat You, Babe stamp set. I just love these goats, they are so darn cute!
I also have to point out the rainbow in the back of the card, I made this using the Slimline Rainbow Builder die set, another of my favorite things from Trinity Stamps.
I love the Simply Sentimental You for a fun sentiment on the front flap of this card, it fit perfectly.
To see how this card goes together be sure to watch the video.
Below I have listed and linked all the supplies I used to make this card. If you have any questions be sure to let me know.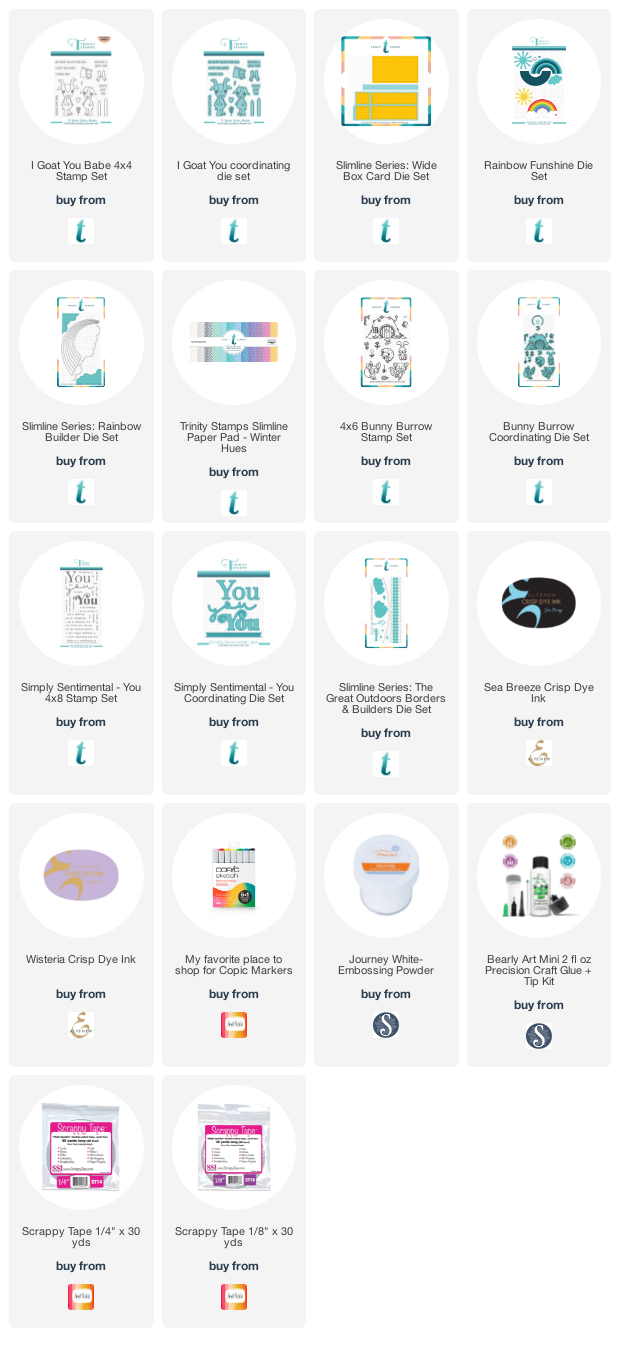 Affiliate links have been used, at no cost to you. Affiliate links are a collaboration between online shops and makers. When you shop these links the retailer gives a small percentage of the sale to the maker, at no cost to you. It is a great way of supporting your favorite businesses and the makers who inspire you. Thank you for shopping my links. Sharing my creations is my favorite thing to do and you have helped make it possible.