Super excited today to share my favorite stamps sets from the Enchanted Wood release with you today. It's the Oh Happy Day and Thinking Tree stamp sets that I am talking about. Both of these stamp sets have some large and very woodland images great for scene building. But when I first saw them and the unique dies that cut them out I immediately knew I wanted to make window cards with them.
Both of these cards use window sheets so when you open them up you get a little surprise of elements that appear suspended or just the fun of being able to see a bit of what is going on on the inside of the card on the outside.
Watch them come together in this video.
If you can not see the video up on your screen, you an also watch it over on my YouTube channel, right HERE.
The first card with the Oh Happy Day stamp set is an A2 sized card and the window sheet panel is a trim-fold.
The frog appears to be sitting on the stump, but when you open up the card you can see that he is on a different layer of window sheet.
Then the layer with the stump opens up as well to reveal the background of the card.
And you can see there are a few fun elements on this panel as well. I love that little snail peaking out from behind the flower!
For my second card I made an A7 sized card ( 5" x 7").
The focal image in this stamp set is much bigger and even works on a slimline sized card. Watch my video to learn how you can customize this image to work on different sized cards.
This window card only has one window panel, a simpler look that is easily regrettable with images you might already own.
On the inside you get a full look at the gnome and that darling earth worm.
I just love the images in these stamp sets, they were a delight to color up and the turn into cards.
If you want to see the entire Enchanted Woods release, check out my REVIEW video.
Below you will find all the supplies I used to make todays card.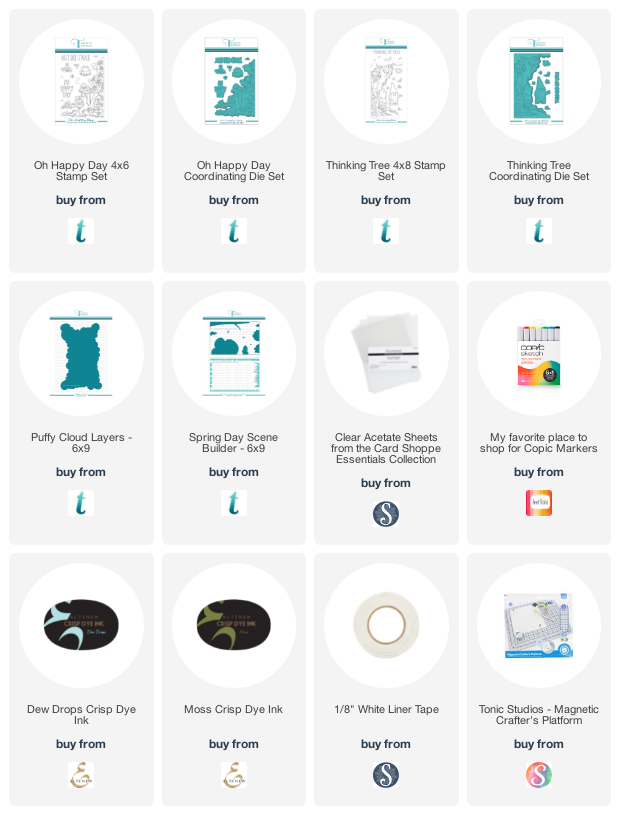 Thank you for spending some time with me today! I will be back with more ideas and videos with the Enchanted Woods release for you soon!
Affiliate links have been used, at no cost to you. Affiliate links are a collaboration between online shops and makers. When you shop these links the retailer gives a small percentage of the sale to the maker, at no cost to you. It is a great way of supporting your favorite businesses and the makers who inspire you. Thank you for shopping my links. Sharing my creations is my favorite thing to do and you have helped make it possible.