Hey there my stamping friends. Today I am featuring four of the July 2022 club kits by Spellbinders in a HOP!
There are several designers participating in this hop to bring you a lot of inspiration using the July Club Kits that Spellbinders has to offer. All stops on the hop are listed below. Be sure to visit and comment on the Spellbinders blog post for this hop to be entered to win a $25 shopping spree to the shop!
The Club kit I am focusing on today is the Have A Chill Summer Clear Stamp Monthly Kit. It has a solid popsicle image in the set. And I am going to show you 3 fun ways you can ink up this popsicle. I am also incorporating 3 other money club kits for July; the Embossing Folder, Large Die of the Month and the Glimmer Kit.
Here is a look at the three cards I am going to show you how to create today. Below you can see how I inked up each popsicle and how I put these cards together in this video. If you can not see the video on your screen, you can also view it on my YouTube channel.
Now let's take a close up look at each of these cards.
I just love the little strawberry in this set! And I love strawberry popsicles too! I made these popsicles ombre by inking them up with three different ink pads.
They got a bit of sparkly splatter after that.
I think LIME popsicles are my FAVE, so I had to make a card featuring them. I did the KISSING technique for these yummy popsicles. You ink the solid popsicle with a light color of ink and then ink the lime stamp with a darker color of ink and stamp it right on to the popsicle stamp. Then you can stamp this down on to your paper. What a fun technique!
The background on this card was made using the Embossing Folder for July, Geometric Stripes, it's a very versatile pattern and I love it with this card.
Make sure to watch the video to see how I got the shine on my popsicles.
Last but not least I had to make a popsicle food truck. I just love the July Large die of the Month, what a fun idea to make different food trucks! And this popsicle works great on top!
This grape popsicle got its cool color with the help of sprays! I love the flecks of grape goodness it adds! And in the background of this card I used the Glimmer Kit of the Month to add those amazing stripes.
I hope you enjoyed these cards and a few fun ideas for inking up your solid stamps! Be sure to watch the video to see all the techniques in action.
And now it is time to hop along with us and see more inspiration with the July Club Kits.
Next up in the HOP is Iliana Crouse, who's creations are always FABULOUS!
If you missed a stop along the way, here is the entire hop line up. Enjoy the hop and soak up all the gorgeous creations ahead!
Spellbinders Blog
Tina Smith
Kristie Marcotte
Bibi Cameron
Sandi MacIver
Jennifer Kotas
Yasmin Diaz
Jean Manis
Kelly Taylor
Rebecca Keppel
Tanya Boser
Jill Hilliard
Carrie Rhoades - YOU ARE HERE!
Ilina Crouse
Kathy Clement
Linh Van
Deborah Jenkins
Alanna Moses
Giveaway:To celebrate this release, we are giving away a $25 gift certificate to 3 lucky blog readers – selected from the comments on our blog. Giveaway closes on Sunday, July 17th, 11:59 pm MST. The winner will be announced in this blog hop post the following Wednesday. The winner is responsible for shipping costs, duties, and taxes.
Please note, store credit (gift certificate) cannot be applied to Club Subscriptions. Store credit can be applied to shop past Club products, Club extras and regular releases.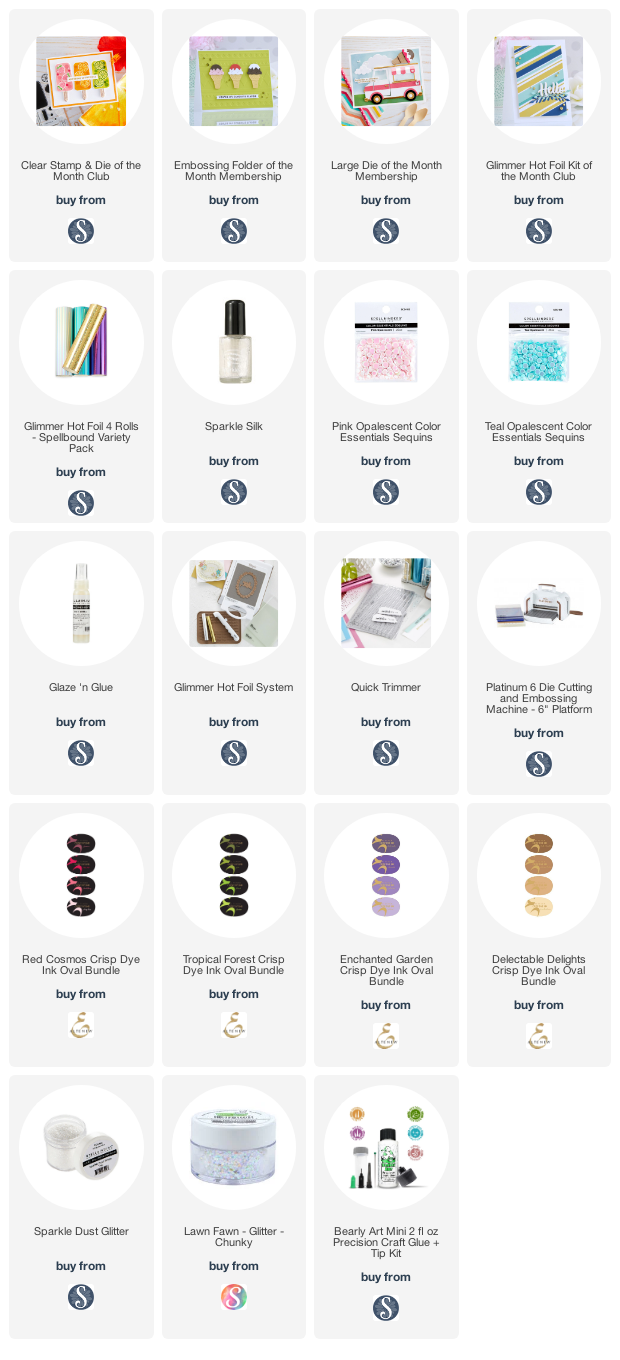 Thank you so much for stopping by! 'width=640,height=480,scrollbars=no,resizable=no,toolbar=no,directories=no,location=no,menubar=no,status=no,left=0,top=0' ); return false" style="display: inline;">