WHO'S READY FOR STAMPtember?!?
I know I am! I could not be more happy to be a part of this year's STAMPtember Celebration with Simon Says Stamp. They sent me one of their exclusive new STAMPtember stamps sets to play with and share with you. I can say, I had so much fun with it and it is going to work great with so many of the things I already have in my stash!
The stamp set is Circle Sayings. It is a sentiment set and each of the 6 sentiments in the set is a circular design. That inspired me to use the theme of circles to create backgrounds for my cards on my Gel Press using found objects that are circular.
Check out the stamp set, see the backgrounds come to life and get turned into cards in the video below.
If you can not see the video on this screen, you an also watch it over on my YouTube channel.
What do you think of all those crazy gel press prints? If you are new to making Gel Press prints just remember sometimes a crazy looking background is perfection once you die cut it or add a layer to it and give it some love with stamped images.
Check out MORE of this EPIC STAMPtember party over on the Simon Says Stamp Blog. And be sure to use the code below when shopping to get an amazing deal, a FREE stamp set! But hurry, this free stamp set offer ends on 9/4!
Now, let's take a close up look at each of the cards I made with the Circle Sayings stamp set.
Here you can see the lovely hand written style of the sentiments, perfect for a hand made card.
Each of the sentiments has the solid line going partially around the sentiment for a fun look. Another thing that makes this set so affordable is that you do not have to buy a coordinating die set to go with it. Just pull out your circle dies or punches to do the job.
You might be like me and have some circular dies that have decorative edges and those dies are going to go with this new stamp set too. You can see here I have used a die set from my stash to layer under my sentiment for a nice POP.
The circular object used to make the background on this card is splatter! Splatter drops are mostly circular, right? And this has to be my most favorite of the TONS of backgrounds that I made. Be sure to watch the video to see them all being created.
On this next card I used three different prints!
I love that the Circle Sayings stamp set has holiday images, sometimes you don't want to buy an entire Happy Thanksgiving stamp set. Sometimes you just need the sentiment and you can use that to add to a card made with things you already own, like this one.
This background is the result of a few layers on the gel press and involves the use of a stencil to pick up died paint. Which happens to be my Favorite technique on the Gel Press. Again, you can see it all in the video.
Even a simple circle layer behind these sentiments elevates them.
Speaking of elevating things, try doing a gel press print on a book page fore a fun and unique look that takes your background up a notch!
For the last card I had to do it, I had to make a shaker. Shaker cards are my jam. And these circles are perfect for it!
A little shaker window is such a fun touch to a handmade card. This one was simple to make with the help of Circle Shaker Pouches by My Favorite Things. The Circle Sayings at approximately 2" in diameter fit in them perfectly!
My favorite circular object to use on my Gel Press for YEARS has been bubble wrap, so I had to use it for these cards, and see how delish it is!!!
There are 3 more sentiments in this set that I have yet to make cards with, so stay tuned for that. I will be back with that video in about a week.
Below you will find the supplies I used to make todays cards.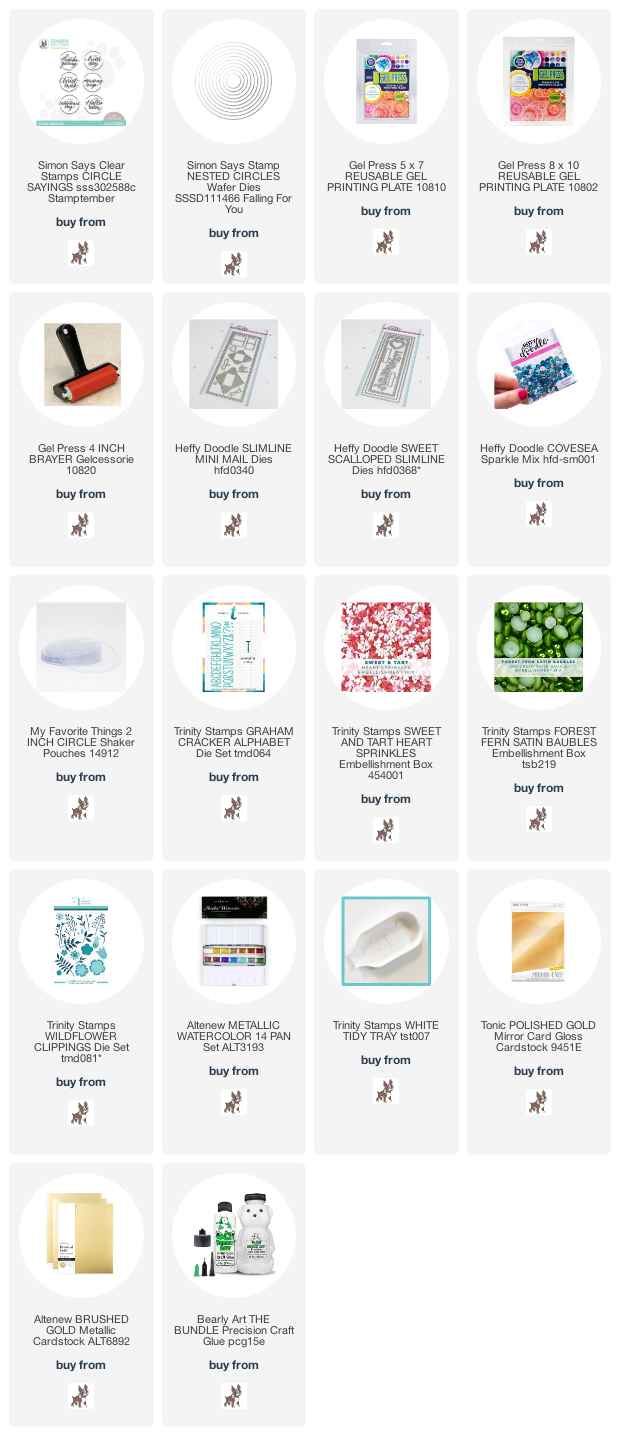 Thank you so much for stopping by and letting me share in the excitement of STAMPtember with you!