Hello my stamping friends. I am back, sharing another Pumpkin House creation with you. I just had to make a halloween Pumpkin House before I complete move on to making Christmas cards. And as a little treat for you, I have made a short video sharing the making of this card. It is a different format of video than I normally do. It is quick and set to music, so be sure to let me know what you think.
If you can not see the video up on this screen, you can also watch it on my YouTube channel.
Now let's take a look at this card, with some cute little Trick or Treaters, from the Lawn Fawn Costume Party stamp set.
This card was inspired by Episode #84 of Craft Roulette. If you are not familiar with Craft Roulette, it is a LIVE card making game show on YouTube. It airs every Friday night at 5:30pm MST. The host, Mary Gunn Funn has a guest crafter join her each week. They spin the wheel which selects 4 card making parameters. Mary and her guest then set to creating a card using those parameters. The parameters for Episode #84 are; Slimline Landscape Card, Orange background, Jar or Glass, 3 Layers
For my background I used two colors of Distress Oxide ink, Rusty Hinge and Spiced Marmalade. After ink blending them I spritz the paper with with water for a splattered look. Then I spritz on some Jack O Lantern Distress Mica Spray. After that was all dry I added a layer of stars with the Fair Dust Stencil Paste and the Starry Night Stencil.
Here you can see all the glass I used on my card, in the form of windows, which is vellum. And the same for the lanterns. My grass layer is Rustic Wilderness Distress Oxide ink. I was die cut using the Slimline Grassy Hillside Borders die set.
And here are my trick or treaters, from the Costume Party Stamp set. I just love this set and how darling these kiddo's are all dressed up. Finished out my card perfectly.
Thank you so much for stopping by and letting me share this card with you and I encourage you to check out Craft Roulette this Friday night at 5:30pm MST for some serious stamping fun! And then you too can play along with the challenge!
Here are all the supplies I used to make today's card. NOTE: the Distress Mica Spray Stains I used are a limited time offering from Tim Holtz, so they may not be available at this time. Check Ranger for availability.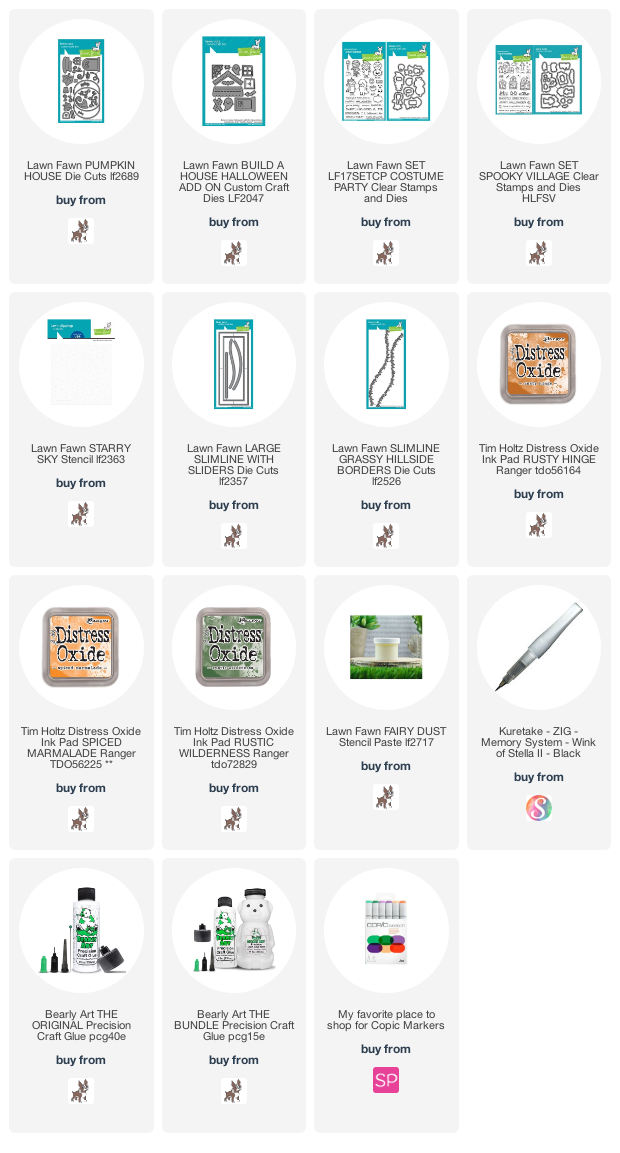 Affiliate links have been used, at no cost to you. Affiliate links are a collaboration between online shops and makers. When you shop these links the retailer gives a small percentage of the sale to the maker, at no cost to you. It is a great way of supporting your favorite businesses and the makers who inspire you. Thank you for shopping my links. Sharing my creations is my favorite thing to do and you have helped make it possible.