Today I have a great project for you! It is a slimline card with a surprise element in a slimline envelope box with a window. That has enough room for a gift too!
I am pulling out lots of slimline goodies from Trinity Stamps today to create this project. You can see it all come together in this video.
If you can not see the video on this screen you can also view it right here.
Here you can see the card from the front, with the Happy Snowman looking so festive. Looks like a regular slimline card.
But when you pull on the tab.....
The snowman stands up and the surprise is revealed! I put the $5 behind a piece of window sheet that can only be accessed by pulling on the rip strip on the inside of the card.
I used this tree image from the Merry & Bright stamp set to add something cute to the inside of the card. And there on the left you can see the rip strip that is also from the Slimline Surprise die set that I used for the front of the card.
And here the Snowman card and jumbo chocolate bar are in the box. The box was made using the Slimline Envelope Builder die set and the Build a Box with Long Flap option. When you pair these two die sets together you can make this gift box. I love the window in the box for a peek at the card.
I had so much fun making this card and box, I think the Happy Snowman die set is just about the cutest thing!!! And Trinity Stamps is my favorite place to shop for all things Slimline!
Speaking of Trinity Stamps, if you are viewing this post on Small Business Saturday, you should know about the Limited Edition Embellishment Set available at the Trinity Stamp shop!
How cute are these embellishments in little storage containers and all in a case! I am sure these are going to sell out fast! Hurry to get yours right here.
Below I have listed and linked all the things I used to make today's project.
My FAVORITE Place to shop for Copic Markers - Scrapbook Pal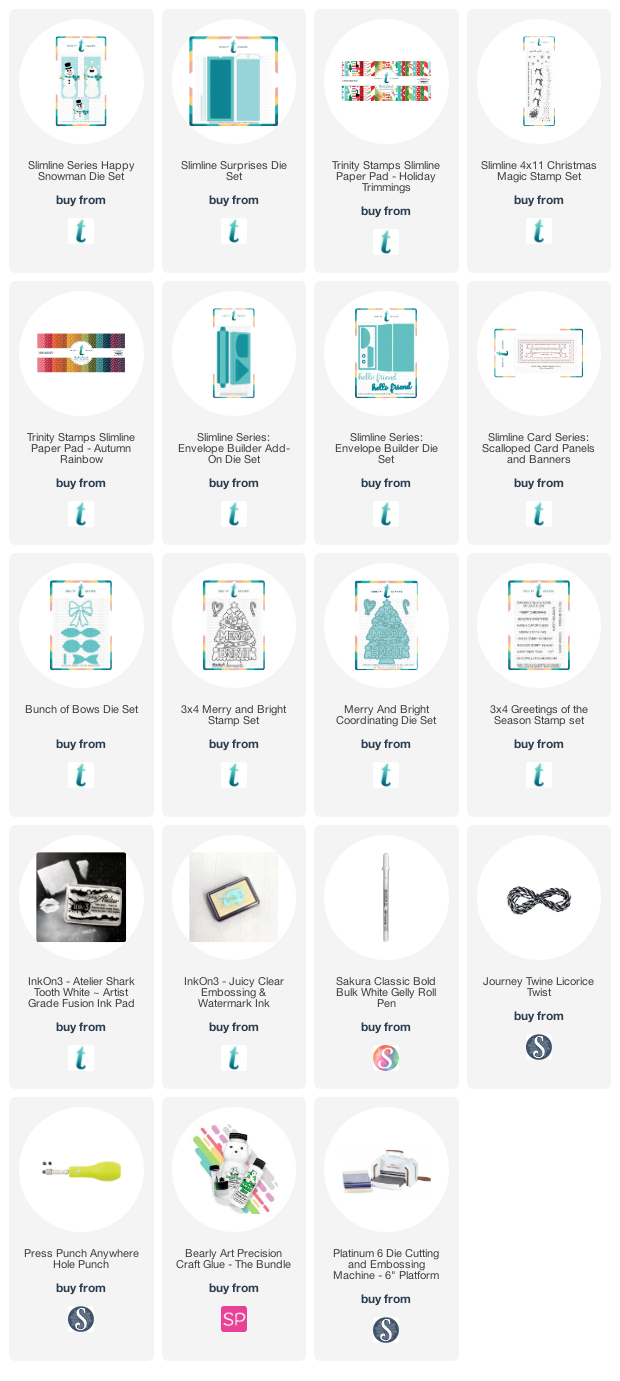 Affiliate links have been used, at no cost to you. Affiliate links are a collaboration between online shops and makers. When you shop these links the retailer gives a small percentage of the sale to the maker, at no cost to you. It is a great way of supporting your favorite businesses and the makers who inspire you. Thank you for shopping my links. Sharing my creations is my favorite thing to do and you have helped make it possible.