Today I am playing with one of my favorite stamp sets, Oopsy Daisy by Scrappy Tails. I have been wanting to use it to stamp some card backgrounds and I thought you'd find these ideas helpful for card making as well.
I will be showing you 3 ways to stamp a background for building a card on.
You can see each background being made and the cards I made with these backgrounds in the video below.
If you can not see the video up on this screen, you can also view it on my YouTube channel.
Now let's take a look at each card and the stamping technique I used.
For the first card I did traditional stamping with black ink on white paper. Because this stamp set is easy to color, as the daisies can be colored white, I colored in my background with Copic Markers. One thing that I feel really makes this kind of background pop is to do some outlining. I used BG11 to outline each of the flowers. This made them stand out and made the background feel a bit more like patterned paper.
For background number two I did some heat embossing.
I started with a piece of Cool Pool card stock (this color of card stock is no longer available at Spellbinders, but I will link a new similar color they just started carrying). Then I stamped all of the florals with Versamark ink, a clear sticky pigment ink. I poured white embossing powder over this. After tapping off the excess and pouring it back into the container, I heat set the powder, melting it till it was raised up and shiny. I love the elegance that embossing brings to any card. You can get so many different looks with this technique just by changing up your card stock color and the color of your embossing powder. Gold is one of my all time favorite embossing powders, it would look amazing on this background I am sure.
To take this background up a notch I splattered on some Cool Pool Silk for a bit of coordinating shimmer. Each card I made today I used glitter paper, vellum and stamped images also from the Oopsy Daisy stamp set to complete the card.
I have to say that yellow glitter paper is just yummy!!! Also, take a close look at my bees, I used Journey Glaze to cover each of their bodies. The glaze dries clear and gives them a fabulous raised up and shiny look.
On to card three, for this background I pulled out my PanPastels.
To get this look I stamped all my floral images with Versamark ink. Let the paper rest about 1 minute and then apply PanPastels over the paper with the soft tool that comes with it. The PanPastel will stick to the stamped image, making it slightly darker. I love this subtle look for a background!
Of course I did add a bit of Sour Lemon splatter to it for a bit of pizzazz.
What do you think of the white die cut on this card. I used the Slimline Brick cover die to create this. I just cut out the center of the die for a lattice like feel.
Take a look at all three of the card together. I love making a group of cards that coordinate and use a lot of the same product but are all different too.
I'd love to hear from you, let me know which of these cards is your favorite in the comments below. I hope you found a bit of inspiration while you were here. I will be back again soon with more crafty creations for you!
All the things I used to make today's cards are listed and linked for you below. Let me know if you have any questions, I am glad to help!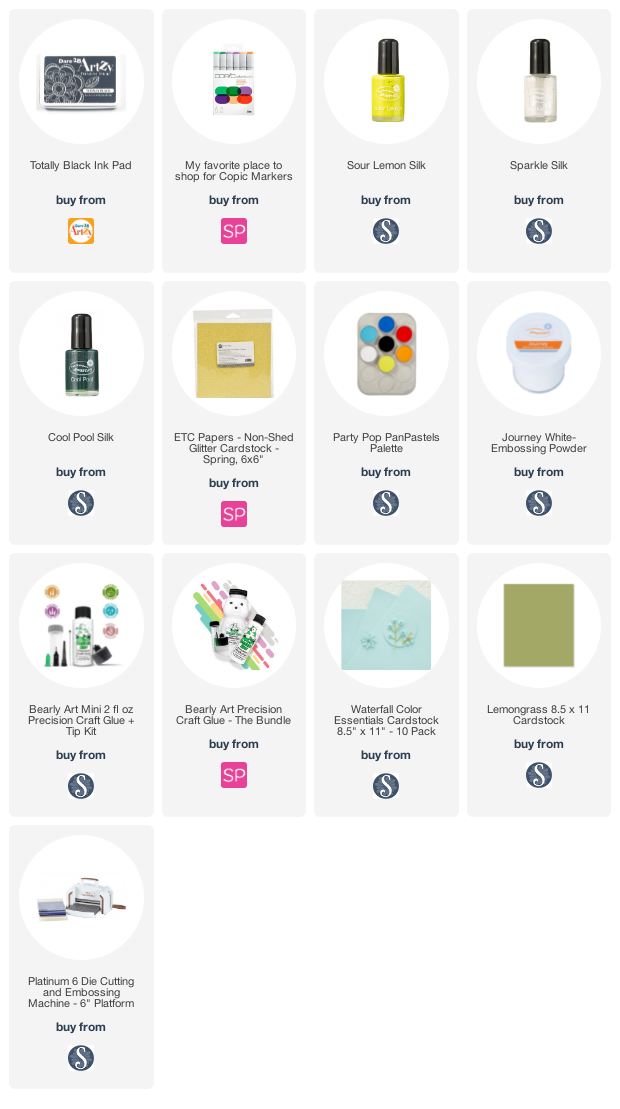 Affiliate links have been used, at no cost to you. Affiliate links are a collaboration between online shops and makers. When you shop these links the retailer gives a small percentage of the sale to the maker, at no cost to you. It is a great way of supporting your favorite businesses and the makers who inspire you. Thank you for shopping my links. Sharing my creations is my favorite thing to do and you have helped make it possible.