GUESS WHAT!?!
STAMP SET OF THE MONTH IS BACK!
If you are new to my blog or YouTube channel you might not know about Stamp Set of the Month. It is a monthly series I do on my YouTube Channel. Each month I pick a stamp set that I love and share new ideas with it in weekly episodes on YouTube. I have taken a very long break from doing this and have missed it so it was time to bring it back! This week is EPISODE ONE! Each Thursday night at 7pm MST, you will find a new episode! To kick things off I am featuring the Wood You Be Mine stamp set from Lawn Fawn.
You can watch the Episode right here https://youtu.be/iaiIFMcPqDc
With this set I am making a Gift Box and three note card to fit inside.
This is little box is made using the Gift Box die set from Lawn Fawn, I love all the die pieces it has with it to dress it up. And it perfectly fits cards that are 4 Bar size; 3-1/2" x 5".
I made 3 of these cards using images from my stamp set of the month, Wood You Be Mine.
Here is a close up look at each of the cards.
I love trying to use al of the images in a set when I make a project like this and there are some super cute images in this set.
Below you will find all the supplies I used to make this project.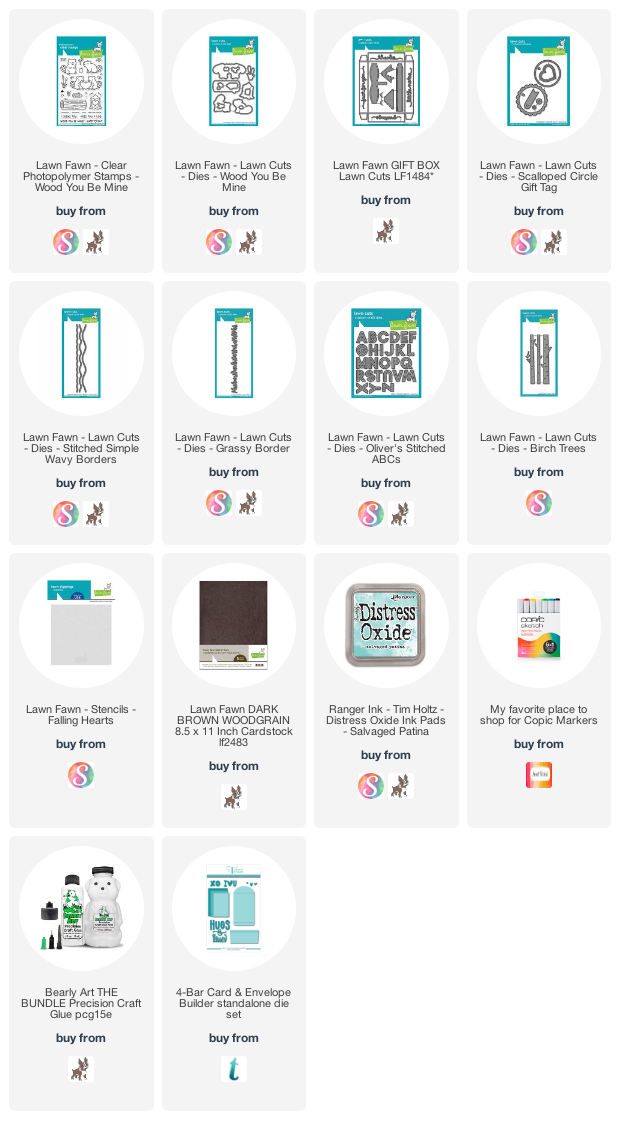 And stay tuned, next Thursday night I will be back with more ideas for you with this stamp set on my YouTube channel at 7pm MST.