Hello Friends! What is your favorite medium to color with? Are you an alcohol marker user? Do you love water brush pens? Or how about colored pencils?
Today I am coloring in the same image with all three of these mediums.
It seems to me that images of hands are very popular in the stamp industry right now. So, I thought I'd share my favorite stamp set of hands, Happy Together from the Not 2 Shabby shop, and show my 3 favorite coloring mediums and make 3 cards. Sounds fun right???
Watch the fun right here...
If you can not see the video on this screen you can also watch it right here.
The first medium I used is Copic Markers, my go to and favorite coloring medium right now.
I stamped my image on Accent Opaque Super Smooth 80lb. White card stock with Memento Tuxedo Black ink.
For the hand on the right I used the following markers:
E27, E25, E25
For the hand on the left I used:
E35, E33
The purpose of today's post is not to share expert tips on coloring techniques. I do not claim to be an expert at coloring. I just love to color. I love to use and try different things. I wanted to share with you how this image looks colored 3 different ways. And I want to encourage you to just play and have fun with your coloring. You do not have to be an expert to enjoy coloring with any of these mediums.
For each of my cards I used the Frosted and Tufted paper pad from Not 2 Shabby to pick a background paper that I liked for each of the colored hands. This one has a Swiss dots pattern on light pink. I then used my Conversation Hearts stencil from Lawn Fawn to stencil on some Glitz Glitter Gel love the top fo that. This made for a fun background on each of the cards.
For my second card I used Zig Clean Color Real Brush Pens.
These are a waterbed marker with a brush tip, These markers blend with each other and with water.
I used Bristol Smooth paper and Versafine Onyx Black ink.
For the right on the left I used the following markers:
Dark Brown #062
Mid Brown #065
For the hand on the left I used:
Oatmeal #064
Natural Beige #107
If I was to redo on of set of hands it would be this one. The two dark browns I used had different under tones. One being more of a pink undertone and the other yellow. So I did not get the blend I was hoping for and so I kept trying to fix it by adding more. I feel okay with how it turned out but would be happy to give it another go.
To cut out the hands and sentiments for these cards I used my Pix Scan Mat and my Cameo Silhouette. I have a quick tutorial of this in the video if you are interested.
For my third cards I pulled out my Arteza Colored Pencils.
I used Accent Opaque Super Smooth White card stock and Memento Tuxedo Black ink.
The pencils I used for the hand on the right are:
Dark Chocolate #A118
Sienna Brown #A048
The pencils I used for the hand on the left are:
Burnt Ochre #A113
Peaches & Cream #A022
The Glitz Glitter Gel really shows up on this dark brown patterned paper. In some lights is reflects a little green.
I really love how the colored pencil looks. I don't color with them as much as I used to. How about you, do you use colored pencils or markers more?
Here is a look at all three cards together. I would love to know which of the three you like best. I enjoyed coloring all of them and finding so many different skin tones to bring to life.
Below I have listed and linked all the supplies I used to make today's cards.
When you shop the Not 2 Shabby Shop use code N2S10 at check out for 10% off your order!
I used the Happy Together Stamp Set and the Frosted and Tufted Paper Pack from the Not 2 Shabby shop in today's cards.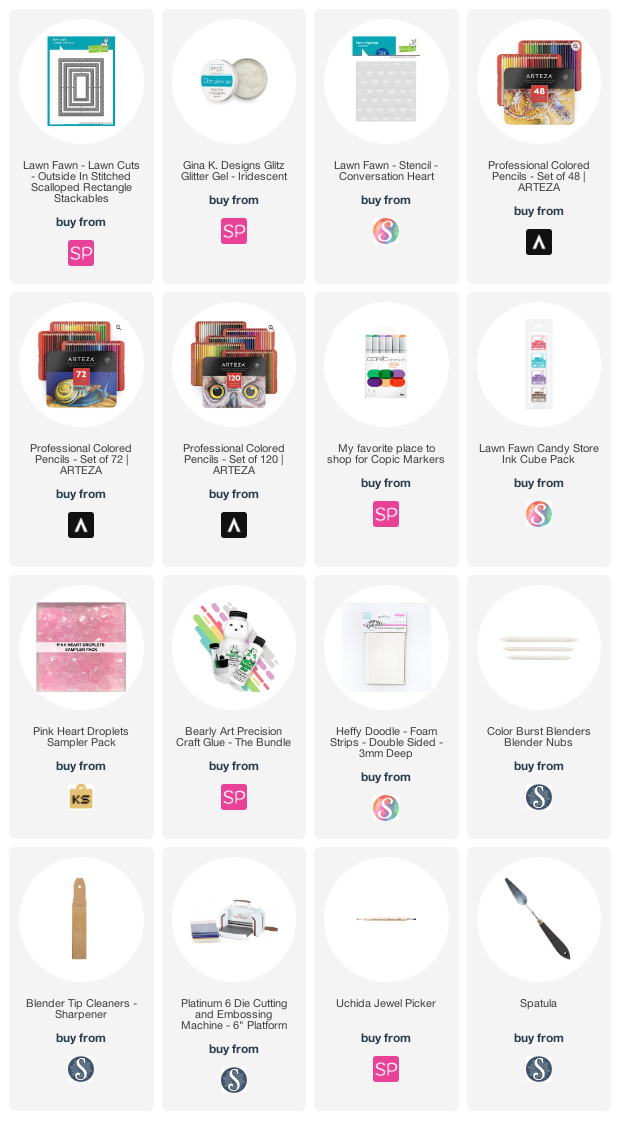 Affiliate links have been used, at no cost to you. Affiliate links are a collaboration between online shops and makers. When you shop these links the retailer gives a small percentage of the sale to the maker, at no cost to you. It is a great way of supporting your favorite businesses and the makers who inspire you. Thank you for shopping my links. Sharing my creations is my favorite thing to do and you have helped make it possible.